Water Shortages in Greece Echo Concerns in the American West
A vicious cycle of population growth, dwindling water supplies and ever larger infrastructure projects has taken hold in Athens and in California.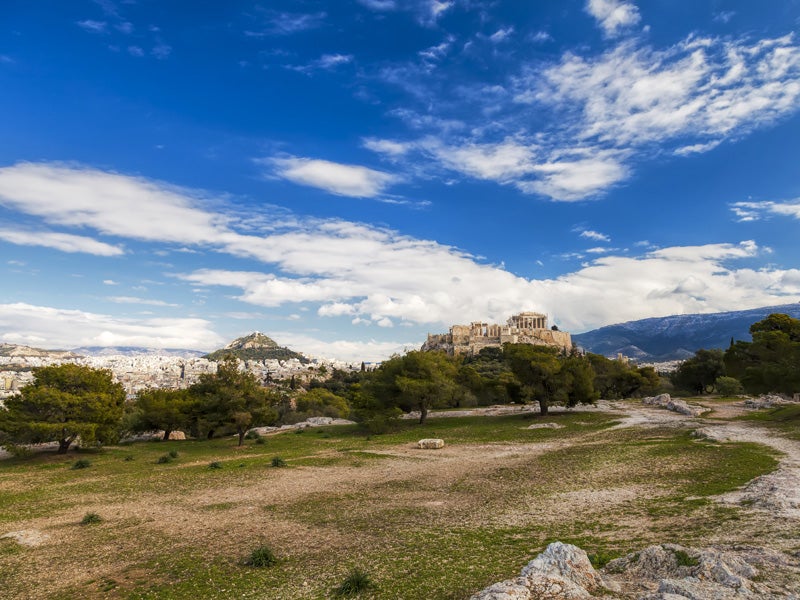 Greece attracts media attention these days more for its economy than its environment. But walk into any bathroom in Greece and there's a sign reminding you to conserve water. The tone of these notices ranges from playful to stern, but the message remains constant: water is precious, don't waste it. Especially in Athens, where a rapidly growing population has strained water resources, this reminder is a crucial one, and one that Americans should heed.
The Attica region of Greece, also known as Greater Athens, is growing and has been since the early 20th century. To accommodate Attica's growing population, the Athens Water Supply and Sewerage Company has been diversifying and expanding its water sources.
During the 1920s, hundreds of thousands of refugees flooded into Greece seeking escape from the conflict between Greece and Turkey. To meet the escalating Athenian demand for water, the Greek state, the Bank of Athens and an American firm partnered to finance and construct the Marathon Dam. The dam was completed in 1929, and an 8.3-mile tunnel was built to move water from the Marathon reservoir to a treatment plant near Athens.
By 1951, the Hellenic Statistical Authority estimates the population of greater Athens was nearly 1.4 million and demand for water had outpaced available sources again. In 1956, the nearby Yliki Lake was tapped as a source of water for Athens. The capital city of mountainous Greece, however, is higher than the lake in altitude. A pumping station had to be constructed—the largest in Europe—so the Yliki water could reach Athens.
Between 1951 and 1961, the population of Greater Athens grew by an incredible 34.4 percent, leading to a 1961 population of more than 1.8 million. Water needs increased accordingly, and in 1969, construction of a dam on the Mornos River began. The dam and an aqueduct—the second longest in Europe—were completed in 1981, by which time the population had climbed to more than 3 million. Before long, demand for water necessitated the start of the most recent project, the damming of the Evinos River.
The pattern is clear: growing population, increasing demand for water and a search for new water sources. However, Greece does not have an unlimited supply of new rivers to dam or lakes to tap, and eventually this pace must slow.
The same challenge looms over the American West, where many long-distance pipelines bring water across the parched landscape and more are in the works. Actor William Shatner has gone so far as to begin a Kickstarter to raise money for a pipeline from Washington to California; he hopes to raise $30 billion. New Mexico is constructing a pipeline for the comparatively discount rate of $550 million to carry precious water to dry eastern New Mexico, but the pipeline may not be complete for a decade and drinking water may be gone before it is ready. Near Las Vegas, work is well underway on a third pipe to draw water out of Lake Mead. This pipe is deeper than the other two, in order to ensure continued access to Lake Mead's shrinking water supplies.
Noah Hoefs, a project manager with the Southern Nevada Water Authority, said this to an Associated Press reporter: "You turn on the tap, you don't think about it. These are the things being done in order to live the lifestyle we want in the places we want to live."
Perhaps, however, it's time to reconsider that lifestyle. Clean water is the right of all people, but we cannot outrun drought by constructing more pipelines and dams. We must cut back on water use. Small changes such as replacing your lawn with drought-tolerant plants or turning off the water in the shower to lather, as is common in Greece, can make a difference. But larger-scale changes are required in both California and in parched regions of southern Europe.
Earthjustice encourages individual and community actions to conserve water and protect the people who depend on it. In Panama, we have fought to protect the rights of the Ngӓbe-Buglé indigenous peoples, whose homes and religious, cultural and archaeological sites will be flooded by the construction of the Barro Blanco hydroelectric dam. In California, we are working to save more than a million acres of public land in central California from oil and gas drilling, especially fracking, a serious threat to California's dwindling supply of clean water. Together, we can make meaningful changes, big and small.
Cate is a junior at Wellesley College and press team intern in San Francisco. She enjoys exploring in the National Parks and is an avid San Francisco Giants fan.