Ways to Help Fight Anti-Black Police Violence
"Historically White environmental organizations that once looked away from environmental racism are finally joining a larger, urgent struggle for justice."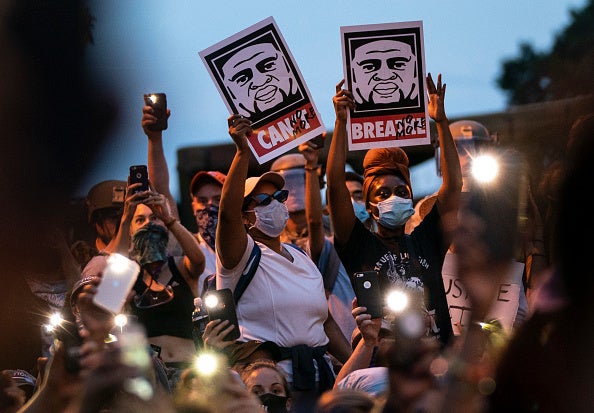 The police violence against Black communities that we're witnessing in the U.S. today is not new, but the scale of demonstrations, dialogue, and introspect it has prompted is unprecedented. This moment is exposing a pattern of brutality dating back to the violent takeover of lands and lives by White European colonizers — centuries of theft and genocide of Indigenous people and enslavement of Africans.
People are seeing more clearly than ever. They want to learn what it means to be an ally to anti-racist movements, and they're looking for ways to deepen their involvement.
As an environmental law organization, Earthjustice wields the power of the law to protect not only our planet, but also the people who bear the downstream burdens of industries that pollute the air they breathe, the water they drink, and the earth they travel every day.
In this way, the spate of anti-Black police brutality offends the same values that animate our environmental cases. Law enforcement agencies left unaccountable for human rights atrocities are polluters. They pollute communities with fear. They pollute the present and future with relics of hate and barbarity. They pollute our ideal of justice.
This needs to stop.
Earthjustice's core work is the pursuit of justice. Partnership drives this work, and Earthjustice's role is always that of an ally, guiding our partners through the courts to get justice. In this difficult moment, however, our partners are guiding us toward learning, cooperation, and efforts to challenge systemic racism in policing and beyond.
Below are some of the ways we can all begin to respond. This is not a comprehensive list, so check back for updates as we deepen our learning and sign our support to initiatives you can join and support as well.
1) Defend Our Democracy
"America is on a precipice," said Eric K. Ward, senior fellow at Southern Poverty Law Center and executive director of Western States Center. "Whether we go over the edge into the abyss of a full-blown authoritarian state or find firm ground on which to construct an inclusive democracy depends on what we do right now. We need to be clear: every word and every action has consequence." Ward offers 21 things we can all do to build our understanding and advocate with intelligence.
Defending our democracy also means showing up for the civilians who are arrested during peaceful and lawful protest. Support your local/regional bail funds to keep the front lines resilient and to remind law enforcement of their own duty to protect our First Amendment Rights (scroll down for "Know Your Rights" resources).
2) If You Want to Be an Ally, Learn (Anti-)Black History
"Without the proper context, it is impossible to understand the mushroom cloud of uprisings that are exploding across the country in the wake of the deaths of George Floyd, Breonna Taylor, Ahmaud Arbery and countless others," wrote Michael Harriot for The Root. In a timely article, he takes us back in the nation's history to help readers connect the dots between the States' earliest anti-Black policy decisions and the widespread unrest we're experiencing today.
Then find time to sit back for deeper dives:
Watch: 13th on Netflix, Ava DuVernay's Oscar-nominated documentary that delves into the rules that have criminalized and subjugated Black people throughout U.S. history, despite the abolition of slavery with the 13th Amendment to the Consitution.
Read and listen to the podcast: The 1619 Project, journalist Nikole Hannah-Jones' Pulitzer Award-winning exploration of the political, socioeconomic, and cultural legacy of Black Americans, starting with the first enslaved Africans torn from their homes to build the "new world."
For additional perspectives on dismantling systemic racism, here's more from TED:
Watch: A timely virtual interview with Dr. Bernice King, daughter of Dr. Martin Luther King, Jr. and CEO of The King Center, Dr. Phillip Atiba Goff, president of the Center for Policing Equity, Rashad Robinson, president of Color of Change, and Anthony Romero, executive director of the ACLU.
Watch: Bryan Stevenson, public interest lawyer and executive director of the Equal Justice Initiative, on having the courage to talk about injustice and creating an identity that moves people to action.
Watch: An interview with the co-founders of Black Lives Matter on why the movement for Black lives is foundational for justice at large – including a shout out to the Standing Rock Sioux Tribe's ongoing resistance of the Dakota Access Pipeline, a battle they continue to wage in court with Earthjustice at their side.
3) Know Your Rights
With mass demonstrations happening across the country, many people are protesting or have loved ones joining the march for justice. If you've been keeping up with the news of this crisis, you're probably already aware that the police response often exceeds the bounds of their authority, so it is critical that those assuming the risk of lawful protest are prepared to defend their First Amendment rights.
Here are a few resources to get you started:
Here are resources specifically for immigrants or non-citizens:
4) Bring in the Lawyers
The National Lawyers Guild's Mass Defense Committee provides legal support to grassroots movements involved in mass demonstration. Their network of lawyers, paralegals, and law students offer "Know Your Rights" trainings, planning meetings, and act as on-site legal observers at protests. For those arrested during lawful demonstration, they also provide legal defense and jail support programs.
5) Educate Yourself About Proposed Solutions
Lawmakers have an important role to play in transforming the criminal justice system and holding police accountable for violence against Black communities. To eliminate the root causes of police brutality, we'll need action at all levels of government. The Movement For Black Lives has proposed the BREATHE Act, a federal bill that would reallocate funds from police departments and prisons toward programs that promote clean air and water for all, equitable healthcare, a more just educational system, and other social benefits. Learn more about this visionary proposal.
---
Earthjustice's environmental impact litigation model was inspired by the work of the NAACP Legal Defense Fund and other groups that served as the legal engine for the Civil Rights movement. Half a century later, Earthjustice and other environmental organizations are recognizing how much more there is to learn from racial justice leaders and movements.
"Our society is reckoning with centuries of oppression and exploitation," said Abigail Dillen, President of Earthjustice. "Historically White environmental organizations that once looked away from environmental racism are finally joining a larger, urgent struggle for justice. Because without justice, there can be no livable future for people or the planet."
This blog post was originally published in June 2020. It was updated in April 2021 to include information about the BREATHE Act.
Maz worked at Earthjustice from 2020–2021.