We're Missing 90 Percent of the Dakota Access Pipeline Story
The Dakota Access pipeline protest is not a violent riot; it's a solemn struggle to protect water and culture. (Spanish language version available.)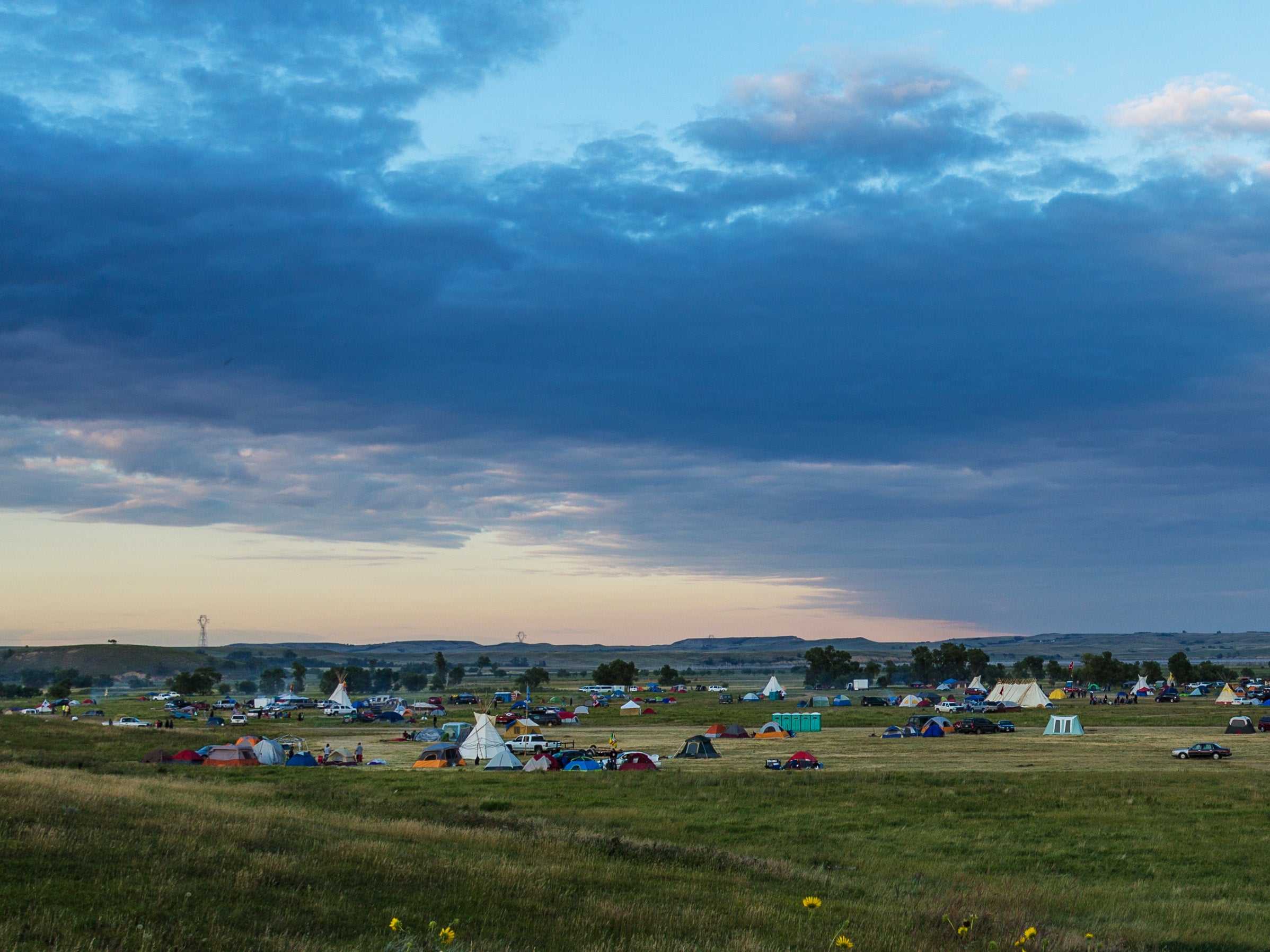 12/04 – BREAKING NEWS: DAKOTA ACCESS PIPELINE EASEMENT NOT GRANTED
Este blog está disponible en español aquí.
Over the past few months, the Dakota Access pipeline and the Standing Rock Sioux tribe that opposes this oil project went from anonymity to full blown national news coverage. Since August, the news media has been reporting on the Native Americans who have gathered in camps in North Dakota to protect sacred land and the Missouri River, the Standing Rock tribe's sole water source. For months, we have been informed only about the most dramatic developments, but I discovered after a visit to the Sacred Stone camp two weeks ago that public understanding of what this movement is all about is based on misrepresentations. We are missing how peaceful, respectful and solemn this struggle is. 
This is unfortunate because what's happening at the confluence of the Missouri and Cannonball Rivers is a solemn struggle to protect water and culture. As I prepared to make the trip, I read articles about the risks. And I fell for it. When I was flying into Bismarck, North Dakota, with a delegation from GreenLatinos—a group of Latino advocates committed to addressing environmental issues—I was on edge. We had gone to North Dakota to learn how GreenLatinos might be able to help the tribe, yet at first I concentrated on myself. I relentlessly googled "Standing Rock Sioux tribe arrests" and related key terms to figure out where I could or couldn't go and what I could or couldn't do.
But all that anxiety quickly evaporated when I reached the camps. I saw that this assembly of indigenous tribes and supporters is among the most serene and peaceful groups of people I have been around. They are not unified by indignity. What unifies the thousands of water protectors who are bracing for the incoming winter is devotion and prayer. In fact, elders and tribal leaders told us repeatedly that tribal camps aren't protests; these are ceremonies being held at a sacred place. And, they told us, they expect the behavior of their brothers and sisters to reflect that.
Even when we were talking about politics, the sacredness of it all was what tribe members conveyed as important. The respect of the people overcame any thought of animosity, and the solemnity of the place and the need to protect nature inspired peaceful unity. This indigenous vision of sacred air, sacred water and sacred land was striking to me. I live in Washington, D.C., where polarized rhetoric dominates the landscape, and where, since the presidential election season, distasteful attacks are rampant. Visiting the camps and understanding the spirituality driving this struggle against corporate profit was an eye-opening and humbling experience.
Water protectors are constantly looking after one another, helping one another. They may not have a lot, but they are willing to give everything. I learned that not just by seeing how they would offer sweaters or blankets as temperatures dropped into the 20s, but also by listening to their stories. One woman, who is now one of many who prepare meals for the camp for free, told me how she arrived with little besides her eagerness to help cook. She didn't have a stove, yet with people's donations she got everything she needed to help the camp in four days.
I have not seen a single news report that elevates this type of story. That's because peace may be what we value and aspire to as a nation, but peace doesn't generate clicks. Still, peace is what this historic indigenous gathering is all about.
At a time when we know that fake news stories are rampant, I encourage everyone to verify the authenticity of the news they read. Many news reports give the impression that the Standing Rock Sioux tribe's struggle is chaotic and tumultuous. But that's not the case. This movement of solidarity is filled with people who, when asked about what they need, say they need us to pray for them. Pray and do what's right, the elders tell us, noting that they are hopeful about what's to come.
Even with an unfriendly incoming presidential administration, I believe that if we all stand strong with the Standing Rock Sioux, make our voices heard and reach out to our elected officials in Congress, we can protect the river and the land that so many hold sacred.  
To learn more about the Standing Rock Sioux Tribe's litigation on the Dakota Access Pipeline, read the latest updates and frequently asked questions.
NOS ESTAMOS PERDIENDO DEL 90 POR CIENTO DE LA HISTORIA DEL OLEODUCTO DAKOTA ACCESS
En los últimos meses, el oleoducto Dakota Access y la tribu Sioux Standing Rock que se opone a este proyecto petrolero, salieron de la anonimidad y han recibido una gran cobertura en los noticieros nacionales. Desde agosto, la prensa ha mostrado a los miles de nativos americanos que se han reunido en campamentos en Dakota del Norte para proteger tierras sagradas y el Río Missouri, la única fuente de agua que abastece a los Standing Rock. Durante ese tiempo la cobertura ha girado únicamente alrededor de los acontecimientos más dramáticos. Sin embargo, tras una visita al campamento de Sacred Stone hace dos semanas, descubrí que la percepción pública de este movimiento nativo está sesgada. Hemos omitido lo pacífico, respetuoso y solemne que es esta asamblea. 
Esta percepción errónea es un serio infortunio, ya que lo que está ocurriendo en la confluencia de los ríos Missouri y Cannonball es un necesario intento de proteger el agua y la cultura nativa. No obstante puedo entender el por qué de este sesgo. Mientras me preparaba para realizar el viaje junto con una delegación de GreenLatinos—una asociación de latinos comprometidos a resolver problemas ambientales—, leí varios artículos sobre los riesgos del campamento y terminé creyéndome la falsa retórica popular. En el vuelo hacia Bismarck, la capital de Dakota del Norte, estaba sumamente nervioso. Tanto así que  busqué en Google acerca de "arrestos de la tribu Sioux Standing Rock" y otras términos similares para entender adonde podía ir o como debía actuar durante mi estadía.
Toda esta ansiedad rápidamente se evaporó cuando llegué al campamento, y vi un conjunto de tribus indígenas y sus partidarios conviviendo de la manera más cordial y serena. Descubrí entonces que estas personas no están unidas por su aberración a la humillación u atropellos. Lo que une a los miles de estos guardianes del agua es fervor y plegarias. De hecho, los líderes y ancianos tribales nos dijeron varias veces que los campamentos no son protestas; son ceremonias que se están llevando a cabo en un lugar sagrado. Asimismo, nos dijeron que ellos esperan que el comportamiento de sus hermanos y hermanas reflejen esta sagrada esencia.
Incluso cuando estábamos hablando sobre política, la tribu quería transmitir que lo importante era el carácter sagrado de sus acciones e intenciones. El respeto de la gente superaba cualquier idea de enemistad, mientras que la santimonia del lugar y la necesidad de proteger a la naturaleza inspiraban la unión y la paz. Esta visión indígena de que el aire, el agua y la tierra son sagrados me parece impresionante. Especialmente porque yo vivo en Washington, D.C., donde el discurso polarizado domina el entorno, y donde los ataques ideológicos se han vuelto desmesurados a raíz de las elecciones presidenciales. Es por ello que visitar los campamentos y entender la espiritualidad que motiva esta lucha contra las ganancias corporativas fue una experiencia que me abrió los ojos y me ofreció una lección de humildad.
Estos autoproclamados guardianes del agua están constantemente cuidándose y ayudándose unos a otros. Puede que no tengan mucho, pero están dispuestos a darlo todo. Aprendí esto no solamente al ver como cuando las temperaturas bajaban peligrosamente ofrecían suéteres y cobertores, sino también al escuchar sus relatos. Por ejemplo, una mujer que ahora es una de las muchas que preparan comida para el campamento de manera gratuita, me contó como cuando llegó al campamento no tenía nadas más que ganas de ayudar a cocinar. No tenía estufa, ni anafre, sin embargo con los donativos de la gente consiguió todo lo que necesitaba para ayudar son su cocina en cuatro días.
No he visto ninguna noticia en donde se resalte este tipo de historias. Esto es porque la paz que tanto valoramos y aspiramos a tener como nación no genera clicks. Aún así, la paz es de lo que se trata esta reunión de nativos.
En estos tiempos en que sabemos que las noticias ficticias abundan, invito a todos a que verifiquen la autenticidad de las noticias que leen. Muchos reportes dan la impresión que la lucha de la tribu Standing Rock es caótica y agitada. Pero este no es el caso. Este movimiento de solidaridad está lleno de gente que cuando se les pregunta sobre sus necesidades responden que necesitan que oremos por ellos. Orar y hacer lo que es correcto, eso es lo que nos piden los ancianos de la tribu en este momento.
Incluso con una administración presidencial poco amigable como la que se viene, estoy convencido que si nos solidarizamos con la tribu Standing Rock, hacemos que nuestras voces sean escuchadas y contactamos a nuestros funcionarios electos en el Congreso, podremos proteger el río y la tierra que tantos consideran sagrada.  
Para mayores detalles sobre el litigio de la Tribu Sioux Standing Rock por el oleoducto Dakota Access, lea las actualizaciones y Preguntas Más Comunes.
On the Policy & Legislation team in Washington, D.C., Raul focuses on protecting communities from pesticides and toxic chemicals. He also leads Earthjustice's team of advocates dedicated to defending and improving federal safeguards for clean air, clean water, and against toxics exposure.
Established in 1989, Earthjustice's Policy & Legislation team works with champions in Congress to craft legislation that supports and extends our legal gains.