The Dakota Access Pipeline
The Army Corps' approval of the permit allows the oil company to dig the pipeline under the Missouri River just upstream of the reservation and the Standing Rock Sioux Tribe's drinking water supply. An oil spill at this site would constitute an existential threat to the Tribe's culture and way of life.
Regional Office / Program
The Standing Rock Sioux Tribe, represented by Earthjustice from 2016 to 2022, sued the U.S. Army Corps of Engineers for violating the National Historic Preservation Act and other laws, after the agency issued final permits for a massive crude oil pipeline stretching from North Dakota to Illinois.
The complaint, filed in federal court in Washington, D.C., claimed that the Corps violated multiple environmental and historic preservation statutes, focusing on the decision to reroute the pipeline from Bismarck, North Dakota, to the doorstep of the Standing Rock reservation without an adequate environmental analysis and consultation.
The Corps granted permits for the pipeline in July 2016 under a highly streamlined approval process known as Nationwide Permitting. The process circumvents any kind of close environmental review and public process. The Lake Oahe crossing requires an additional approval — known as an easement — because it crosses federally owned land on either side of the Missouri River. It was this easement that the government confirmed would not be granted.
The Dakota Access Pipeline project, also known as Bakken Oil Pipeline, would extend 1,168 miles across North Dakota, South Dakota, Iowa, and Illinois, crossing through communities, farms, tribal land, sensitive natural areas and wildlife habitat. The pipeline would carry crude oil from the Bakken oil fields in North Dakota to Illinois where it will link with another pipeline that will transport the oil to terminals and refineries along the Gulf of Mexico.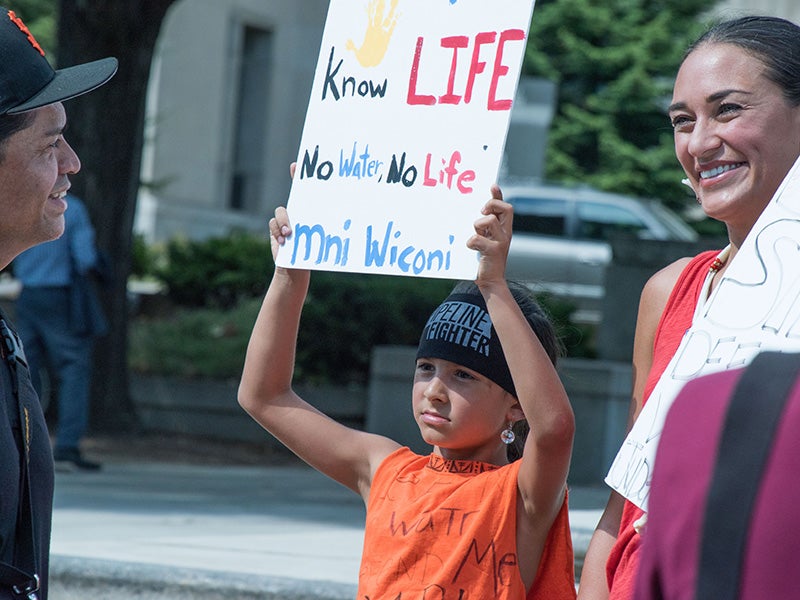 Case page created on July 28, 2016.