What Biden and Trudeau's Meeting Tells Us About Climate Hypocrisy
If our leaders were serious about tackling climate change and protecting the Great Lakes, shutting down the Line 5 pipeline would be a layup.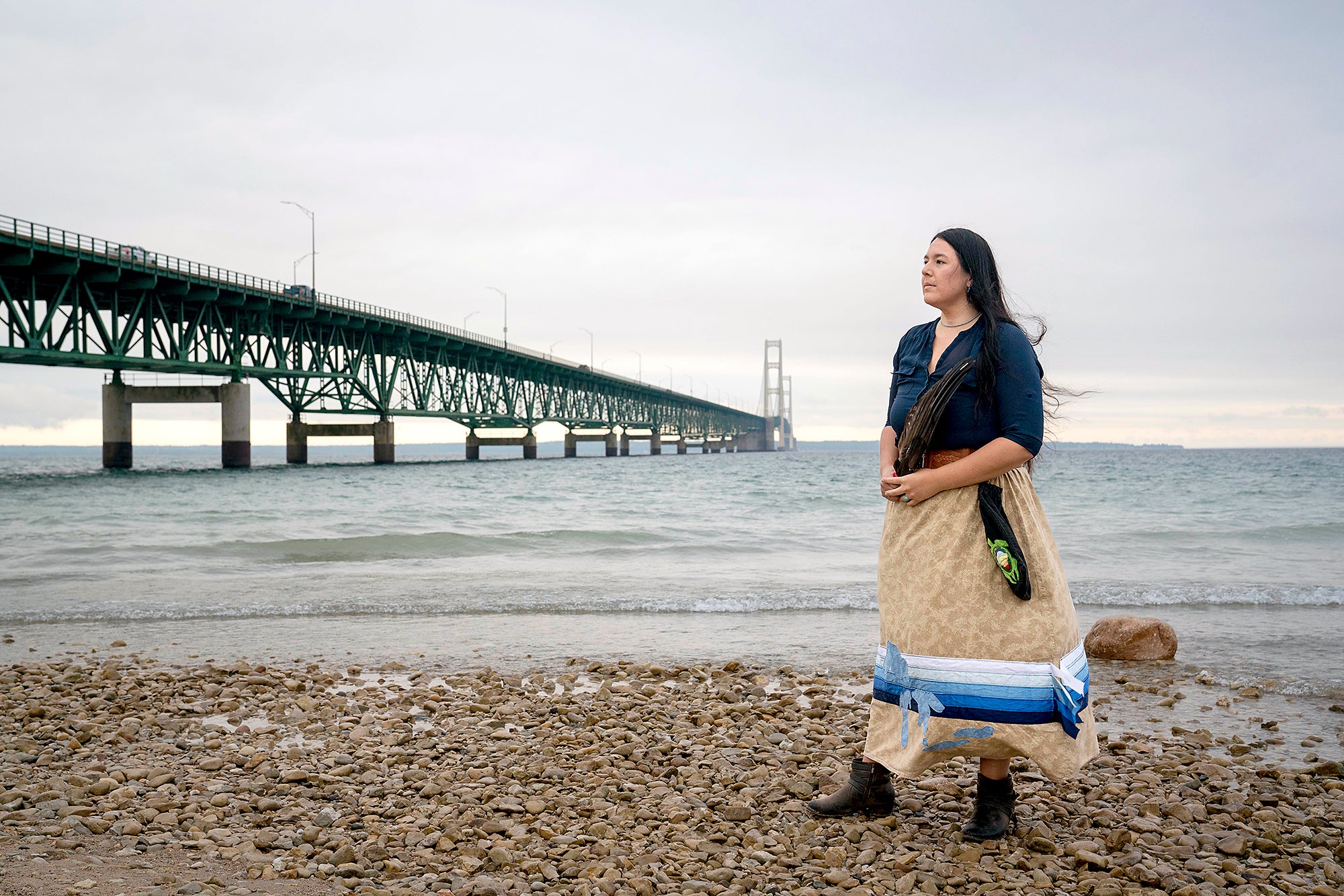 President Joe Biden's visit to Canada last month was hailed on both sides of the border as a moment of binational unity, strengthening the tight alliance between our two countries and setting the course for a shared agenda on immigration, trade, and environmental protection. Yet that neglects the single greatest threat to North America's surface freshwater: Line 5, an aging 645-mile crude oil line that runs right through the heart of the Great Lakes.
As president of the Bay Mills Indian Community, a Tribe with roots in the Great Lakes stretching back to time immemorial, I find the hypocrisy hard to stomach.
While Prime Minister Justin Trudeau and Pres. Biden burnish their environmental bona fides, both administrations are dismissing the plea of States and Native American Tribes like mine that want Line 5 to shut down. PM Trudeau is shielding Line 5, even as he announced last week $420 million in federal funds to protect the Great Lakes.
If our leaders were serious about tackling climate change and protecting the Great Lakes, shutting down Line 5 would be a layup. After all, the pipeline is an environmental disaster waiting to happen, and shutting it down would barely impact gas prices.
Line 5 is part of a network of pipelines owned and operated by oil giant Enbridge, a company known for criminal incompetence and for causing the largest land-based oil spill in U.S. history. The pipeline carries around 23 million gallons of crude oil and natural gas daily. Although 90 percent of the oil is delivered to users in Canada, the pipeline also cuts across Michigan and Wisconsin, where it has met with furious resistance from our Tribal Nations and State governments. That's because the pipeline has spilled more than 30 times in the past 50 years.
Line 5 crosses more than 280 interconnected rivers and streams, including the sacred Straits of Mackinac that are considered the center of creation for our people — the Anishinaabe. A spill there would have unthinkable consequences for our Tribal Nations, and for the 40 million people who rely on the Great Lakes for drinking water.
The Bay Mills Indian Community has been fighting alongside a growing movement of local businesses, Tribal Nations, and environmental groups to shut down Line 5 for years, and despite court orders, and lawsuits Line 5 unconscionably remains. Just two years ago, the State of Michigan ordered the Line 5 pipeline to cease operations, yet Enbridge violates that order today. And, in 2019, the Bad River Band of the Lake Superior Tribe of Chippewa Indians sued Enbridge for trespassing on their reservation in Wisconsin.
A lack of accountability for Enbridge is the norm. Indeed, every time it looks like Line 5 might be facing legal trouble in American courts, the Canadian government steps in to defend Enbridge. In the 2021 Michigan case and then again in the Wisconsin trial last year, Canada interjected by invoking the 1977 Transit Pipeline Treaty, ensuring the spigot stays open.
President Biden and Prime Minister Trudeau may prefer to avoid talking about Line 5 for the sake of a photo op, but it's our communities, our waters, and our treaty rights that face the risk of a catastrophic oil spill and the certainty of climate change. Meanwhile, and quietly, the U.S. and Canada are locked in negotiations over a risky pipeline that, by Enbridge's own admission, could be shut down in a matter of months with almost no impact on gas prices.
Where is the bold leadership from America, the world's biggest polluter, to combat climate change and preserve our precious waters? Where is Canada's self-professed commitment to respect treaties with Indigenous nations? Certainly, neither were found in Ottawa last month.
The need to shut down Line 5 could not be timelier. President Biden has faced an uproar at home over his administration's approval of the ConocoPhillips Willow project in Alaska, an oil drilling complex that will produce greenhouse gas emissions equal to nearly 70 coal-fired power plants. And a report last week by the Intergovernmental Panel on Climate Change said that greenhouse gas emissions from existing fossil fuel infrastructure are more than enough to push the world beyond the 1.5C global heating benchmark that spells disaster.
This means we need to be drawing down existing gas and oil pipelines where possible. And Line 5, precariously existing 20 years beyond its engineered lifespan, is clearly a sterling candidate in a long infamous list of dangerous fossil fuel infrastructure that has no reason to exist.
As the leader of a Tribal Nation deeply connected to the Great Lakes and the waters and wildlife that sustain us all, I recognize an obvious truth: The burning of fossil fuels and the plagues that attend it — toxic pollution, extreme weather disasters, and disruptions to food and water systems — will not recognize political boundaries. It is time our national leaders acted like it. The next meeting between President Biden and Prime Minister Trudeau ought to address the drawing down of oil and gas as well as their expressed commitments to Tribal Nations — and move towards the shutdown of Line 5.
Earthjustice is representing the Bay Mills Indian Community in their fight against the Line 5 pipeline before several state and federal agencies.
Whitney Gravelle is the president of the Bay Mills Indian Community.
Earthjustice's Midwest office works to partner with and support communities and Tribes fighting for environmental and climate justice. We also aim to protect our region's precious places and wildlife, and build sustainable energy and climate solutions.