What the Joint US/Canada Climate Agreement Could Mean for the Future of the Arctic
Today, the leaders of the U.S. and Canada announced an agreement that includes a major commitment to joint climate action and Arctic conservation. Upcoming decisions create opportunities to fulfill its promise. (Spanish language version available.)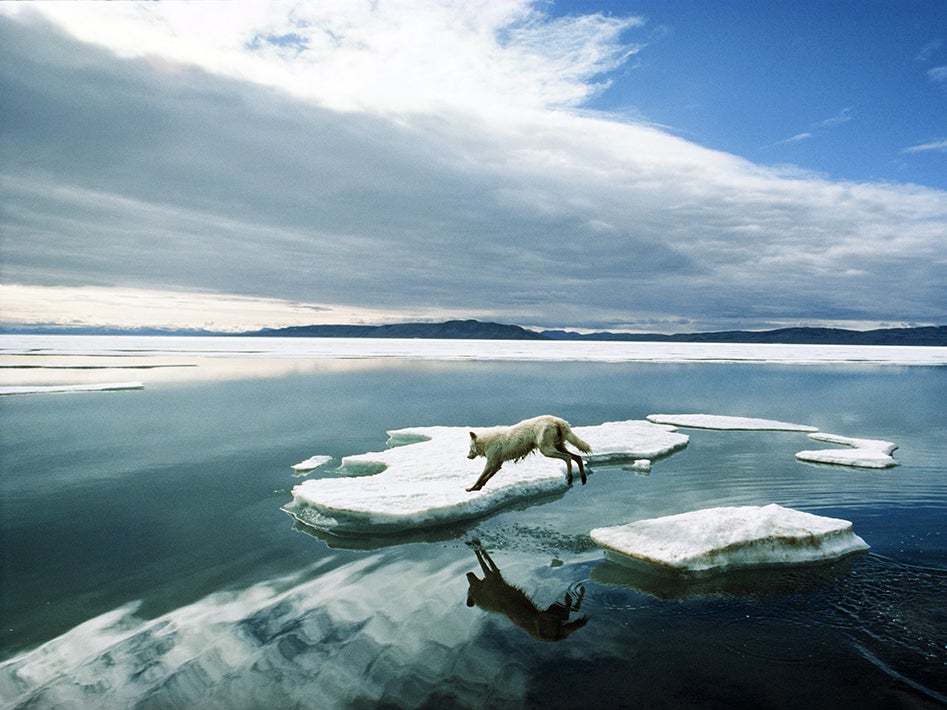 Este blog está disponible en español aquí.
President Barack Obama and Canadian Prime Minister Justin Trudeau today issued a Joint Statement on Climate, Energy, and Arctic Leadership to address the global climate crisis that included a strengthened commitment to protecting the Arctic Ocean. Their joint action signals that climate change consequences will be central to management decisions in the fragile Arctic region, including fossil fuel choices.
The two leaders affirmed that Arctic commercial activity, including oil and gas development, will be allowed only when the highest science and environmental standards are met. Critically, this includes a commitment to ensure any oil and gas drilling decisions advance global climate goals set forth during the historic Paris Agreement in January, which the joint statement called a "turning point" in the fight to combat climate change. At that summit, more than 180 countries committed to concrete action to limit climate warming.
Today's U.S.-Canada climate pact highlighted the Arctic as a region on the frontline of climate change. Sea-ice melting at seemingly exponential rates is leading to coastline erosion, a rapidly changing habitat for species like polar bears and walruses, and direct impacts on indigenous groups who have lived in the region for millennia and are now witnessing firsthand the cataclysmic effects of a warming world.
The joint statement includes commitments to address these challenges, including promises to work together to protect Arctic communities. The two leaders also endorsed an initiative by the World Bank to end flaring, a major source of black carbon emissions which accelerates ice melt, and agreed to address risks posed by heavy fossil fuel use from marine shipping. Black carbon emissions from shipping is increasing in the Arctic as retreating sea ice opens up new shipping routes and allows increased ship traffic for natural resources exploitation and tourism. 
These commitments are commendable and mark a huge step forward for bringing climate impacts into decisions regarding energy development and industrial transportation through the region. Whether these important commitments succeed will depend now on how the agreement is implemented. President Obama has important opportunities to fulfill the promise of this agreement in upcoming decisions about Arctic Ocean oil and gas drilling. 
The scientific community has concluded that opening the Arctic to oil drilling is incompatible with limiting warming to the thresholds reaffirmed in the Paris Agreement and giving us the best chance of avoiding the worst effects of climate change. Moreover, drilling risks oil spills that know no boundaries and could not be contained or cleaned in the remote, icy Arctic Ocean. To respond to this science and meet the goals of this agreement, the administration will soon have the opportunity to take significant action.
First, the Arctic Ocean should be excluded from the Bureau of Ocean Energy Management's five-year plan for offshore drilling leases. A draft of the plan, which charts which areas of the outer continental shelf could be offered for lease to oil and gas companies from 2017-2022, is expected out within the next few weeks and a final decision is expected later this year. Removing new Arctic Ocean leasing from the plan would be another major step forward, consistent with today's agreement, toward managing the Arctic to protect its irreplaceable resources, communities and the planet.
Ultimately, consistent with this important agreement today, President Obama should withdraw the U.S. portions of the Arctic Ocean from all future oil leasing and reconsider existing leases in the region. As Obama and Prime Minister Trudeau signaled today, the Arctic is on the frontline. It is also an essential battle to win in the fight to protect our world from the worst effects of climate change. 
Lo Que Puede Significar El Acuerdo De Clima De EE.UU./Canada Para El Futuro
El presidente Barack Obama y el Primer Ministro de Canadá, Justin Trudeau emitieron hoy una declaración conjunta acerca del clima, la energía y liderazgo en el Ártico para tratar la crisis climática global, que incluyó un compromiso más firme para proteger el Océano Ártico. Su acción conjunta señala que las consecuencias por el cambio climático serán centrales al tomar decisiones de manejo en la frágil región Ártica, incluyendo las opciones de combustibles fósiles.
Los dos líderes afirmaron que la actividad comercial en el Ártico, incluyendo el desarrollo del petróleo y del gas, solamente se permitirá cuando se cumplan los estándares científicos y medioambientales más elevados. Críticamente, esto incluye un compromiso a asegurar que cualquier decisión de perforación de petróleo y gas avancen las metas climáticas establecidas durante el histórico Acuerdo de Paris en enero, lo que la declaración conjunta  denominó un "punto decisivo" en la lucha para combatir el cambio climático. En esa cumbre, más de 180 países se comprometieron a concretar acción para limitar el calentamiento climático.
Hoy el pacto de clima de EE.UU y Canadá señaló al Ártico como la región en la frontera del cambio climático. El derretimiento del hielo marino en índices exponenciales está conllevando a erosión costera, un hábitat que está cambiando rápidamente para especies como el oso y la morsa polar, y causando directos impactos a grupos indígenas que han vivido en la región por milenios y están ahora presenciando de primera los efectos catastróficos de un mundo en calentamiento.
El acuerdo conjunto incluye compromisos para tratar estos retos, incluyendo promesas de trabajar juntos para proteger a las comunidades Árticas. Los dos líderes también apoyaron una iniciativa del World Bank para poner fin a quemar gases, una fuente principal de emisiones de carbono negras que acelera el derretimiento del hielo, y acordaron tratar los riesgos que representan el uso excesivo de combustibles fósiles en el transporte marítimo. Las emisiones de carbono negras por el transporte están aumentando en el Ártico en lo que el retiro del hielo oceánico abre nuevas rutas de transporte y permite el aumento en trafico marítimo para la explotación de recursos y el turismo.
Estos compromisos son admirables y marcan un gran paso adelante para incluir los impactos climáticos en las decisiones que tienen que ver con el desarrollo de energía y transporte industrial en toda la región. Si estos importantes compromisos funcionarán con éxito o no, dependerá ahora de cómo se implemente el acuerdo. El Presidente Obama tiene importantes oportunidades de cumplir la promesa de este acuerdo en venideras decisiones a tomar acerca de la perforación de petróleo y gas en el Océano Ártico.
La comunidad científica ha concluido que abrir el Ártico para perforación de petróleo es incompatible con limitar el calentamiento a los valores reafirmados durante el Acuerdo de París y con darnos el mejor chance de evitar los peores efectos del cambio climático. Además, la perforación tiene el riesgo de derrames de petróleo que no tienen limite y no se pudieran contener, ni limpiar en el remoto, helado Océano Ártico. Para responder a esta ciencia y cumplir las metas de este acuerdo, la administración tendrá muy pronto la oportunidad de tomar acción significativa.
Primero, el Océano Ártico debe ser excluido del plan de cinco años del Buró de Manejo de Energía de los Océanos (Bureau of Ocean Energy Management) de los contratos para perforación mar adentro. Un borrador del plan, que traza las áreas de la plataforma continental exterior donde se pueden ofrecer contratos de arrendamiento a las compañías de gas y petróleo, de 2017-2022, se espera dentro de las próximas semanas y una decisión final se espera más adelante este año. El eliminar nuevos contratos en el Océano Ártico del plan sería otra gran paso hacia adelante, consistente con el acuerdo de hoy, hacia manejar el Ártico para proteger sus irreemplazables recursos, comunidades y al planeta.
Finalmente, consistente con este importante acuerdo de hoy, el Presidente Obama debe eliminar todo contrato de petróleo futuro en las porciones estadounidenses del Océano Ártico y reconsiderar los contratos existentes en la región. Como Obama y el Primer Ministro Trudeau señalaron hoy, el Ártico es una frontera. Es también una batalla para ganar en la lucha para proteger nuestro mundo de los peores efectos del cambio climático.
Drew Caputo was Vice President of Litigation for Lands, Wildlife and Oceans at Earthjustice.