What the Joint US/Canada Climate Agreement Could Mean for the Future of the Arctic
Today, the leaders of the U.S. and Canada announced an agreement that includes a major commitment to joint climate action and Arctic conservation. Upcoming decisions create opportunities to fulfill its promise.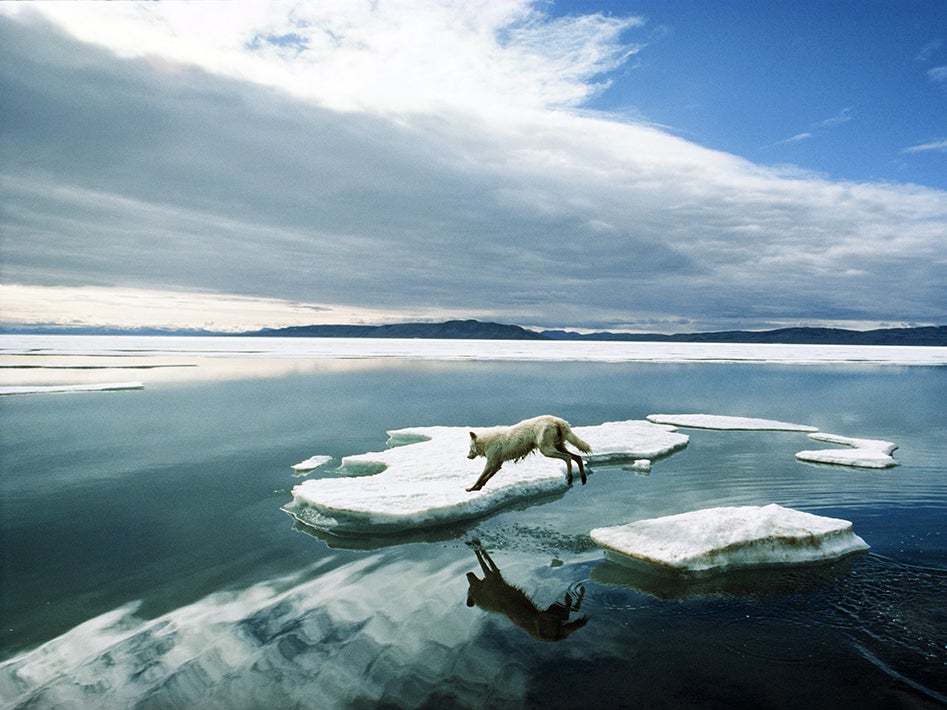 President Barack Obama and Canadian Prime Minister Justin Trudeau today issued a Joint Statement on Climate, Energy, and Arctic Leadership to address the global climate crisis that included a strengthened commitment to protecting the Arctic Ocean. Their joint action signals that climate change consequences will be central to management decisions in the fragile Arctic region, including fossil fuel choices.
The two leaders affirmed that Arctic commercial activity, including oil and gas development, will be allowed only when the highest science and environmental standards are met. Critically, this includes a commitment to ensure any oil and gas drilling decisions advance global climate goals set forth during the historic Paris Agreement in January, which the joint statement called a "turning point" in the fight to combat climate change. At that summit, more than 180 countries committed to concrete action to limit climate warming.
Today's U.S.-Canada climate pact highlighted the Arctic as a region on the frontline of climate change. Sea-ice melting at seemingly exponential rates is leading to coastline erosion, a rapidly changing habitat for species like polar bears and walruses, and direct impacts on indigenous groups who have lived in the region for millennia and are now witnessing firsthand the cataclysmic effects of a warming world.
The joint statement includes commitments to address these challenges, including promises to work together to protect Arctic communities. The two leaders also endorsed an initiative by the World Bank to end flaring, a major source of black carbon emissions which accelerates ice melt, and agreed to address risks posed by heavy fossil fuel use from marine shipping. Black carbon emissions from shipping is increasing in the Arctic as retreating sea ice opens up new shipping routes and allows increased ship traffic for natural resources exploitation and tourism. 
These commitments are commendable and mark a huge step forward for bringing climate impacts into decisions regarding energy development and industrial transportation through the region. Whether these important commitments succeed will depend now on how the agreement is implemented. President Obama has important opportunities to fulfill the promise of this agreement in upcoming decisions about Arctic Ocean oil and gas drilling. 
The scientific community has concluded that opening the Arctic to oil drilling is incompatible with limiting warming to the thresholds reaffirmed in the Paris Agreement and giving us the best chance of avoiding the worst effects of climate change. Moreover, drilling risks oil spills that know no boundaries and could not be contained or cleaned in the remote, icy Arctic Ocean. To respond to this science and meet the goals of this agreement, the administration will soon have the opportunity to take significant action.
First, the Arctic Ocean should be excluded from the Bureau of Ocean Energy Management's five-year plan for offshore drilling leases. A draft of the plan, which charts which areas of the outer continental shelf could be offered for lease to oil and gas companies from 2017-2022, is expected out within the next few weeks and a final decision is expected later this year. Removing new Arctic Ocean leasing from the plan would be another major step forward, consistent with today's agreement, toward managing the Arctic to protect its irreplaceable resources, communities and the planet.
Ultimately, consistent with this important agreement today, President Obama should withdraw the U.S. portions of the Arctic Ocean from all future oil leasing and reconsider existing leases in the region. As Obama and Prime Minister Trudeau signaled today, the Arctic is on the frontline. It is also an essential battle to win in the fight to protect our world from the worst effects of climate change. 
Drew Caputo was Vice President of Litigation for Lands, Wildlife and Oceans at Earthjustice.