Why I'm an Attorney on the Clean Power Plan's Side
Earthjustice Counsel Howard Fox talks about why he's fighting for the Clean Power Plan.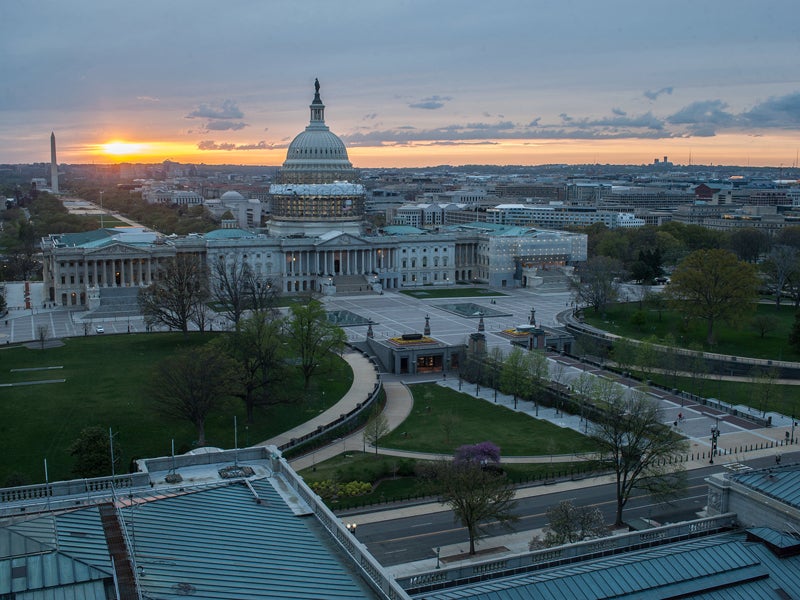 Update: On March 28th, 2017, President Trump issued a sweeping executive order that undermines federal actions to combat climate change, including the landmark Clean Power Plan. Earthjustice will continue to defend the Clean Power Plan in court against any Trump administration attempts to dismantle it.
Washington, D.C., isn't just the seat of our national government; it's also my hometown. It's the place where I was born and have lived nearly my whole life. I attended the very first Earth Day rally here in 1970. I've also spent over three decades working here, under six presidential administrations and on a wide variety of issues.
During this time, I've seen how things operate. Those who pollute our environment continue to send a swarm of hired lobbyists to this town. They blanket Capitol Hill in their quest for legislative favors and sue at the drop of a hat to overturn government policies they don't like.
Their latest effort focuses on the Clean Power Plan, which sets the first-ever federal carbon pollution limits for our nation's electric power plants. It is a vital, common-sense safeguard that will greatly reduce the U.S.'s largest source of carbon emissions.
August 3 marks the one-year anniversary of the Clean Power Plan's unveiling. The plan rests on a solid legal and factual foundation, but the coal industry and its allies have been attacking it relentlessly with misguided lawsuits. I have joined a team of attorneys working to defend the Clean Power Plan—and on Tuesday, September 27, the plan will finally have its day in court, in the U.S. Court of Appeals for the District of Columbia Circuit.
For me, the Clean Power Plan isn't just an abstraction. At my apartment building, renewable energy is real. We have the largest residential solar energy installation in Washington, D.C. This isn't just a photo of a solar panel that might be built somewhere, someday: Instead, these panels are installed and operating, creating energy for myself and my neighbors.
The clean energy genie is already out of the bottle, in the form of technologies that dramatically cut carbon pollution. With every passing year, the need for those pollution cuts grows more urgent, as unprecedented warming continues to threaten our health and environment. Like communities around the nation, Washington, D.C., is at risk from a warming climate. Our beloved National Mall and other downtown areas are located on the coastal plain, making them vulnerable to sea level rise. A storm several years ago damaged several important D.C. buildings, including the National Archives where we keep many of our nation's most precious historical documents. The Army Corps of Engineers has built a levee south of the White House in an effort to keep floods at bay.
So there's no time to lose—the Clean Power Plan and its common-sense cuts in carbon pollution must be allowed to take effect. We simply can't let fossil fuel interests turn back the clock and prevent progress on the biggest environmental challenge of our time.
As I've seen through my time in the Nation's Capital, progress never happens if there aren't people willing to take a stand. Fortunately, most of us recognize the need to move decisively away from carbon pollution and toward clean energy. Among those vigorously defending the Clean Power Plan are state, county and municipal governments; forward-thinking power companies; renewable energy producers; companies that specialize in helping businesses and consumers save energy; and public health and environmental groups.
Misguided fossil fuel interests cannot and must not succeed. I believe we can successfully push back on them once again.
This blog was first published by The Huffington Post on August 2, 2016.
A native of the District of Columbia, Howard practiced environmental litigation with Earthjustice from 1980–2021. His docket included numerous cases under the Clean Air Act, Clean Water Act, National Environmental Policy Act, and other laws.
Earthjustice's Washington, D.C., office works at the federal level to prevent air and water pollution, combat climate change, and protect natural areas. We also work with communities in the Mid-Atlantic region and elsewhere to address severe local environmental health problems, including exposures to dangerous air contaminants in toxic hot spots, sewage backups and overflows, chemical disasters, and contamination of drinking water. The D.C. office has been in operation since 1978.