Why These Colorado Aspen Trees Should Quake
Autumn's beauty was on full display in Colorado's aspen forests late last month. So was the Obama administration's schizophrenic approach to climate and public lands policy.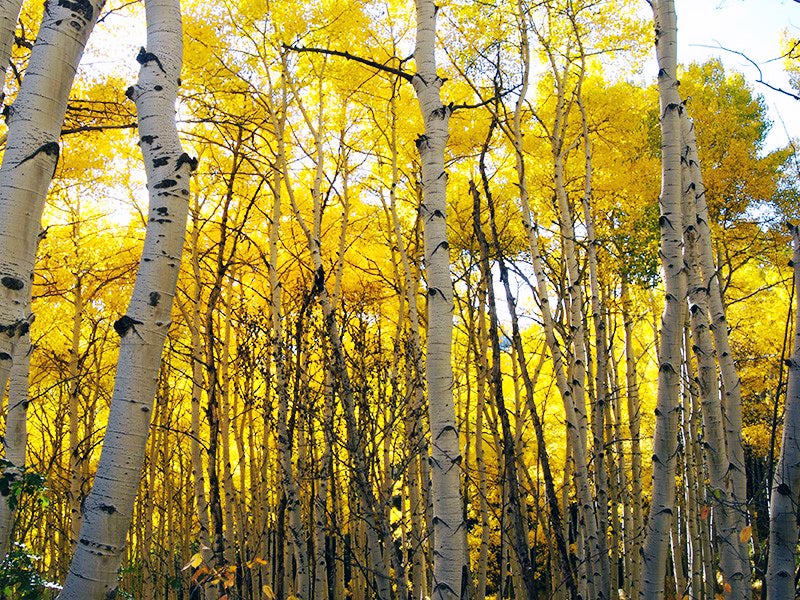 Autumn's beauty was on full display in Colorado's aspen forests late last month.
So was the Obama administration's schizophrenic approach to climate and public lands policy.
In late September, I was fortunate enough to spend a day each hiking through two roadless areas—Pilot Knob and Sunset—managed by the Gunnison National Forest.
On a warm day, we walked a muddy jeep track enjoying the yellows, oranges and the occasional tinges of red as we nearly circumnavigated pyramidal Pilot Knob. As we walked, a startled hawk wove through the trees. We found bear tracks in the wet earth, and watched as a half-dozen mule deer does bounced amid the undergrowth. Through meadows, we stole occasional glimpses of the spectacular Ragged Mountains and Huntsman Ridge.
The following afternoon under blue skies, we bushwhacked up and down ridges, over deadfall, and in boot-sucking mud in the Sunset Roadless Area, less than 20 miles southeast of Pilot Knob. The yellow of aspen leaves was often intermingled with the dark green of invading spruce. A pair of beavers swam in their pond well-stocked with saplings cut down with sharp teeth. A trio of dusky grouse burst from the undergrowth and perched in a tree 15 feet off the ground, eyeing us curiously. Mount Gunnison in the West Elk Wilderness towered majestically to the west.
These areas share immense beauty, prime wildlife habitat and opportunities to enjoy challenging terrain far from the madding crowd. But both areas share something else: they are, with the Forest Service's blessing, in the cross-hairs of polluting fossil fuel development.
Pilot Knob has been leased for natural gas drilling, and the agency will soon begin evaluating a plan to scrape 25 drilling pads there. The rough jeep trail would be widened and the whine of drill rigs and rumble of commercial traffic would shatter the silence.
The Sunset Roadless Area, mercifully, has been spared the Forest Service's systematic attempts to construct over 6 miles of road and nearly 50 drilling pads to facilitate Arch Coal's West Elk mine, which itself belches more climate pollution than all the other underground coal mines in the state put together.
Sunset is safe for now because Earthjustice, on behalf of High Country Conservation Advocates, WildEarth Guardians, and Sierra Club, won a lawsuit setting aside the Forest Service's approval of West Elk's expansion. But the Obama administration may appeal that ruling, fighting to the bitter end to unleash the bulldozers and greenhouse gas pollution, all to subsidize coal mining in a roadless area.
The Obama administration's insistence on damaging these roadless forests for fossil fuels is at odds with its great work rallying the nation to limit climate pollution and to heed the overwhelming science as to the costs—in human health, property damage and harm to agriculture—predicted to result from a warming planet.
Will the Forest Service's legacy be to protect these lands to be enjoyed by people and wildlife? Or to sacrifice the beauty, habitat, pure water, and recreation opportunities of these lands while threatening other people and lands with more climate pollution?
Next fall, I hope I and others will still be able to enjoy the aspen leaves turning golden, abundant wildlife, and a quiet refuge from civilization, and not find these roadless land scarred for the benefit of a few polluters.
Ted was an attorney in the Rocky Mountain regional office from 2003–2018. He protected wilderness, roadless areas and the planet's climate on behalf of conservation groups in the Four Corners' states.
Earthjustice's Rocky Mountain office protects the region's iconic public lands, wildlife species, and precious water resources; defends Tribes and disparately impacted communities fighting to live in a healthy environment; and works to accelerate the region's transition to 100% clean energy.