The Willow Project Has Been Approved. Now What?
The system that greenlights oil-drilling on public lands is broken. Here's how to fix it and avoid more carbon bombs.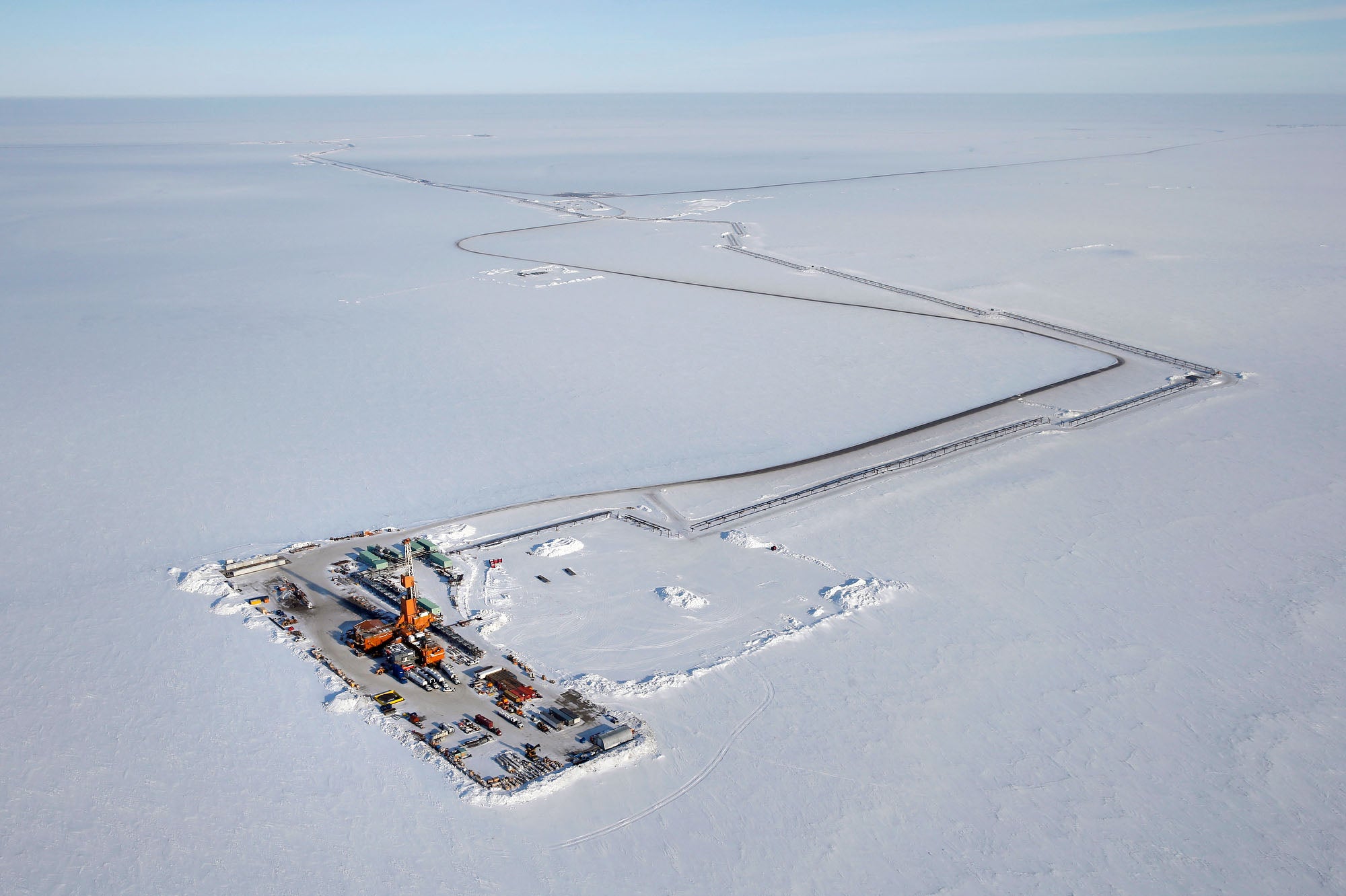 Last week, the Biden administration lit the fuse on a carbon bomb.
The administration gave the go-ahead to ConocoPhillips' Willow project in Alaska's Western Arctic, a massive, decades-long oil drilling endeavor. Approval came in the form of a hefty agency document known as a Record of Decision, landing with a thud that reverberated across the Internet to the more than 5 million people who signed online petitions urging President Biden to stick to his climate promises and halt Willow. Earthjustice is now suing to stop the project.
ConocoPhillips — whose full-year earnings for 2022 rose to $18.7 billion — was able to secure initial approval for three oil-drilling sites. All told the project is estimated to produce 260 million metric tons of heat-trapping gases over 30 years.
Meanwhile, the world's top scientists just published a "survival guide for humanity" that says we must cut global emissions in half by 2030 to avoid the worst possible harms of the climate crisis. Building new oil and gas infrastructure like Willow will make it impossible to reach that goal.
Willow is just one of many dirty fossil fuel projects the federal government — including the Biden administration — has approved on public lands and waters it ostensibly stewards for all Americans. Nearly 25% of U.S. carbon emissions since 2005 have come from oil, gas, and coal extracted from public lands and waters leased to the fossil fuel industry. This means the Biden administration could cut our carbon footprint by a quarter with a single action: end fossil fuel drilling on public lands.
Willow is only the beginning of ConocoPhillips' sprawling plans for Alaska's Western Arctic, an open swath of tundra where polar bears, caribou, and musk oxen roam. The oil company imagines this vast public-lands area as the "next great Alaska hub" for oil development and has told investors that it's identified a staggering amount of oil, possibly amounting to 3 billion barrels, that could be accessed only if the Willow infrastructure were in place.
Meanwhile, a massive oil-and-gas lease sale — one of the largest in U.S. history — is scheduled for the Gulf of Mexico on March 28. The petroleum located beneath the seafloor in the leasing area for Lease Sale 259 could produce more than 1 billion barrels of oil, and 4 trillion cubic feet of natural gas. Here again is a staggering carbon bomb in the making, just beginning to work its way through the federal approval process. Earthjustice has also brought a legal challenge against Gulf Lease Sale 259.
Solving the climate crisis cannot be accomplished with clean-energy technology alone; keeping oil and gas reserves in the ground must be a part of the solution too. When it comes to fossil fuel extraction on public lands, the U.S. remains pointed in the wrong direction.
The U.S. ranks as the second-largest emitter of climate pollution on the planet. Yet the government's Willow decision is a worrisome harbinger of what could be to come, as new fossil-fuel projects are on track to win approval just as they always have — even from agencies operating under a president who has repeatedly promised bold climate action and a transition to clean energy. Clearly, this is a broken system in need of repair.
What should those repairs look like? Earthjustice has a vision.
The way things work now, agency decisions green-lighting drilling projects on public lands essentially occur in a vacuum, divorced from U.S. commitments to reduce greenhouse-gas emissions 50% below 2005 levels by 2030. An improved system would bake these federal climate commitments into the decision-making process. In practice, this could mean that no new lease sales could happen or oil-and-gas permits could be issued unless the proposals squared with U.S. climate goals. Tying fossil-fuel decisions to such a "climate screen" would help avoid development of carbon bombs.
This new approach could also mean making a large area of public lands unavailable for leasing to begin with. As things stand, a full 90% of lands under the purview of the Bureau of Land Management are open for leasing by the oil and gas industry. Our public lands are special and unique places that function as critical wildlife habitat, essential grounds for Indigenous hunting and fishing, refuges for people who love the outdoors, and sources for clean, fresh drinking water. Rather than being sacrificed to boost oil industry profits, these special places can and should be a part of the climate solution.
It's time to ensure that no more projects on the scale of Willow ever receive a green-light from the agencies that manage our federal lands.
Sticking with the status quo means leaving the floodgates open to more projects like Willow. If no action is taken, it is inevitable that extraction projects will proliferate across our nation's great open spaces, undercutting the climate progress made through investments in clean energy and infrastructure. Failing to fix this broken system would be a missed opportunity that would only pass the burden onto future generations.
A new approach that links our climate goals with decision-making about whether oil companies may operate on federal lands is the logical next step to address the climate crisis, and represents a tremendous opportunity to demonstrate global leadership. President Biden has the authority to directly ramp down climate pollution from this sector and could take a significant bite out of global carbon emissions with a single rulemaking.
Based in Portland, OR, Rebecca is Earthjustice's Public Affairs and Communications Officer for lands, wildlife, and oceans.
Opened in 1978, our Alaska regional office works to safeguard public lands, waters, and wildlife from destructive oil and gas drilling, mining, and logging, and to protect the region's marine and coastal ecosystems.