Yet Another Explosive Wake-Up Call
Two crude-by-rail accidents earlier this month highlight the urgent need to regulate this dangerous mode of oil transportation, which threatens communities along the tracks.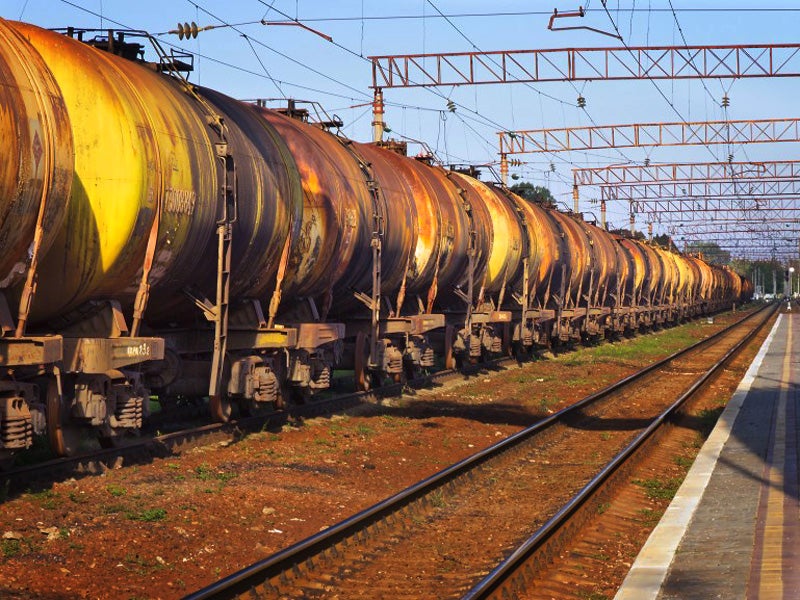 Update, May 6, 2015: Earthjustice Attorney, Kristen Boyles, responds to this morning's news of another oil train derailment and fireball in North Dakota. "Again another derailment and explosion of a train carrying crude. Again another community evacuated and its people counting their blessings this didn't happen half a mile down the track in the middle of town. Under the Department of Transportation's new rules, the type of oil tank cars that are burning in Heimdal will stay on the rails for five to eight years. DOT's new industry-pleasing rule is too weak and too slow. We need to get these exploding death trains off the tracks now."
Read our recent press release on the Department of Transportation's disappointing and long-awaited new safety standards for rail tank cars used to haul volatile Bakken and tar sands crude oil.
Update, March 9, 2015: On March 7, a Canadian National Railway train carrying Alberta crude oil derailed outside of the tiny town Gogama in northern Ontario. Five of the 38 cars that came off the tracks fell into the Mattagami River system. The accident caused a massive fire and leaked oil into the waterways that are used by locals, including a nearby indigenous community, for fishing and drinking. There are no reported injuries.
Update, March 6, 2015: On March 5, a BNSF oil train with 103 tank cars carrying explosive Bakken crude oil from North Dakota derailed just south of Galena, Illinois. No injuries were reported, but 21 cars derailed and a black-plumed fire continues to burn a day later. All the oil tank cars were CPC-1232s, the supposedly "better" tank car that the industry has promoted despite a series of accidents and fireballs. Earthjustice continues to press federal regulators to issue truly protective oil tank car rules immediately, with no lengthy phase-out period for the ever-more-obviously unsafe tank cars.
This past weekend saw three major crude-by-rail accidents in Canada and the United States. The last derailment culminated in an enormous fireball that forced the evacuation of a West Virginia town and threatened local drinking water.
Feb. 14, 2015, near Frank, Alberta: U.S.-bound train carrying Alberta tar sands derailed; luckily, no oil reported spilled. 
Feb. 14, 2015, near Timmins, Ontario: 100+ tank car train carrying Alberta tar sands, 29 cars derailed and seven caught fire. Canadian officials noted that it was a good thing the weather was very cold, as the frigid temperatures kept the crude oil from running.
Feb. 16, 2015, Mount Carbon, West Virginia: 100+ tank car train carrying Bakken shale crude, 26 of those 30,000-gallon tanker cars derailed and nearly 20 of those caught fire. Towering fireballs appeared over the town as tank cars continued to catch fire and explode. At least one home was destroyed. More than 2,400 nearby residents were initially evacuated. Drinking water intake pumps that serve the nearby community of Montgomery were closed out of concern that oil had contaminated the Kanawha River.
These derailments are part of a pattern of horrifying accidents occurring with alarming frequency over the last two years. The first large-scale tragic train derailment and explosion on July 6, 2013 in Lac-Megantic, Quebec killed 47 people and destroyed the downtown.  Edmonton, rural Alabama, Casselton, Plaster Rock, Philadelphia, Lynchburg—all U.S. and Canadian towns that have seen accidents, fireballs, water contamination, and near misses. Fortunately, no one else has yet been killed, but how many wake-up calls do federal regulators need?
Our federal government is missing in action. In July 2014, Earthjustice asked the Department of Transportation for an emergency ban on shipping explosive crude oil in old and admittedly dangerous tank cars called DOT-111s. Transportation's response? Don't worry; we're working on rules that will upgrade tank car standards.  Those rules are still not finished.  And, even if finalized as proposed, they would enshrine a lengthy phase-out of the dangerous tank cars—leaving them on the rails moving through communities for many years to come.  Rumors suggest that the DOT-111s will be phased out first. This provides little comfort as the cars that exploded in West Virginia are newer models built to a voluntary industry standard put in place in 2011.  Those tank cars would be around for many more years even if a phase out were implemented today. 
The crude-by-rail boom leaves towns across the nation unable to determine for themselves how to safeguard their communities, people, water and wildlife.  In much of the U.S., tracks run through the middle of cities and towns and along the banks of rivers and streams.  We went to court to force faster rulemaking, but that effort has been stalled, awaiting the long-promised rules. In the meantime, communities are mobilizing to stop infrastructure projects that would invite more oil trains through their cities and towns. 
The string of accidents is proof, if we needed it, that shipping crude oil on trains is too dangerous and too risky. We must ban the hazardous tank cars now, and stop the crude-by-rail rush.
Kristen works in the Northwest regional office in Seattle, WA. As an outdoor enthusiast, she brings passion to protecting our national forests and grasslands from destructive practices like road building, logging and development.
Established in 1987, Earthjustice's Northwest Regional Office has been at the forefront of many of the most significant legal decisions safeguarding the Pacific Northwest's imperiled species, ancient forests, and waterways.