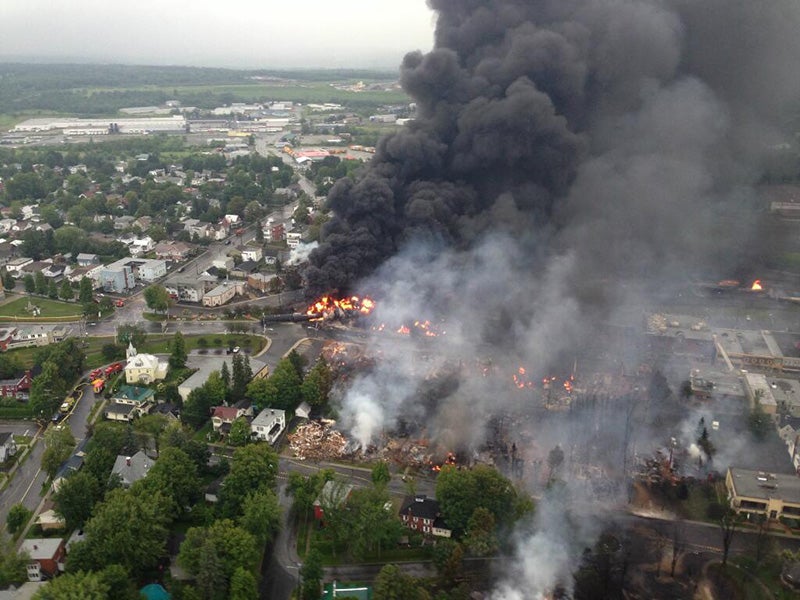 Photo courtesy of Sûreté du Québec
The oil industry has scrambled to transport crude oil from drill sites to the east and west coasts, where it can potentially be shipped overseas to more lucrative markets, as hydraulic fracturing and tar sands drilling has created a glut of oil.
The increase in oil rail traffic, however, has not been matched with increased regulatory scrutiny.
Oil trains are not subject to the same strict routing requirements placed on other hazardous materials; trains carrying explosive crude are permitted to pass directly through cities—with tragic results. In the absence of more protective regulations, communities across the country are beginning to take matters in their own hands.
Oil Train Disasters
Click on
to see some
recent oil train accidents
and
for
communities fighting for protections
.
Blue lines
indicate U.S. major freight rail lines.
Rail lines data via Natl. Transportation Atlas Database (2013). Last updated: October 11, 2016. View Larger Map
Oil Train-related Incidents
What You Need To Know
Q. What are DOT-111 and CPC-1232?
DOT-111 tank cars have been in service in North America for several decades and were designed to carry liquids such as corn syrup. When involved in derailments, these tank cars are prone to puncture and spill their contents. As crude production in the United States has surged exponentially in recent years, these outdated rail cars have been used to transport the crude oil throughout the country. When these tank cars are involved in accidents while carrying highly volatile and toxic liquids such as crude oil, they have high tendency to spill oil and explode.
The U.S. and Canadian official accident investigators recognized decades ago that the DOT-111s were unsafe for carrying hazardous materials, finding that the chance of a "breach" (i.e., loss of contents, potentially leading to an explosion) is over 50% in some derailment scenarios. U.S. and Canadian safety investigators have repeatedly found that DOT-111s are unsafe and recommended that they not be used for explosive or hazardous materials, including crude oil.
CPC-1232s were developed by industry in response to the clear threats posed by the DOT-111s, and at best they represent a modest safety improvement. However, a large number of recent catastrophic crashes have involved CPC-1232s, and it is now well recognized that they are not an adequate response to the risks of shipping crude by rail.
Q. What is Bakken crude oil?
Bakken crude refers to oil from the Bakken shale formation, located primarily in North Dakota, where oil production has skyrocketed in recent years due to the availability of newer hydraulic fracturing ("fracking") techniques. The increase in the nation's output of crude oil in 2013, mostly attributable to Bakken production, was the largest in the nation's history.
Bakken crude is highly flammable, much more so than some crude oils. Today, Bakken crude moves in "unit trains" of up to 120 rail cars all carrying oil, as long as a mile and a half, often made up of unsafe DOT-111s and CPC-1232s.
Q. Have there been accidents involving these trains?
Yes. At this point, derailments of tank cars carrying crude oil have become almost commonplace. Since the surge in Bakken production began, there have been a number of high profile derailments of DOT-111s and CPC-1232s carrying Bakken crude that have led to massive oil spills, catastrophic explosions, evacuations, and significant casualties.
In fact, just a few days after the DOT issued its final rule, a derailment in North Dakota of a 107-car train of CPC-1232s resulted in a huge fire and the evacuation of the nearby town. It was the 24th such derailment since the tragic accident in the small Canadian town of Lac-Mégantic, where 60 tank cars derailed and caught fire, killing 47 people.
Given the extraordinary volume of Bakken crude currently being transported in unsafe rail cars, it is only a matter of time before another disaster of this magnitude—or worse—occurs.
Q. What steps have the U.S. and Canadian governments taken?
Safety experts in the U.S. government have repeatedly sounded the alarm that Bakken crude oil should not be shipped in DOT-111 tank cars due to the risks. Yet prior to the issuance of the new rules, all DOT did was issue safety alerts recommending—but not requiring—shippers to use the safest tank cars in their fleets for shipments of Bakken crude and to avoid using DOT-111 cars. After CPC-1232s breached, spilled oil and exploded in several rail accidents in 2014 and 2015, the investigators extended their recommendations to CPC-1232s.
In the new tank car rule and a similar Canadian rule, new tank car standards will replace both DOT-111s and CPC-1232s for newly built tank cars. However, for existing tank cars, both countries have settled for weaker standards that require only that modest additional safety features be added to the CPC-1232 cars.
Q. What are the other problems with the rule?
In addition to the extended timeline that keeps unsafe tank cars on the rails for years to come, a lawsuit filed on May 14, 2015, raises a number of other issues. For example:
The rule only applies to trains with 35 oil tank cars or more: Bakken crude can be transported in unsafe tank cars as long as there are no more than 34 cars in the train—forever.
While the rule establishes a fairly robust standard for new tank cars, it allows existing cars to be held to a significantly weaker standard, exposing the public to excessive risk.
The rule establishes a 40 mile per hour speed limit for only a small number of urban areas, but doesn't offer this important protection to most populated areas near railroad tracks, rural communities, drinking water supplies, or other sensitive environments.
The rule actually weakens standards for notice to emergency responders and the public that have been in place for the last year, meaning responders and communities will have even less information about the risks from crude oil transportation.
Read: 7 Hidden Dangers Buried in the Federal Tank Care Rule
Q. What happens next?
Earthjustice has filed a lawsuit in the U.S. Ninth Circuit Court of Appeals, challenging the new tank car rule on behalf of ForestEthics, Sierra Club, Waterkeeper Alliance, Washington Environmental Council, Friends of the Columbia Gorge, Spokane Riverkeeper, and the Center for Biological Diversity. A group of local governments have also filed a challenge, and the American Petroleum Institute has brought a lawsuit of their own.
The various legal challenges will likely be consolidated before one court of appeals. A decision is not expected before 2016. (See the latest on all oil train news from Earthjustice.)
(Q&A last updated on May 14, 2015.)