Your Dog and Cat's Food Container Bags May Be Coated with Toxic Chemicals
The good news is, you can help researchers find out by submitting a sample to the Green Science Policy Institute.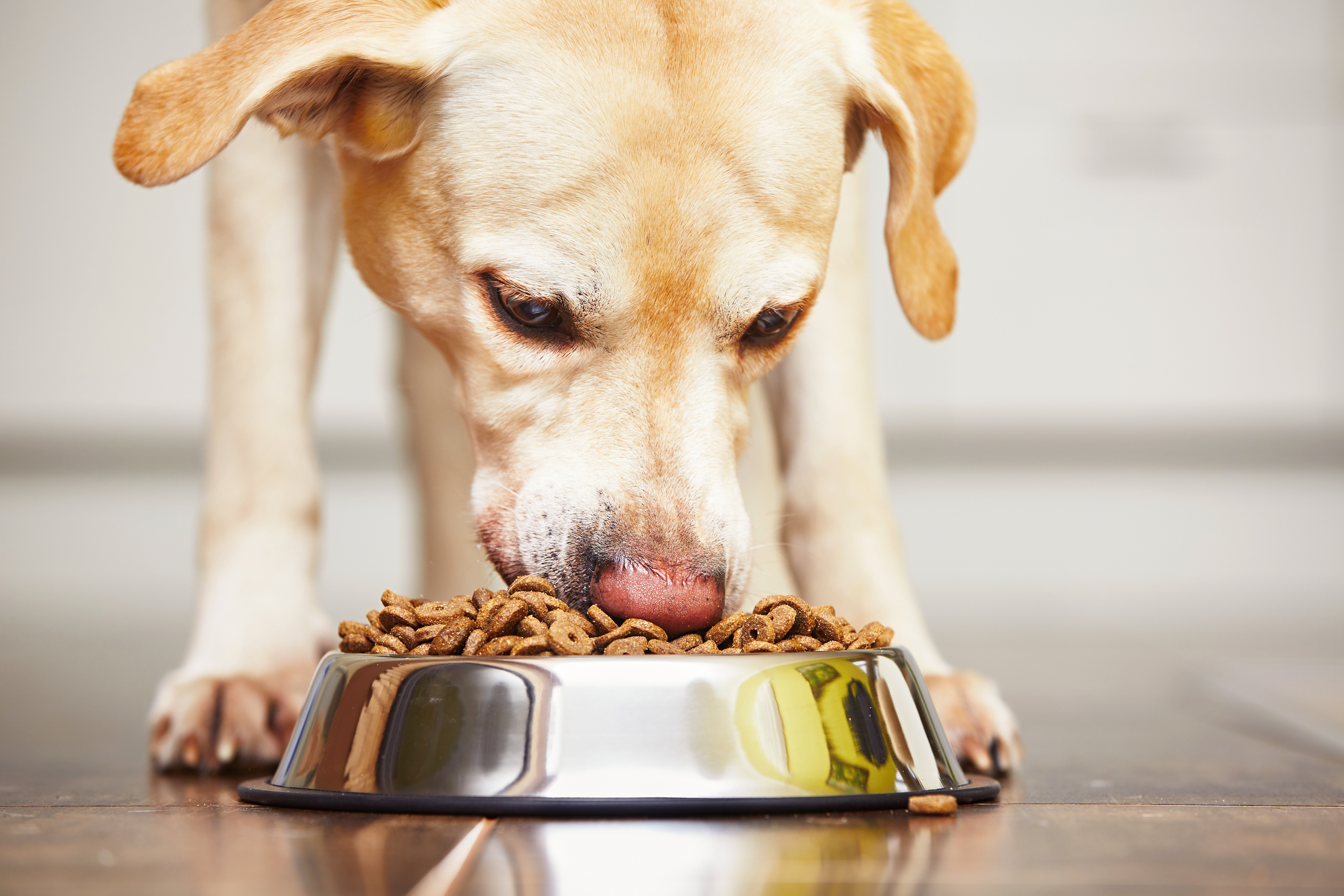 Every pet owner knows the consequences of feeding their dog or cat too many table scraps. Your pet gets fat, and your daily pet poop patrol suddenly smells a lot worse.
But even the healthiest kibble and snacks can be harmful if they're packaged in bags lined with potentially toxic chemicals. That's why the Green Science Policy Institute is asking pet owners to send in a sample of their pets' food or treat packaging for testing. Specifically, the institute is looking for highly fluorinated chemicals, which can persist in humans, animals and the environment for years. Some of them have even been linked to health issues like high cholesterol and thyroid disease.
The properties that make fluorinated chemicals durable are the same ones that make them useful for creating grease- or stain-resistant, nonstick and waterproof products like cooking pans and pet food bags. You've probably heard of the most infamous of these chemicals — PFOA. Once a major ingredient in Teflon nonstick coating, it has since been phased out by manufacturing companies in the U.S. for safety reasons.
However, the U.S. still allows other types of fluorinated chemicals, and they can have properties similar to PFOA.
In a previous test, the Green Science Policy Institute found fluorinated chemicals in about a third of take-out food packaging. Other research (see here and here) confirms that these chemicals can migrate from packaging into our food. This means you could be ingesting fluorinated chemicals every time you decide to get a burger and fries on the go.
While conducting the first test, the institute's researchers noticed that pet food bags contained significantly higher levels of fluorinated chemicals than those found in the take-out packaging. So, for this next study, they decided to test pet food packaging for fluorine, which can indicate that the product contains these highly fluorinated chemicals. Though it won't determine whether the chemicals they find are harmful, identifying which chemicals are in pet food packaging is a good first step toward determining whether these products are safe.
The Institute is taking samples until October 20. Here's how to submit one:
Cut out a five-by-five-inch sample of the food or treat bag and place it in a resealable bag.
Record the product information, including the item name, brand, store name and location, and your contact information, including your name, email and mailing address, on a piece of paper.
Put the paper in the resealable bag and mail it to Green Science Policy Institute, P.O. Box 9127, Berkeley, CA 94709.
Email robin@greensciencepolicy.org to notify the institute that you've sent the sample.
Voila! You've just contributed to an official scientific inquiry. Green Science expects to report the study's results to its participants by the end of the year.
Of course, the fact that our products are lined with dangerous chemicals in the first place speaks to a larger problem: Our nation's chemical laws are simply too weak. Last year, Congress finally did something about this by overhauling TSCA, the primary chemical safety law in the U.S.
Congress' updates require the EPA to evaluate chemicals without considering cost and with special attention to how vulnerable populations like children could be impacted. The bipartisan action was a huge step forward on chemical safety.
Unfortunately, as soon as Trump took office, he directed the EPA to weaken its key rules. In response, Earthjustice — on behalf of a number of organizations — has brought two suits against the Trump administration for trying to water down TSCA. For the past six years, we've fought for TSCA reform to ensure the EPA adequately protects the public and environment from harmful chemicals. We're not stopping now.
Jessica is a former award-winning journalist. She enjoys wild places and dispensing justice, so she considers her job here to be a pretty amazing fit.
Established in 2008, Earthjustice's Northeast Office, located in New York City, is at the forefront of issues at the intersection of energy, environmental health, and social justice.
Established in 1989, Earthjustice's Policy & Legislation team works with champions in Congress to craft legislation that supports and extends our legal gains.