Youth Rally for Cleaner Air
A sizable youth following made their voices heard at a public hearing in Sacramento on the EPA's proposed update to the ozone standard.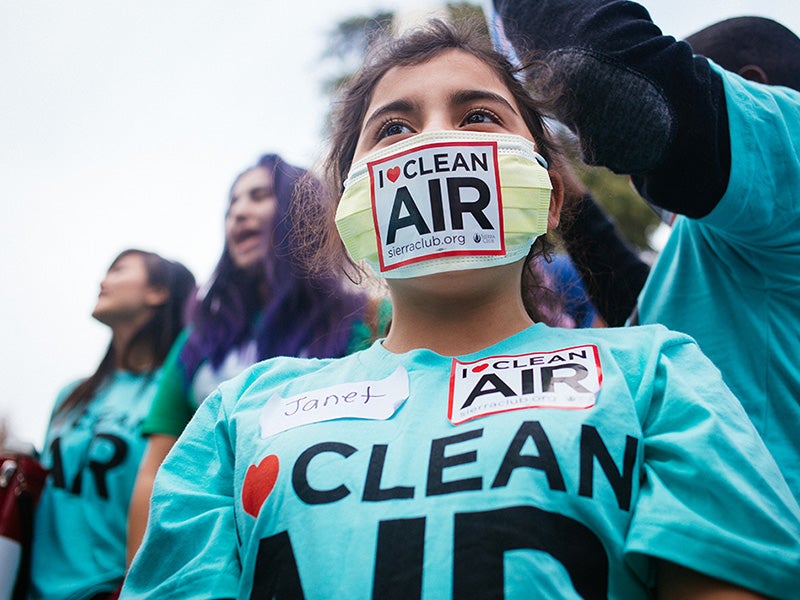 On Monday, I traveled to Sacramento to testify at a public hearing on EPA's proposed update to the ozone standard, along with many other environmentalists, public health advocates, students and individuals who are concerned about the effects of ozone on our health and environment. During the full day hearing, many testified about how ozone pollution has hurt their communities, their families and their own health.
What struck me most throughout the day was the amazing youth turnout. Elementary school students from Oakland made the trip with their teacher and chaperones. High school students came from Reno, Nevada to testify. Many students at Desert Mirage High School in the Coachella Valley overcame initial opposition and got last-minute permission to miss a day of school to testify at the hearing. They then boarded a bus at 1:30 A.M. to make it to Sacramento in time to testify. The Desert Mirage students and other youth organizers from Sierra Club led a lunchtime rally in Sacramento's Cesar Chavez Plaza, along with the California Nurses Association. They made it clear to EPA and everyone at the hearing that they will do whatever it takes to protect their communities and the environment from dangerous levels of smog.
Nearly all of the youth who testified shared a personal story about the damage ozone pollution has done to those they love. Many teared up as they described sisters, brothers, grandparents, nieces and nephews suffering from asthma, lung cancer and other respiratory illnesses. Marina Barragán told EPA staff about her sister who has severe asthma, and said that her version of the American Dream is clean air and a healthy environment. Earlier in the day, industry representatives testified that a lower ozone standard would be impossible to meet and would hurt the economy. Marina Barragán's testimony ended with the perfect response to that sentiment: "Leaders don't make excuses, they make improvements."
EPA heard compelling testimony from many different speakers, but especially from the youth who worked so hard to attend the hearing. I hope they were left as inspired as I was, and that they heed Marina Barragán's words. We need EPA to show real leadership and set an ozone standard that protects our right to breathe. 
See more images and stories from the hearing in the photo feature, Protecting Lives and Lungs from Smog.
Adenike was the Sr. Research & Policy Analyst / Advocacy Representative for the California regional office in San Francisco, CA, from 2012–2018. She analyzed technical data and policy to support litigation and administrative advocacy focused on air quality, clean energy, and environmental health.
The California Regional Office fights for the rights of all to a healthy environment regardless of where in the state they live; we fight to protect the magnificent natural spaces and wildlife found in California; and we fight to transition California to a zero-emissions future where cars, trucks, buildings, and power plants run on clean energy, not fossil fuels.