Mourning A Hero And A Friend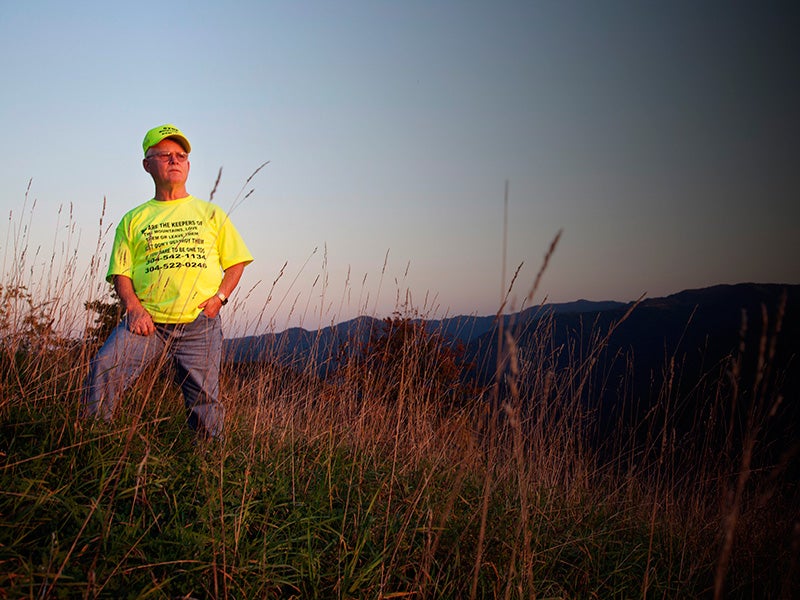 Chris Jordan-Bloch / Earthjustice
Last night, we got devastating news. Larry Gibson, our close friend, partner, ally and comrade in the work to end mountaintop removal mining and secure justice for communities across Appalachia, had passed away of a heart attack. Larry was more than a friend and partner, he was our hero and our inspiration.
Like so many others, I was so inspired and humbled by Larry's tireless work to end mountaintop removal mining and protect all Appalachian people from this destructive mining practice. I wanted to share his story to inspire others and to show more people the hero so many of us saw in him.
He agreed to do this little video with Earthjustice. He asked me to make sure it got out to many people. I heard what he was saying. I felt the weight of his work and a responsibility to him. I knew he fought 30 years for his homeland and for his Appalachian brothers and sisters.
Larry Gibson, with his mentor and close friend
Ken Hechler
, at the Blair Mountain march and rally in 2011.
He'd been threatened, brutalized, burglarized and vandalized for his outspoken activism, and he lost most of his beloved home place, Kayford Mountain, to mountaintop removal mining. He hung on to to a small patch of green verdant land, but more than that, he hung on to his hope for a better future for others, and he never stopped working, fighting and sacrificing for it.
For the filming of our video, he took us up on Kayford Mountain. We finished filming just before sunset. When we were done, we took him off microphone, but we left the camera rolling as we sat there and watched the sunset in silence with him. As the sun set over his decimated Kayford—sublime colors of the sky over the surreal strip mine moonscape—he wept.
"You want to know what the real truth is about me? I just can't get used to it," he said, wiping his tears away. "The truth is, my heroes are the people who don't get used to this. The one that gets used to it is the one that won't do anything about it. I pray to God I got a lot of heroes."
There will only ever be one Larry Gibson, but we all must carry on his work. We can honor him by multiplying his voice.
In Memoriam: Larry Gibson, 1946–2012. "I first set out to save my mountain, Kayford Mountain. By establishing a land trust, we saved our piece of it forever. Now, I fight to save all mountains, and all the people living in them. Because this movement can't be about just me. It can't be about just this mountain. It has to be about the people who don't have a say, like our children and grandchildren."