Carbon Nation: Power Plant Pollution is Sucking the West Dry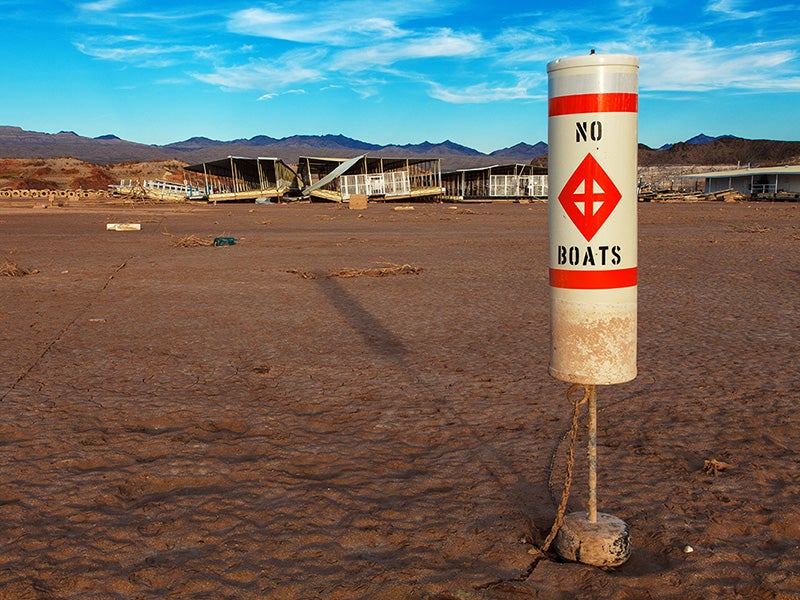 Photo courtesy of James Marvin Phelps
(This is the first in a weekly series of blog posts discussing the U.S. EPA's recent efforts to limit industrial carbon pollution from existing power plants. Earthjustice is advocating that the agency honor the commitments that President Obama made in his Climate Action Plan by setting strong standards that cut emissions from power plants by at least 35 percent below 2005 levels by 2020.)
The Obama administration's recently proposed carbon pollution limits on existing power plants—the single largest source of climate pollution—come as the West endures a drought so historically severe that scientists believe it is directly caused by climate change.
The climate change-fueled dry spell has crippled the region's water supplies. This past January, 10 California counties reliant on water from the bone-dry Sierra Nevada were at risk of running out of water within 60 to 120 days.
In addition, the Colorado River, a symbol of the American West, has been starved to a ribbon of muck by 14 years of relentless drought. Many of the river's most heavily relied upon reservoirs, including Lake Mead and Lake Powell, are at record low levels. In fact, if Lake Mead falls another 33 feet, the Las Vegas Valley will lose almost 90 percent of its drinking water.
The Colorado also provides water to more than 40 million people and 4 million acres of farmland. Yet despite current demands on the river already exceeding the river's average supply, an increasing amount of farms and people are lining up to take away water that's simply not there.
Agribusiness, which consumes over 70 percent of the Colorado's water, is significantly helping to slurp the West dry. Many large farms, which have apparently missed the memo that there's a drought, continue to use outdated, wasteful irrigation systems and to primarily plant water-guzzling crops, such as alfalfa.
Various politicians and agribusiness propose having taxpayers foot the bill to build new dams, as a solution to the West's water problem. Simply put, building more dams would be like buying new drain stoppers for the kitchen sink knowing well in advance that there's no faucet or running water.
The Clean Power Plan is a common sense solution that will lower greenhouse gas emissions and combat climate change-induced stressors like crippling drought. However, the plan needs to be stronger. It's all of our jobs to inform the EPA and our elected officials that the West's historic drought is doing more than make things a little dusty. It's disrupting lives and entire communities.
Climate change already has one foot in our backdoor, and the costliest thing we can do is ignore it. The time to make climate polluters clean up after themselves is now.