UPDATE: Coral and Parrotfish – A Love Story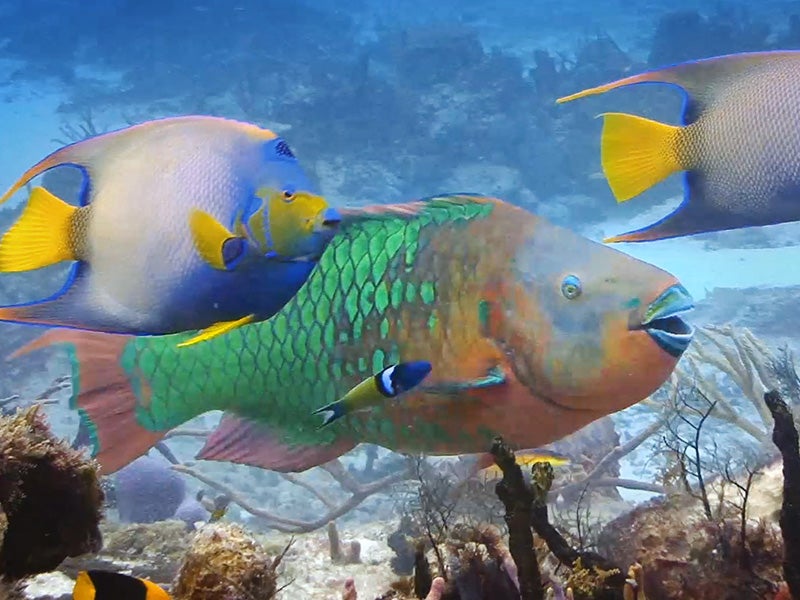 Since the May 14 release of the Earthjustice video titled Coral and Parrotfish – A Love Story, more than 100,000 people have learned how parrotfish can be essential players in coral preservation.
The video takes viewers scuba diving with Earthjustice attorney Andrea Treece as she explores Caribbean coral reefs and describes legal efforts to restore balance to the coral ecosystem:
On July 2, the International Union for Conservation of Nature (IUCN) released a report titled Status and Trends of Caribbean Coral Reefs: 1970-2012.
The report, which made both national and international headlines, confirms the science behind our lawsuit to protect coral.
The findings were stark.
The IUCN reviewed more than 35,000 surveys conducted at 90 Caribbean locations since 1970 and found that "with only about one-sixth of the original coral cover left, most Caribbean coral reefs may disappear in the next 20 years, primarily due to the loss of grazers in the region."
The report is not all gloom and doom, though. Though its authors disagree with the notion that coral reef degradation has been caused primarily by ocean warming, disease and hurricanes—factors that are hard to manage in the near term—they point out that addressing localized stressors, like fishing for too many grazing fish and urchins, is more crucial to ensuring that coral reefs can survive larger scale threats.
As the report's author put it: "What this means is that smart decisions and actions on a local basis could make an enormous difference for increased resilience and well-being of Caribbean coral reefs and the people and enterprises that depend upon them."
The report's first recommendation? "Adopt robust conservation and fisheries management strategies that lead to the restoration of parrotfish populations."
Now it is time for all the agencies that have a say in coral protection to take action because coral not only provide home for multiple fish species, they are economic engines in the Caribbean.
As UN Under-Secretary-General and UNEP Executive Director Achim Steiner explains, "Coral reef degradation and mortality will significantly impact the region's economy through reduced habitat for fish and shellfish, diminished tourism and reduced capacity to protect the shoreline against rising sea levels. We need strong collaboration at the local, national and regional levels to build resilience and reduce threats to coral reefs and the livelihoods of those who depend on them."