Settlement Approved to Stop Ohio River Pollution Caught on Camera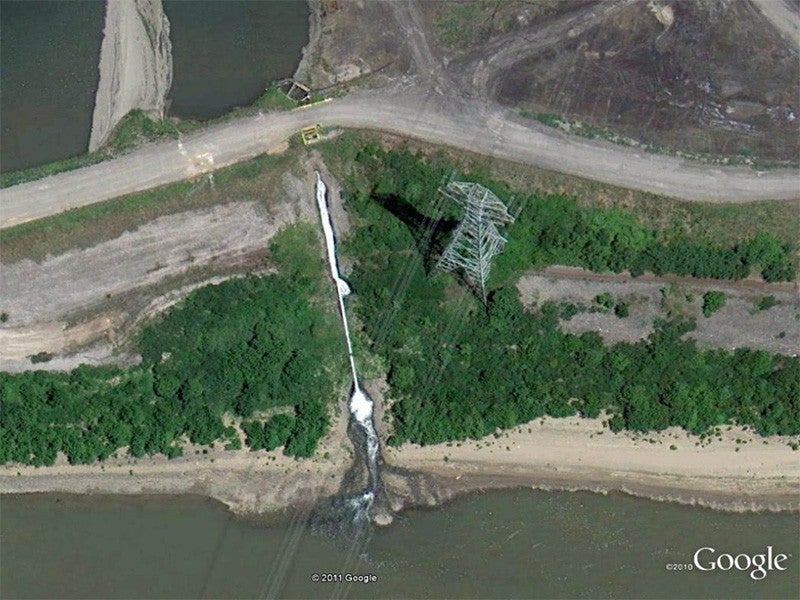 The Ohio is the country's most polluted river. But now, its waters will flow a little bit cleaner.
This week, a federal court in Louisville, Kentucky, approved a settlement that will stop the Louisville Gas and Electric company (LG&E) from dumping toxic, untreated coal plant waste into the Ohio River. The agreement resolves a Clean Water Act lawsuit that Earthjustice and the Sierra Club brought against LG&E back in 2014 and brings an end to one of the most high-profile power plant cases Earthjustice has ever fought.
More than a year before filing suit against LG&E, Earthjustice attorney Shannon Fisk, Sierra Club attorney Kristin Henry and others were looking over Google satellite photos of the Mill Creek coal plant in southwest Jefferson County, Kentucky. The massive, 1,472-megawatt plant generates many tons of waste as a byproduct of burning coal for electricity. This waste, called coal ash, is laced with heavy metals and is stored on location in an unlined dirt pit. One of Earthjustice's experts noticed a flow of water moving from the coal ash pit at Mill Creek into the nearby Ohio River, a source of drinking water for more than three million people. The Clean Water Act permit that allows Mill Creek to operate covers only the possibility of an "occasional" release of waste from the pit to the river.
Henry worked with environmental consultant Barry Sulkin and Sierra Club organizer Tom Pearce to tie a camera to a tree directly across from the plant on the other side of the Ohio River. The hidden camera showed that the ash pit was discharging toxic waste on an almost continuous basis. LG&E's own water testing showed very high concentrations of mercury in the coal ash wastewater. The hidden camera amassed evidence for more than a year before Earthjustice sent notice to LG&E that we intended to sue. Earthjustice and the Sierra Club argued that the company was violating its permit, with serious consequences for water quality and public health.
The story of the ongoing pollution at Mill Creek went viral online and on TV. Rachel Maddow covered the lawsuit and the company's permit for "occasional" dumping on her MSNBC show, asking viewers with a laugh, "Why isn't every day an occasion?"
"It became a very high-profile story in Louisville, in particular, because Louisville's nickname is 'the River City,'" says Thom Cmar, the Earthjustice attorney who spearheaded the lawsuit. "It's central to the city's identity."
LG&E fought back against the suit, arguing that Mill Creek's permit was ambiguous and did not clearly forbid the company from dumping coal ash directly into the Ohio. Kentucky's state environmental agency filed briefs with the court supporting LG&E's interpretation. In August 2015, the judge overseeing the lawsuit declined to rule in favor of either side and instead asked Earthjustice and LG&E to craft a settlement, which the court approved this week.
The deal requires LG&E to stop sending coal ash waste directly into the river by end of this year, except in certain emergencies. It also sets a firm deadline for LG&E to close the ash pit altogether and follow the EPA's rules for handling coal ash wastewater. Finally, LG&E will donate $1 million to the Nature Conservancy in Kentucky to improve water quality and plant trees in two watersheds downstream from the coal plant.
LG&E has not conceded that it broke any laws, but the settlement is still an important milestone.
"It's not everything we could have wanted—the coal plant will continue to operate and to dump some of its pollution into the Ohio River after this settlement—but it's a significant step forward in terms of reducing the amount of pollution LG&E is putting into the river and locking in their compliance with some very important EPA rules," Cmar says.
The Mill Creek case is just one of Earthjustice's ongoing efforts to transition the U.S. away from coal-generated power and to clean up the toxic coal ash waste from many decades of dirty energy use.