It's Official! California Is Moving Toward Zero-Carbon Energy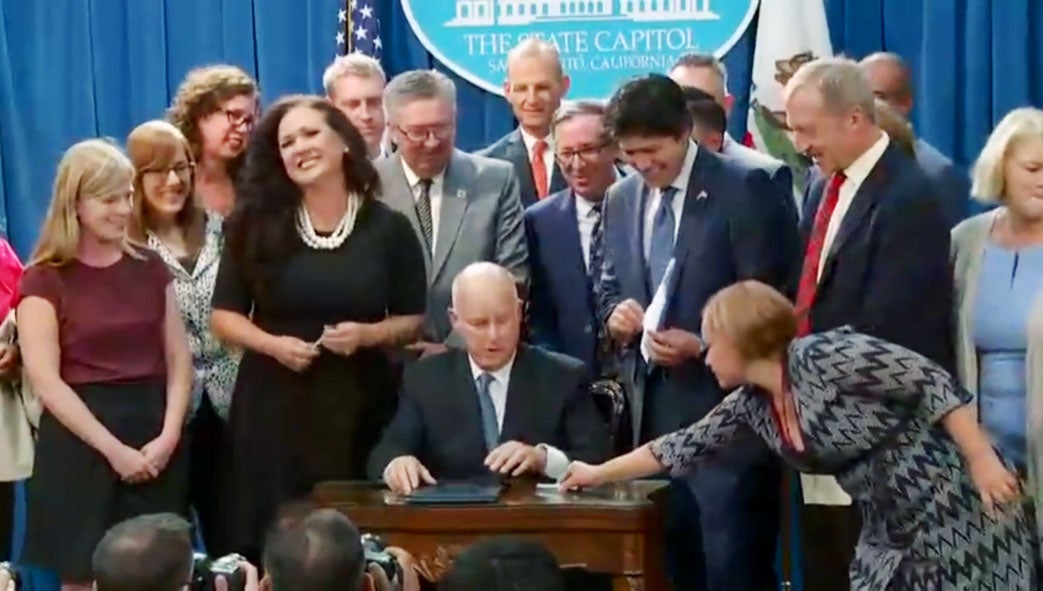 Photo courtesy of State of California
Today, California Governor Jerry Brown signed Senate Bill 100, one of the world's most ambitious clean energy bills into law. The bill sets a 100 percent clean electricity goal for California, proving that it's possible to power major economies entirely with clean energy even while the Trump administration is pushing the agenda of big polluters.
"Thousands of Earthjustice supporters in California contacted their legislators over the last two years urging them to pass this vital bill, which will help the California communities most overburdened by pollution," says Earthjustice California Policy Advocate Erica Martinez. "Together with the wide coalition to pass SB 100, we were powerful, we were clear, and we were effective."
The Nitty-Gritty of 100% Zero-Carbon Energy
The bill outlines a path forward. The first step will be to build a blueprint for clean energy across the board to get California to its 2045 goals. Prior to SB 100, California was aiming to source half of its power for the state's grid from renewables by 2030. Under SB 100, that goal has been revamped to:
50% renewables by 2026
60% renewables by 2030
100% carbon-free energy by 2045 (This means no coal, oil, or gas in California's energy grid, but leaves the playing field open for energy sources like geothermal power from geysers, hydropower — or just more renewable energy).
Just in the last 10 years, California has made vast changes to its grid, moving from 11 percent renewables in 2008 to 29 percent today. In 2017, California's energy mix was approximately 34 percent natural gas, 29 percent renewable energy, 15 percent hydropower, 9 percent nuclear power, 4 percent coal power, and 9 percent other sources.
California Office of Environmental Health Hazard Assessment
The key to phasing out fossil fuels will be to find alternatives that can backfill when renewable sources like wind and solar are unavailable. Modern energy storage, like SoCal Edison's Mira Loma project in LA, will be key. By 2045, California will completely wean itself off coal and natural gas in its energy grid — including fossil fuel power from out of state.
"We should be able to get to 60 percent renewable energy pretty easily," says Paul Cort, an Earthjustice attorney who leads the California Right to Zero campaign. "The last 20 to 30 percent is going to require some planning and some changes in the way we do things. We're probably going to need more energy storage, more distributed energy resources. California is going to build a very different grid."
All told, SB 100 will transform long-term energy planning by creating a distinct, tangible goal. Californians will start to see relief from fossil fuel investments sooner rather than later though.
"It changes that conversation," Cort says. "At Earthjustice, we could see a long time ago that having that 100 percent target for the state was very relevant for a lot of the deep battles we're in with our partners to stop gas power plants and pipelines, and to shift over to clean options."
Earthjustice has successfully fought several proposals from fossil fuel companies to build gas-fired power plants across the state partly by appealing to existing goals to shift away from fossil fuels. With SB 100 in place, communities just may get some relief from the dirty energy companies clamoring to build new fossil fuel infrastructure in their midst. Power plants are decades-long investments, so the 2045 deadline will change what makes sense to build almost immediately in California over the next few years.
And that is precisely why Earthjustice has been focused on getting the bill over the finish line, ever since it was first introduced by state Senator Kevin de León two years ago.
The Lengthy Battle for SB 100
That doesn't mean that getting there was easy. In fact, SB 100 originally stalled out in the last days of last year's session. But the team dug in for a long term advocacy campaign and planned for round two. When the bill came back through committee this year, the Earthjustice team — together with a strong coalition — was ready with a variety of innovative strategies to ensure success.
"We stayed true to this being our No. 1 priority," says Martinez. "We were able to bring resources, bring a connection to Sacramento, and make sure our grassroots partners were informed about what was happening."
The deep base of knowledge and expertise found among the members of Earthjustice's Right to Zero team, who are working across California to transform how energy and power are generated, helped immensely in discussions with both legislators and coalition partners.
"It makes us a legitimate and stronger voice in Sacramento," Martinez says. "Even when they disagree with us, they can't just dismiss us."
Photo courtesy of the California 100% Clean Energy Coalition
For both Cort and Martinez, it was especially emboldening to see Earthjustice staff and supporters come together.
"Once the bill moved out of committee we knew we had a shot and we really started amping up the pressure," Cort says. "Communications was a big part of the strategy. We had lawyers working and offering amendments and helping to make the legal and technical arguments for why the bill was good. We had our policy advocate figuring out where the pressure points were and coordinating with our digital advocacy team on emails to alert Earthjustice supporters. We got some of our board members who were interested in pushing on this issue to form their own coalitions and submit letters."
The raucous effort from Earthjustice supporters was especially impressive — all told, 13,564 supporters sent emails to legislators and 503 supporters made calls, logging more than four hours on the phone.
Chris Jordan-Bloch / Earthjustice
"At every level, we had support," notes Martinez.
Now, the Right to Zero team is poised to build on this success with big dreams for the future.
"As we're getting our grid to 100 percent clean energy, we also have to get our transportation side to 100 percent zero emissions, fueled from that clean energy grid," says Cort. "Now we can really pivot and move the transportation side to mirror what we've done."
Perhaps the biggest achievement is the way that SB 100 will reset expectations of what's possible with clean energy.
"I think people will embrace it and look back and say 'I can't believe we used to generate our electricity that way or fuel our cars that way'," says Cort. "Pretty soon, we'll come to a place where we say of course that's how to do things. I'm really looking forward to that moment."