Justice in the Time of Two Crises: COVID and Climate Change
Robyn Beck / AFP / Getty Images
As the COVID-19 pandemic rages on, it's highlighting a longstanding chasm of inequality in our country as deaths mount and millions lose their jobs, their healthcare, and their meager life savings. Our broken economic and social system has come clearly into view, along with the ways it prioritizes corporate profits for the few over the health and well-being of the many — particularly people of color.
America's vulnerability to COVID-19 in many ways mirrors our vulnerability to the climate crisis, another global emergency that's playing out over a longer horizon but manifesting in equally unjust ways.
There is a better way forward. Through visionary, concrete actions that ensure social, racial, and economic justice for everyone, we can protect ourselves, as well as the only planet we will ever have.
What are the parallels between COVID and climate?
Our federal government has flinched in the face of both the coronavirus and the climate crisis, showing more concern with preserving the profits of a few than protecting the planet and its people.
Public health experts have warned for years that a pandemic was coming, that we weren't prepared, and that too many Americans were excluded from the healthcare system. When the pandemic came, the federal government hadn't stockpiled enough equipment. The Trump administration's messaging, meanwhile, downplayed the threat and tried to reassure the stock market.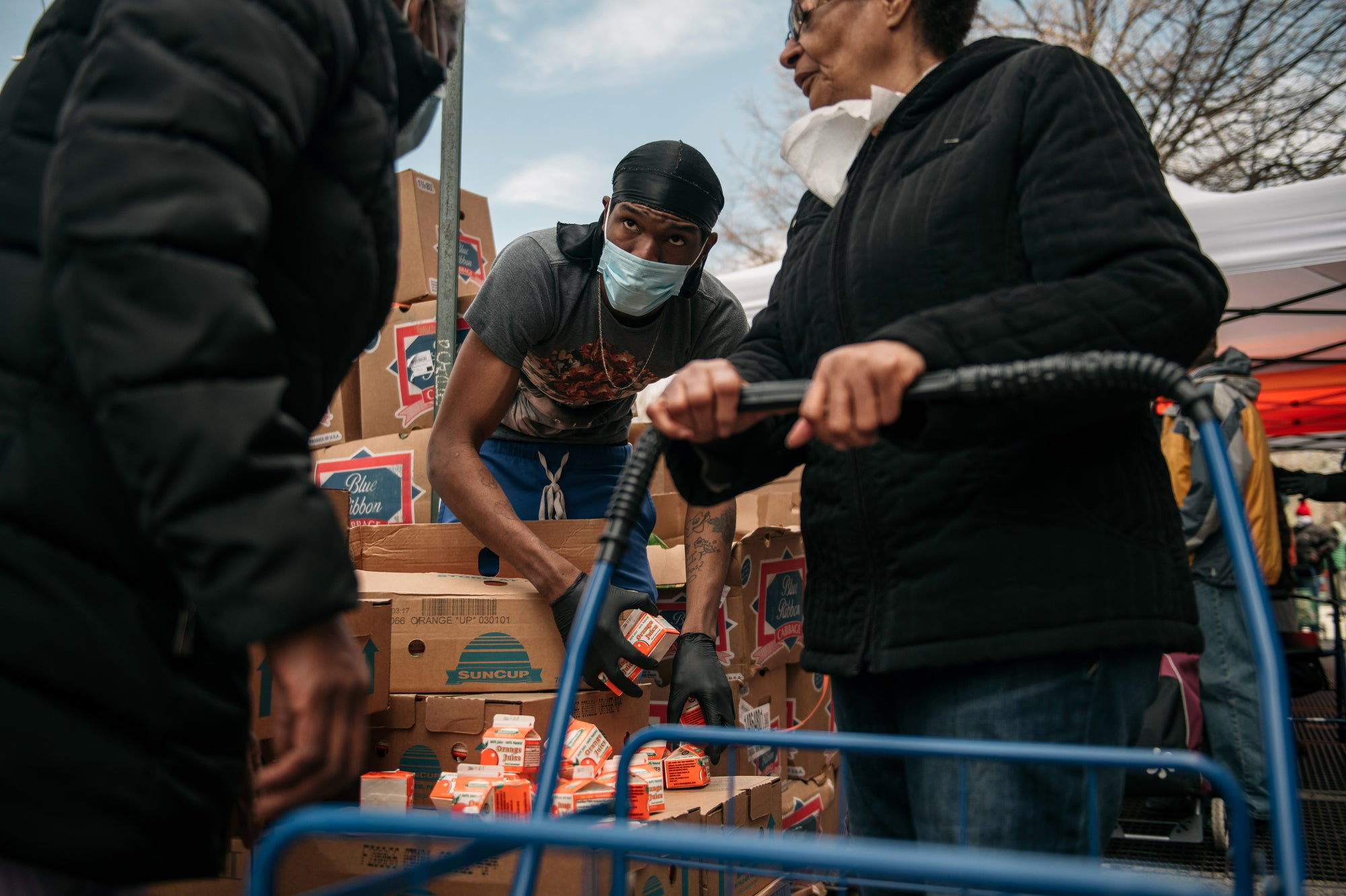 Scott Heins / Getty Images
Similarly, scientists have been warning about climate change for decades and that delays in action would only force more difficult decisions. But governments have moved far too slowly, often citing economic concerns. Meanwhile, as oil companies realized that climate change could create "catastrophic events," they actively pushed a misinformation campaign in order to continue profiting off of their deadly products.
How has the Trump administration responded?
In both crises, the scientists who sounded alarms about the impending threats have been sidelined or silenced in response. Over the past few years, the Trump administration has slashed funding to science agencies, pushed historic cuts in global health aid, and initiated actions to exclude consideration of sound science altogether. Now, under the cover of COVID-19, the Trump administration is pushing more rollbacks of environmental protections and is saying it will relax enforcement of pollution limits if industry claims the pandemic makes it difficult to comply.
Despite new research finding a link between long-term exposure to air pollution and higher rates of COVID-19 deaths, the Trump administration scrapped an Environmental Protection Agency (EPA) effort to tighten regulation on exactly that type of pollution — fine particulate matter called PM 2.5. EPA Administrator Andrew Wheeler announced this decision in April, prioritizing industry profits over people's lives, despite the agency's own analysis that showed strengthening limits on these emissions by 25% could save more than 12,000 lives each year.
"Your zip code [often] determines your health trajectory, and with COVID-19, that is more true than ever," Earthjustice President Abbie Dillen told WBEZ recently.
In another move in April that inflicts further harm on public health, the administration gutted the Mercury and Air Toxics Standards (MATS) that reduced mercury and other hazardous air pollutants from coal-fired power plants. This protection had saved as many as 11,000 lives each year from particulate matter reductions.
The decisions being made around these two crises of COVID-19 and climate change reveal who is listened to the most in our society — and who suffers the consequences of government inaction.
Eva Marie Uzcategui / AFP / Getty Images
Is this pandemic affecting people equally?
Right now, tens of millions of Americans are sheltering in place from the global pandemic. What sort of social distance people are able to keep and for how long, however, reveals vast inequalities. Some can work from home. Some have no homes at all to shelter in. Others are on the verge of losing the roof over their heads due to sudden unemployment.
Then there are many who must choose between going out to the front lines of this emergency — sometimes even when sick — or risk losing their livelihoods.
Workers across multiple industries, including delivery drivers, grocery store clerks, farmworkers, warehouse employees, health care workers, nurses and home health aides, are expected to go into harm's way to get a paycheck. They do so often without proper protective gear and among crowded conditions. They are primarily blue-collar workers. They are often lower paid. And they are more likely to be women and people of color.
Many of these same communities are on the frontlines of the climate crisis, bearing the brunt of devastating storms, wildfires, and crop failure. They are also most likely to experience food and water shortages, disease, and poverty. They are disproportionately black and brown — from farmworkers facing extreme heat to those living in apartments in densely packed urban neighborhoods that lack air conditioning.
Brent Stirton / Getty Images
How did we get here?
COVID-19 reveals two fundamental things about America: our lack of a strong social safety net, and the lack of a commitment to equity for all. Both have roots in America's racist past and economic exclusion.
"America's decision to let so many people keep sinking is because the people who are sinking are often black and brown," says New York Times journalist Eduardo Porter, author of American Poison: How Racial Hostility Destroyed Our Promise.
During our nation's history, these social and racial injustices have played out in many ways, such as the exclusion of black and brown people from citizenship until after the Civil War; racist immigration policies that started long before Trump; and a violation of Native American human rights. Segregation, isolation, exclusion. For people of color, indigenous communities, and tribal nations, social distancing from their communities is an all too familiar concept.
The influence of racism, which impacts where you live and what jobs you have, has meant that people of color are experiencing the greatest human impact of the COVID-19 pandemic. For instance, while African Americans make up about a third of Louisiana's population, they comprise 70% of those dying from the virus. Similar disparities are playing out in North Carolina, South Carolina, Illinois, and Nevada.
This increased vulnerability stems from people of color having less access to health care and more underlying health conditions, including asthma, which is linked to closer proximity to sources of pollution and a greater likelihood of death from COVID-19. And, African Americans and Latinos are more often going into harm's way for service jobs considered essential and can't be done remotely.
These systemic injustices also impact other vulnerable communities, including migrant communities, deindustrialized communities, depopulated rural areas, the poor, low-income workers, women, the elderly, the unhoused, the incarcerated, people with disabilities, and youth.
John Moore / Getty Images
What would a just response to these crises look like?
Both COVID-19 and climate change underscore a fundamental concept about justice that frontline communities have known and felt for all too long. You cannot separate racial justice, social justice, economic justice, or environmental justice from one another. It's ALL justice.
These crises can only truly be addressed through broad-based, holistic solutions that tackle the systemic injustices within our society that allowed them to thrive in the first place. This is no easy feat, but both present universal threats, which creates an opening for responses that prioritize the well-being of all people, and especially those who are most vulnerable.
In this pandemic, the risks of infection among frontline workers who don't have adequate protection raises the risks for everyone, no matter how comfortably sheltered and distanced. The same is true with a climate crisis that ultimately threatens the habitability of the planet for the entire human race.
As history has shown and as we're seeing yet again, the key to change is collective action. When bus drivers in Birmingham, Alabama, refused to work without proper social distancing measures, the transit authority adopted new safety measures to protect drivers and passengers. A protest by healthcare workers in Oakland, California, pushed Alameda Health System to pay sick leave to those who fall ill attending COVID-19 patients.
National policy and spending priorities also must change to meet the moment. Earthjustice is calling on Congress to prioritize coronavirus-related spending towards those individuals, workers, and communities who need it most, regardless of economic or immigration status. We're also urging Congress to provide resources directly to states, territories, and tribes as they, along with their local mayors and other leaders, are truly on the front lines of this crisis.
Finally, during this national health emergency, we believe Congress must guarantee access to clean, safe water; prevent power utility shutoffs; and reduce air, climate, and water pollution for the most at-risk communities.
In the long term, Earthjustice, in partnership with other environmental and environmental justice organizations who have signed on to the Equitable and Just Climate Platform are advocating a bold national policy agenda that advances economic, racial, climate, and environmental justice for all.
We're calling for long-term economic recovery and a just and equitable transition to a 100 percent clean energy economy that creates high-paying jobs, combats climate change, and reduces pollution in overburdened communities nationwide.
We must rebuild our economy sustainably and equitably to create a future we all want for our families and communities — particularly those that have borne the brunt of a historically unjust system.