Wisconsin Tribes Challenge Wolf Hunt
The Wisconsin Natural Resources Board approved a quota of 300 wolves, ignoring the recommendations of the Wisconsin Department of Natural Resources and willfully acting to nullify the Ojibwe Tribes' share of wolves — which the Tribes seek to protect.
Bad River Band of Lake Superior ChippewaLac Courte Oreilles Band of Lake Superior Chippewa IndiansLac du Flambeau Band of Lake Superior Chippewa IndiansRed Cliff Band of Lake Superior Chippewa IndiansSokaogon Chippewa CommunitySt. Croix Chippewa Indians of Wisconsin
Regional Office / Program
Represented by Earthjustice, six Tribes filed a lawsuit in the Western District of Wisconsin against the state for its planned November 2021 wolf hunt, claiming the proposed hunt violates the Tribes' treaty rights.
Wisconsin's Natural Resource Board approved a quota of 300 wolves for the upcoming November hunt, more than double the quota of 130 proposed by the Department of Natural Resources — a recommendation that is also considered by experts to be too high and not supported by scientific data and analysis.
The November proposal follows a disastrous February 2021 hunt. The Ojibwe Tribes asserted a treaty-protected right to half of the wolves in ceded territory in Wisconsin in order to protect those wolves from Wisconsin's rushed and ill-advised hunt. Nevertheless, in just three days, hunters using packs of dogs, snares, and leg-hold traps killed 218 wolves, exceeding both the state and Tribal quotas, and killing up to a third of the state's wolf population.
The Ojibwe word for "wolf" is Ma'iingan, and the word to describe the people of the Great Lakes region connected to this culture is Anishinaabe.
The Tribes' lawsuit accompanies an existing challenge by Earthjustice to the Trump administration's decision to remove wolves from the Endangered Species Act. The U.S. Fish and Wildlife Service made its decision against the advice of scientists who say wolves are still functionally extinct in the vast majority of the places they once inhabited and need continued federal protections in order to survive and recover.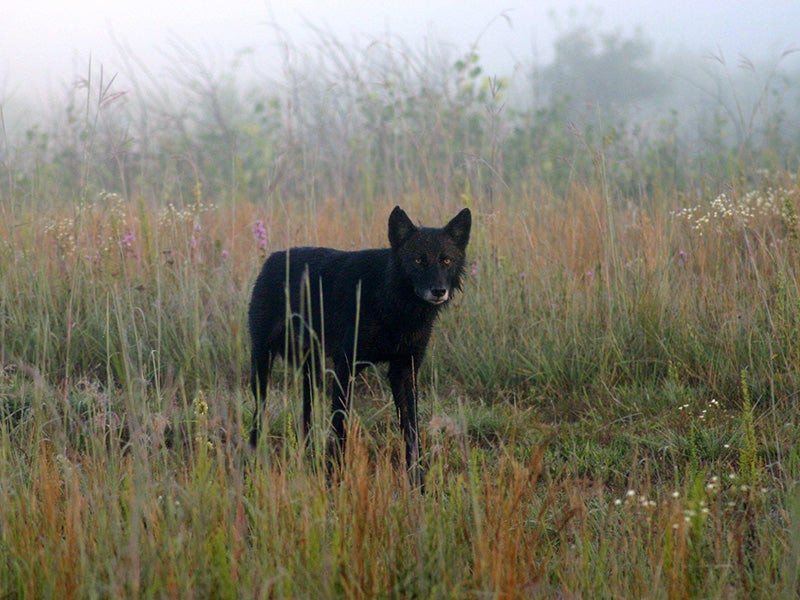 Case page created on September 21, 2021.