How a Win for Montana's Lynx and Grizzlies Also Protects Wolves
We're also pursuing multiple other cases to protect this keystone species across the contiguous United States.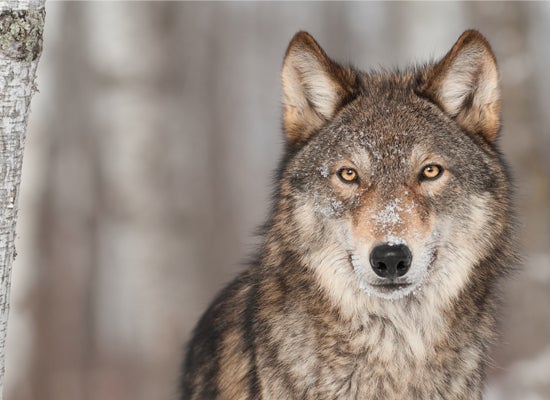 Wolves, grizzlies, and lynx recently scored a three-for-one win in Montana. State regulators placed limits on wolf trapping to protect the other two species from disturbance by trappers.
The regulators took action after hearing from Earthjustice and our clients.
Though we celebrate this victory, our fight to protect wolves in Montana must continue as the state pursues brutal eradication tactics.
We're also litigating cases in defense of wolves across the U.S., including a lawsuit to restore their Endangered Species Act protections.
Sometimes a win comes unexpectedly. Such was the case in early November when the Montana Fish and Wildlife Commission took action to protect Canada lynx and grizzlies — and, in doing so, also protected wolves.
The commission voted to prohibit wolf snaring on public lands in protection zones for Canada lynx. It also moved the start of the wolf-trapping season in and near grizzly habitat from Dec 15 to Dec. 31, protecting the bears from harm during a critical two-week window when late-denning grizzlies are active before tucking into hibernation. 
It's a small win for wolves, to be sure, but it gives these three imperiled species a bit of a reprieve in large swaths of western Montana against some of the cruelest wildlife killing laws we've seen in decades. 
In late summer, we filed a notice of intent to sue the state of Montana over new laws enacted to reduce the wolf population. Wolves in the state have not been protected by the federal Endangered Species Act since 2011, when Congress carved out an exemption for the wolf populations of Montana and Idaho. 
At the time of the carve-out, Idaho immediately ramped up its wolf control program, enacting such extreme measures as illegally sending a bounty hunter deep into a wilderness area to track and eliminate wolf packs. Montana, by contrast, took a still flawed but somewhat more measured approach. 
That policy of some restraint changed when Montanans last year elected an anti-wildlife legislature and a governor known for trapping a collared wolf that had wandered just outside Yellowstone National Park. The state legislature in May 2021 passed Senate Bill 314,which could lead to the slaughter of more than 85% of the state's wolves. The law pushes the Montana Fish and Wildlife Commission to authorize hunters and trappers to kill an unlimited number of wolves through baiting, trapping, and night hunts using night-vision scopes and spotlighting.
In addition, Montana House Bill 224 allows trapping-license holders to use snares to target wolves, while House Bill 225 authorizes the commission to expand the wolf-trapping season by more than four weeks, threatening grizzly bears in their non-denning season. Costs that wolf hunters and trappers incur during this prolonged season can be reimbursed under Senate Bill 267's bounty program.
These draconian laws showcase why federal Endangered Species protections are so direly needed for wolves, which are only starting to get a toehold on recovery outside the Yellowstone ecosystem. These policies could result in a cliff's edge fall of the wolf population and erase 25 years of conservation success in the region.
 We were preparing to head to court to challenge the new wolf trapping laws, noting the increased likelihood that grizzly bears and Canada lynx, both federally protected under the Endangered Species Act, would be injured or killed by snares and other traps set for wolves.
The Montana Fish and Wildlife Commission held a hearing last week to receive public comment on these new policies, and Earthjustice attorney Ben Scrimshaw and many representatives from our client groups made the case against allowing these practices. 
"The Montana legislature and governor's policies on wolf management are not about hunting, they are state-sponsored eradication the likes of which we haven't seen since the 19th century," said Scrimshaw. "Traps and snares frequently capture, injure, and kill non-target animals, and to increase this activity in known grizzly and lynx habitat is going to result in a lot of dead federally protected wildlife."
Those pleas for reason seemed to break through as the commission tempered some of the new policies. 
Doubtless, this is an important victory. While it does not address all of our concerns, it restores critical protections for lynx and grizzlies and will have knock-on benefits for wolves.  
It is clear these changes affect the litigation we were planning to bring against the state. The commission addressed the low-hanging fruit of our arguments. Any other victories will be much harder fought. 
The commission is retaining discretion to adjust the start of the wolf trapping season in grizzly habitat, and it will also continue to allow wolf trapping and snaring in grizzly habitat through March 15 when early-emerging grizzlies are already out of their dens. 
While we take some comfort in the recent win, Montana and Idaho are both continuing in their pursuit of state-sponsored eradication of wolves such as we haven't seen in a century when wolves were hunted to oblivion. 
We will continue to use every tool in the toolbox to protect Montana wolves, and we're pursuing multiple other cases to protect this keystone species across the contiguous United States. 
Earlier this month, Earthjustice attorneys from our Midwest, Tribal Partnerships, and Biodiversity Defense programs all went to court on behalf of six Ojibwe tribes in Wisconsin who argue a proposed wolf hunt violates their treaty rights. Another legal challenge has for now halted the planned hunt and we stand by to continue defending the rights of the tribes if things change. 
In Idaho we will be pursuing similar challenges to the Montana trapping case. In the Southwest, our attorneys just won a case forcing the US Fish and Wildlife Service to develop a real plan to stop the poaching of rare Mexican gray wolves.
And this week, our attorneys will argue in the challenge to the Trump administration's decision to strip gray wolf protections in virtually every part of the country.
We will continue to stand up for wolves, the ecosystems that rely on them, and the people and communities who care about them.
Tell the Biden administration to restore federal protections for wolves:
Maggie worked at Earthjustice from 2014–2021.
Earthjustice's Rocky Mountain office protects the region's iconic public lands, wildlife species, and precious water resources; defends Tribes and disparately impacted communities fighting to live in a healthy environment; and works to accelerate the region's transition to 100% clean energy.