A Friend of Wolves for Decades
Earthjustice has worked for more than two decades to protect wolves and return balance to the Northern Rockies ecosystem.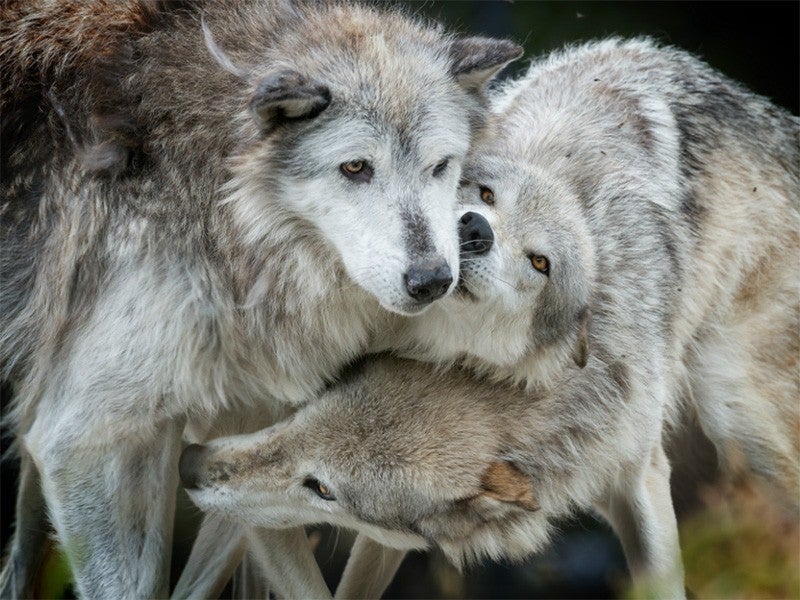 Since our founding more than four decades ago, Earthjustice has fought to protect hundreds of special places and wildlife species. And while every victory that preserves a national park or saves an endangered species is a significant accomplishment, some animals we defend are iconic symbols of the wild. Perhaps nowhere is this more evident than in the case of the Northern Rockies gray wolves.
For more than 20 years, our legal team has been engaged in a pitched battle to protect the region's wolves and to return balance to the Northern Rockies ecosystem. There have been victories, setbacks and challenges over the course of our work, but one element has remained constant—Earthjustice's unwavering commitment to the defense of wolves.
Wyoming Wolves at Risk
In 2011, Congress gave hunters and trappers in Montana and Idaho the right to kill wolves that had previously been protected under the Endangered Species Act, nullifying a court victory won by Earthjustice that would have prevented the hunts. Since then, management of wolves in the two states has grown increasingly hostile as the states have expanded their wolf quotas and hunting seasons. During the 2011–2012 season, hunters and trappers killed 366 wolves in Montana and Idaho. Even while approving state management of wolves in those two states, the U.S. Fish and Wildlife Service (FWS) in the past denied this authority to Wyoming due to its even more extreme anti-wolf laws.
But now, the fate of Wyoming's wolves is in serious jeopardy.
Shortly after Congress stripped Endangered Species Act protections from Montana and Idaho wolves, FWS proposed a similar rule to remove protections for Wyoming wolves and turn management authority over to the state. Wyoming's brutal wolf management plan calls for unlimited shoot-on-sight killing of wolves in about 85 percent of the state and the licensed killing of wolves in the remaining 15 percent. Independent scientists say that a sustainable, fully recovered population would require 2,000 to 3,000 wolves in the Northern Rockies. Currently there an estimated 1,700 wolves in the region, about 328 of which are in Wyoming. Nonetheless, in 2011, FWS proclaimed Wyoming's wolf population stable and set the stage for a management transfer to the state.
In response to the potential Wyoming delisting, Earthjustice submitted comments to FWS on behalf of our clients—Natural Resources Defense Council, Sierra Club, Center for Biological Diversity, and Defenders of Wildlife—arguing that the state's management plan remained inadequate for sustaining gray wolf populations. We also sent timely updates to our supporters, urging them to contact the White House and express their desire for healthy, thriving wolf populations in Wyoming. And our supporters came through in a big way—more than 55,000 letters were sent from Earthjustice supporters to President Obama, asking him to retain protections for wolves.
Unfortunately, despite the work of our legal team and our dedicated supporters, FWS announced on August 31 that Wyoming wolves would be removed from the Endangered Species List. The state's policy of unlimited shoot-on-sight killing of wolves in most of the state is now in effect. The decision puts the fate of the species at risk and could undo years of wolf recovery work by the conservation community. Our legal team, led by Earthjustice attorneys Tim Preso and Jenny Harbine, challenged the Wyoming delisting in court and will continue its long-term dedication to securing critical protections for wolves. Here's Tim's perspective on our challenge to the Wyoming delisting:
The howl of the wolf defines the Northern Rockies as a truly wild place. The wolf is a living symbol of wildness and wilderness. It is also an apex predator that plays a critical role in the ecological system of this region. I wouldn't want to live in a world that isn't wild enough to sustain wolves, and I suspect a lot of people feel the same way. That's why we have fought hard to bring wolves back from the brink of extinction and to secure their recovery—we want to make sure that the Northern Rockies remains a place where the wolf still howls.
The Value of Wolves in a Balanced Ecosystem
The gray wolf once roamed free throughout the United Sates—but centuries of trapping, hunting, and poisoning decimated the wolf population. In 1974, wolves were added to the Endangered Species List and afforded much-needed protections. But by the 1980s, outside of Minnesota, only a few small pockets of survivors remained in the continental United States and the species was at the brink of extinction. If wolves were to remain in the lower-48 states, something had to be done.
For years, the idea of reintroducing wolves to the Northern Rockies had been discussed by a small collection of visionary conservationists. The reintroduction of a species had happened before, but there were not an abundance of success stories or proven models to emulate. There were still tough questions to answer concerning the necessary habitat conditions, the animals' range and what a sustainable wolf population would look like.
As conservationists continued examining and promoting the idea of reintroduction, wolves began the process on their own accord. In the Glacier National Park region and in Idaho, wolves had already started to make a comeback—resident wolf packs were established, sightings were occurring more often, and it was clear that wolves had returned naturally to the Northern Rockies.
During the mid-1990s, Earthjustice sent comments to the U.S. Fish and Wildlife Service (FWS) advocating for a wolf reintroduction program and calling for Endangered Species Act protections for any reintroduced wolves. Following our efforts and the advocacy efforts of other conservationists, in 1995 FWS embarked on an ambitious plan to officially reintroduce wolves to the Northern Rockies by relocating and releasing 66 gray wolves from Canada into Yellowstone National Park and central Idaho. Although our legal efforts to maintain Endangered Species Act protections for the naturally recolonized wolves and to manage them separate from the reintroduced wolves fell short, the reintroduction turned out to be wildly successful. When the reintroduction began, experts estimated that the Northern Rockies region might sustain a wolf population of 200 to 300 animals. However, the program exceeded all expectations and by 2005 the population had climbed above 1,000.
Since returning to their native landscape, wolves have restored a more natural balance to Northern Rockies ecosystem. Wolves benefit the health of elk and deer populations by primarily hunting animals that are old, very young, injured, or diseased, leaving the healthiest animals to produce the next generation. In Yellowstone National Park, the renewed presence of wolves has altered the behavior of elk, which now commonly avoid areas where they are most vulnerable to predation, and in turn has reduced overgrazing of young aspen and willow shoots. This restoration of shrubs and trees is essential, especially in riparian areas where the trees reduce stream erosion, and support native bird communities, beaver populations, and other wildlife. Wolves aggressively prey on coyotes within the wolves' home territories. By reducing the number of coyotes in the area, the presence of wolves has also benefited populations of small rodents, birds of prey (who feed on the rodents), and pronghorn antelope (who are often preyed upon by coyotes). As the gray wolf's reintroduction illustrates, healthy ecosystems are interconnected, holistic entities requiring rich biodiversity, including the presence of apex predators such as wolves.
Our Commitment to Protecting Gray Wolves
For two decades, Earthjustice has stood as a sentinel for gray wolves. From the early days of advocating for reintroduction, to the beginning of our wolf litigation in the mid-1990s when we fought for improved safeguards for the animals, to our forthcoming legal battle over Wyoming's inadequate management plan, Earthjustice has made a strategic, long-term commitment to protecting the wolf. Our litigation has been key in enabling wolf populations in the Northern Rockies to grow and in improving ecosystem health in the region.
In a very real way, our fight to save Wyoming wolves is a fight to protect other keystone predators from the whims of short-sighted politicians. The federal government's decision to turn wolf management over to the state of Wyoming was driven purely by politics and special interest groups.
Hunters in the Northern Rockies have been bending the ears of the region's politicians for years, complaining that wolves have decreased elk and deer populations, making hunting more difficult. And ranchers in the area frequently bemoan the killing of livestock by wolves. But, in fact, most elk herds in the Northern Rockies are larger than state management objectives. Indeed, Wyoming recently authorized additional elk hunting in that state to address high herd numbers. And while ranchers express concern about the loss of livestock, studies show that wolves kill a very small number of livestock—digestive problems, harsh weather and domesticated dogs all account for exponentially more livestock deaths than wolves.
Yet, the power of hunting and ranching interests has been strong enough to sway the region's politicians and resulted in last year's legislative delisting of wolves. As we fight in court, with the fate of Wyoming's wolves hanging in the balance, the state's inadequate wolf management plan—if allowed to stand—could set a dangerous precedent. With FWS declaring the Northern Rockies wolf population recovered, Wyoming is setting wolves on a course for eradication in about 85 percent of the state. That's no way to sustainably manage a keystone predator just recently removed from the Endangered Species List—all of the environmental community's work to achieve a sustainable wolf population in the Northern Rockies was not intended to enable a hunter to chase wolves down on a snowmobile as a leisurely hobby. Additionally, Wyoming's plan could serve as an ominous harbinger for similar attempts by other states to enact reckless, politically motivated management plans for other critical predator species such as grizzly bears and Mexican wolves.
That's why our work to protect gray wolves in the Northern Rockies is so crucial, especially at this time. If the wolf population in Wyoming and in the Northern Rockies—and populations of other predator species—are to remain healthy and viable, science-based management must occur. If the Northern Rockies ecosystem is to continue to flourish with the reintroduction of a key apex predator, states cannot permit the unlimited hunting of wolves.
The conservation community and our dedicated legal team have fought for more than 20 years to bring wolves back from the brink of extinction—we cannot allow special interests and political wrangling to decimate the species once again.
Earthjustice is dedicated to fighting in court to save Wyoming's wolves from a brutal management plan that does not adequately protect the animals. This is not a fight we will abandon or watch from the sidelines—the stakes are too high, the implications are too immense.
The howl of the wolf defines the Northern Rockies as a truly wild place. The wolf is a living symbol of wildness and wilderness.