In the Shadow of Big Oil: Neighborhood Drilling in California
No California leader has managed to end the state's harmful history of neighborhood drilling. Yet.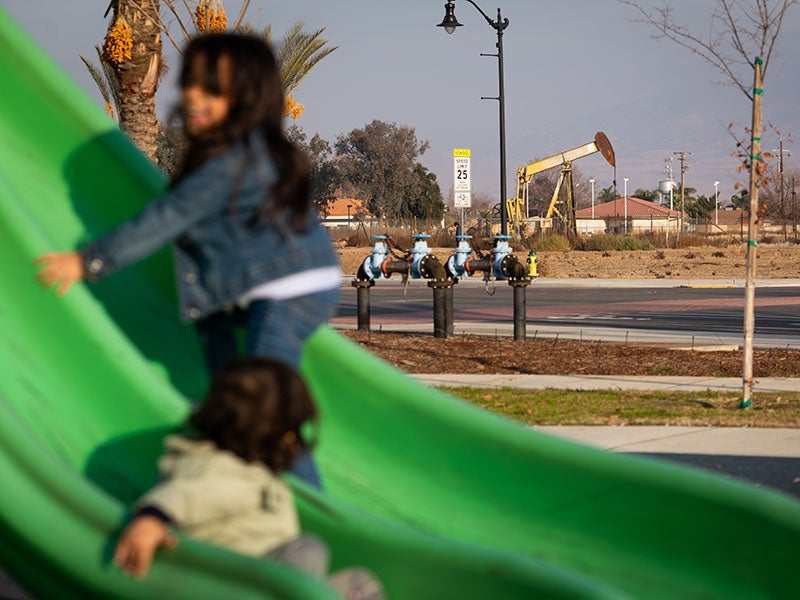 By Zoe Woodcraft
Photos and video by Tara Pixley
For many Californians, the sight of a bobbing oil derrick right outside their homes, elementary schools, restaurants, or even hospitals may not seem strange, but this surreal scene would be unthinkable in many parts of the country. The state heralded as a harbinger of environmental progress has, for a century, failed to regulate its oil and gas industry — and to devastating effect, according to recent health research.
Earthjustice is partnering with environmental justice coalition, VISIÓN, to put distance between California communities and polluting fossil fuel infrastructure.
Oil and gas drilling can happen where you'd least expect it in California.
In the 1890s, oil was discovered in what is now the Echo Park area of Los Angeles, and the landscape was transformed by extraction as the industry soon boomed. Oil derricks were installed in neighborhoods, beaches, and even the Venice Canals as California became the country's largest oil producer. Several earthquakes in that era, including the 6.4 magnitude Long Beach earthquake in 1933, were likely caused by the industry's early practices.
By 1930, California was producing nearly one quarter of the world's oil output. But in that time, other economic engines in the Golden State were roaring, and its population had grown to 1.2 million residents. In the decades that followed, the state's political leaders allowed oil and gas development to continue even as Southern California's small towns were quickly becoming major population centers.
Today, despite shrinking oil reserves and the growth of affordable clean energy solutions and zero-emissions vehicles, drilling is still pervasive across the state. Oil rigs dot cities across Southern California but are often hidden from sight by tall fences, green paint, and Hollywood magic, with cloaking structures like fake buildings, towers, and palm-tree adorned "oil islands" in Long Beach.
But neighborhood drilling is also a problem for communities across rural California.
Drilling in Kern County can look different than it does in Los Angeles. While derricks are also slotted in among apartment buildings and next to schools, entire residential neighborhoods like Lost Hills are surrounded by vast oil fields. Today, Kern County is the epicenter of extraction in California, with over 70% of the state's oil and gas wells.
Diego Martinez, a Kern County resident, has coped with the disruptive presence of an oil well next to his house for as long as he can remember.
"We always wonder why an oil company is allowed to drill right next to our house. The well is only about twenty feet from my bedroom window," says Martinez. "Whenever people would visit us they would ask, 'What's that noise? Why does everything shake?'
"I'll be 25 this year, and literally, all my life, I've been hearing it."
"We had a whole neighborhood in our town evacuated for three months because of a gas leak from an oil well. If it's that dangerous, why would they have drilling next to apartments, houses like mine, and even a health clinic?"

Diego Martinez, Resident of Kern County
Similar to the urban centers of Southern California, it's not unusual to see derricks planted around the state's agricultural hubs. While oil and gas development was proliferating in Los Angeles, California's Central Valley was becoming a drilling hotspot, even as it encroached on the fields that grow a third of the nation's produce.
This "Wild West" approach to drilling is an environmental injustice that hurts California's most vulnerable residents.
While other states have enacted buffer zones between homes and oil and gas wells, California's leaders have so far declined to regulate the industry. Over 2 million people in California currently live within a half mile of an oil or gas well, and another 5 million live within a mile.
Worse yet, the industry has created "sacrifice zones" by focusing its drilling in low-income neighborhoods and communities of color. Across the state, people of color represent more than 9 out of 10 residents who live near oil and gas wells and in communities overburdened with pollution.
Editor's Note: In August 2022, the California legislature passed a bill that prohibits permits for new oil or gas wells or extensive retrofitting of existing oil operations within 3,200 feet of homes, schools, nursing homes, and hospitals statewide — a promising step toward protecting communities from oil and gas pollution. The bill also requires enhanced protections at the thousands of existing wells within that buffer zone like monitoring of toxic leaks and emissions and installing alarm systems.

Other improvements include requirements to limit noise, light, and dust. Implementation of a minimum setback distance between oil and gas operations and sensitive locations is long overdue for the millions of Californians who live and work near fossil fuel extraction.

Earthjustice and our partners are also launching a new effort to push the U.S. Bureau of Land Management to protect people and the environment from pollution when issuing permits to drill new oil and gas wells on public lands in the Bakersfield region of California.

The BLM is currently violating multiple laws by authorizing more drilling activity in a region of the country that cannot afford the additional impacts to air, water, climate, and local species.

We're working to ensure that the BLM gives these communities the opportunity to review and comment on new oil and gas drilling projects, which are known to cause serious pollution that has harmful, sometimes deadly, impacts on human health and safety.
The predominantly Latinx residents of Wilmington, for example, are surrounded by the Port of Los Angeles, a refinery, and active oil and gas wells.
"The oil wells are hidden, but everybody seems to feel it," says Wilmington resident Magali Sanchez-Hall. "You go to the hairdresser, and they have breathing problems and headaches. You're talking to a mother, and she'll say, 'I've got to go, my kid is having a nosebleed.'"
"We've been conditioned to think this is normal, but it's not.

"When I first found out about the oil well two blocks from my house, hidden by this green wall next to the church, I felt like I'd been taken for a fool."

Magali Sanchez-Hall, Resident of Wilmington
In Kern County, where more than half the population is Latinx, residents breathe some of the most polluted air in the country. Bakersfield, the largest city in Kern County, was identified by the American Lung Association as the most polluted city in the United States for year-round particle pollution and the second most ozone-polluted city. Nearly 70,000 Bakersfield residents are living with asthma, and the childhood asthma rate for the region is three times the state average.
Drilling in California communities has fueled a multi-generational health crisis that children today are inheriting.
While policymakers have ignored the problem, researchers have been investigating the public health impacts of neighborhood drilling. We now know that the pollution caused by neighborhood drilling has likely affected the health of multiple generations.
Californians living near oil and gas wells are exposed to a mix of air pollutants that can cause asthma, cancers, pregnancy complications, preterm births, and increased risk of dying from COVID-19 because of long-term exposure to air pollution.
Though the industry tends to obscure the chemical contents of their slurries and methods, drilling is known to create chemical byproducts such as benzene (a known carcinogen) and hydrogen sulfide that can cause health problems. And as oil reserves diminish after decades of extraction, companies resort to even more polluting techniques, using a slew of toxic chemicals to extract the last dregs of crude oil.
Pregnant women who live close to oil and gas operations are more likely to experience complications in their pregnancies. A Stanford study of 225,000 births from mothers who live within six miles of oil and gas wells in the Central Valley found an increased likelihood of spontaneous preterm birth, the leading cause of infant death in the United States.
Another study found that a mother living near rural oil and gas wells pumping out more than 100 barrels a day is more likely to have an infant with low birthweight. Weighing less than 5.5 pounds, low-birthweight infants face higher rates of illnesses such as respiratory diseases and difficulty fighting infections, as well as developmental delays.
And because of California's population density, those health impacts threaten an astounding number of people. Between 2006 and 2015, more than a million babies were born in California to mothers who live within one kilometer (roughly 3,000 feet) of an oil or gas well.
Nalleli Cobo moved into the Esperanza Apartments, across the street from the AllenCo drill site in Los Angeles, when she was four years old. Her family stayed for ten years.
"Neighborhood oil drilling shouldn't exist. It's inhumane to drill next to where someone's living. The science shows that this is affecting us.

"Is this really worth it? People of color have been ignored on this issue, but we're not guinea pigs, and we're more than statistics."

Nalleli Cobo, Resident of Los Angeles
"The nosebleeds started when I was nine years old," says Cobo. "They weren't your typical nosebleeds. They would get so severe that they would wake me up. If they happened at night, I would sleep upright in a chair to stop from choking on my own blood. I couldn't sleep lying down."
Cobo, now 19, is in recovery from cancer. "In my heart, I think the cancer is connected to the oil and gas drilling I grew up with."
No California leader has managed to end the state's shameful, century-long history of neighborhood drilling. Yet.
While California has no state mandates for buffer zones between oil and gas wells and homes, schools, and hospitals, other states have enacted modest setbacks. Texas, North Dakota, and Colorado, all larger oil-producing states than California, already have buffer zones to protect their residents.
In the void of state leadership, a movement to change the rules has been growing as environmental justice groups have sprung into action. Organizations like VISIÓN, a coalition of grassroots environmental justice groups across Kern County and Los Angeles, have organized under the powerful rallying cry, "No Drilling Where We're Living."
"How has California fallen so far behind?" Cesar Aguirre solemnly wonders. Aguirre, a Kern County organizer with VISIÓN and the Central California Environmental Justice Network, is helping community members share their stories to urge California officials to address this injustice.
"These oil companies never should have been able to make a profit drilling next to someone's backyard at the expense of people's health. What's happening in our state is not normal."

Cesar Aguirre, VISIÓN and CCEJN Organizer
During the 2020 wildfire season, Governor Newsom declared a climate emergency in California and vowed to accelerate the state's efforts to tackle climate pollution. In 2021, he announced that the state would initiate a process to end the practice of fracking wells.
But as California shifts its economy beyond oil and gas production, it must reckon with its shameful history and prioritize ending drilling where it hurts people the most. A longstanding promise from Newsom in 2019 to update health and safety protections from the oil and gas industry has yet to produce results. In fact, the Newsom administration approved 3,745 new oil and gas permits in 2020 alone. Nearly 300 of those new permits were for wells within 2,500 feet of a home, school, or healthcare facility.
For the first time since its founding in 1915, the state's oil and gas regulators (CalGEM) have embarked on a statewide regulation to establish public health protections from neighborhood drilling. Whether it will produce a regulation that measures up to the scale of the crisis remains to be seen — the effort will meet resistance from the oil and gas industry, which spent $10 million lobbying officials in California in 2020 alone.
California residents are living with this harmful contradiction in the environmentally friendly state, but pressure is building to transform the status quo. Communities from Los Angeles to the Central Valley are demanding minimum buffer zones of 2,500 feet between oil and gas operations and the places people live, go to school, and get medical care in California.
"California has an opportunity to close the chapter on a shameful century-long history of neighborhood drilling," says Omonigho Oiyemhonlan, the Earthjustice attorney representing VISIÓN. "Oil companies have been polluting the most vulnerable communities in the state for generations. This is the time to urge our state leaders to do the right thing and deliver clean air to Californians.
"We really should have done this decades ago. The next best time is now."
---
Earthjustice's California Office fights for the rights of all to a healthy environment regardless of where in the state they live; we fight to protect the magnificent natural spaces and wildlife found in California; and we fight to transition California to a zero-emissions future where cars, trucks, buildings, and power plants run on clean energy, not fossil fuels. Learn more.