Showing Up for Clean Power
Alarmed by President Trump's plans to scrap the Clean Power Plan, hundreds turn out to address officials from the U.S. Environmental Protection Agency. Hear are some of their stories.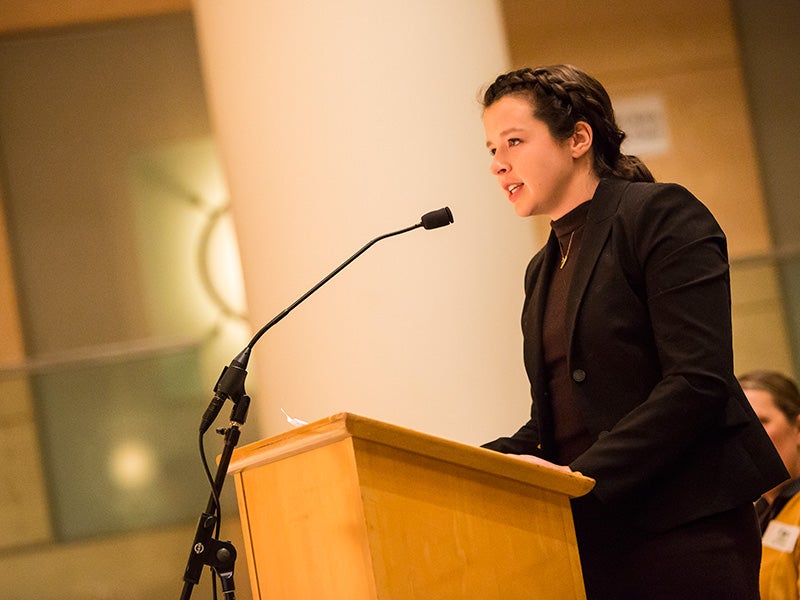 Adam Abdo Alshuga – Oakland, California
"I want to tell [Trump] to listen to us, because we have rights, even though we're kids. He's bigger, but we're together. We're united."
Alshuga joined a flood of community members, including fellow students, environmental leaders, and elected officials, in San Francisco on Feb. 28, during one of just three listening sessions held across the nation by the Environmental Protection Agency on the repeal of the Clean Power Plan. The landmark protections are a necessary step to staving off the worst impacts of climate change.
Students from Urban Promise Academy – Oakland, California
"We don't need no dirty coal. We got hella Oakland soul."
"Escucha, escucha, estamos en la lucha. [Listen, listen, we are in the fight.] No coal, no way, not ever, not today," chanted students from the Urban Promise Academy public middle school, as they marched to San Francisco City Hall, where the EPA held its listening session. Bay Area residents, alongside Earthjustice, have been fighting a coal export terminal at the Port of Oakland.
Samantha May – Oakland, California
"Big things start little. Us kids started off little, but look at us now—standing up for what is right …. If we keep increasing global warming, we are putting everything and everyone we love down. Everything we do now is leading to something big."
Karen Harrington Berkeley, California
"When I grew up, I started to see the forest changing. The first fire I can remember was in 2003. My parents had retired in Big Bear, and my mom called me. I'll never forget that phone call. She was in tears. They were evacuating."
A number of Californians, including Karen Harrington, shared how they have been personally impacted by the growing intensity of the state's wildfires—and how the experience motivated them to fight the drivers of climate change.
Colleen Fitzgerrell – Program Associate, Earthjustice Emeryville, California
"California has shown that we can have both strong environmental protections and a strong economy—it has the sixth largest economy in the world and is home to some of the most proactive climate policies of any state."
Martin Wagner – Managing Attorney of International Program, Earthjustice Berkeley, California
"The Clean Power Plan expresses our national commitment to be a leader among nations in addressing climate change …. Repealing the Clean Power Plan would undermine U.S. leadership and hamper cooperative international efforts."
Misao Brown
"This issue tops everything. I've always been active politically, but if the whole Earth is gone, it doesn't matter. We have to take care of this Earth."
Tom Steyer – San Francisco, California
"If we can't tell the truth—if we can't look at the science and be objective and do the right thing—then that means that's pretty much the end of our democracy."
Alex Espinoza Macedo – Oakland, California
"We're protesting about the dirty coal in Oakland because of the people who have asthma. We don't need coal. We need some fresh air."