Climate, Land, Food, Bodies
Alongside our partners, Earthjustice is working to reform the food and farming system, driving the transition from current industrial practices, which churn out unhealthy food and substantial quantities of pollution, to a new model that prioritizes the sustainable production of nutritious food.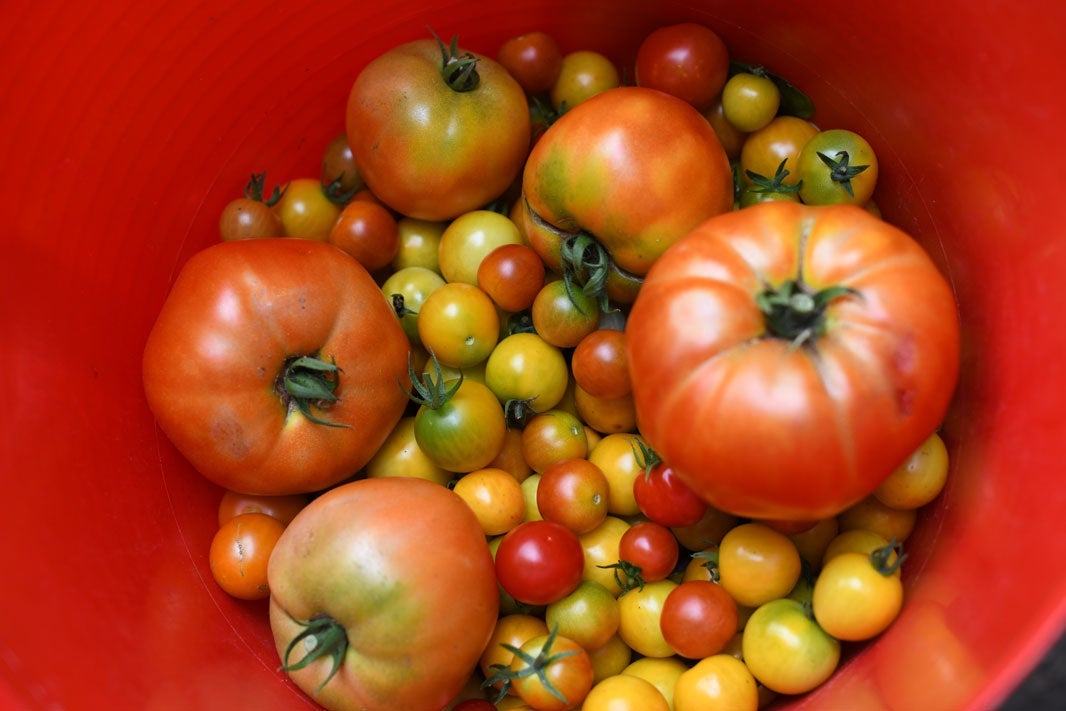 Alongside our partners, Earthjustice is working to reform the food and farming system, driving the transition from current industrial practices, which churn out unhealthy food and substantial quantities of pollution, to a new model that prioritizes the sustainable production of nutritious food. Founded in 2015, the Sustainable Food and Farming (SFF) Program works both to reduce pollution from industrial agriculture and to accelerate the shift to a climate-friendly system that supports farmers, workers, and neighbors, and can withstand ever-more volatile storms, heatwaves, droughts, and other extreme weather events.
Our current system of energy- and chemical-dependent monocultures and industrial-scale animal operations emits air pollution that's responsible for killing almost 18,000 people a year in the U.S. alone. It also threatens biodiversity and endangers workers and consumers. Runoff from excessive applications of synthetic fertilizers, manure, and pesticides, together with pollution from industrial animal feeding operations, slaughterhouses, and other large-scale food-production operations, threaten drinking water around the country. Agriculture and the food system also contribute significantly to climate change — and on the other edge of the sword — the ability to grow food is threatened by climate changes.
Despite causing these harms, agriculture remains largely exempt from regulation under environmental laws; this industry is the only highly polluting sector of the U.S. economy with such little oversight. Moreover, current federal agriculture subsidies often incentivize polluting behavior. Earthjustice is working hard to remedy this and fighting for the protection of our air, water, climate, and health. Fortunately, there are proven ways to produce healthful food while minimizing harm, and policy changes can accelerate the adoption of these practices and the development of additional promising approaches. We are demanding action and seeing results.
Climate & Agriculture: Double Threat
Strategies To Reduce Emissions
Reduce enteric methane emissions through reducing the number of livestock or herd size, improving feed efficiency, and reducing antibiotic use.
Reduce manure methane and nitrous oxide emissions through improving manure management practices and permanently capturing methane emissions.
Reduce soil nitrous oxide emissions by reducing excess fertilizer use, improving fertilizer efficiency, and increasing the adoption of riparian buffers & other climate-friendly practices to reduce fertilizer use.
Reduce carbon dioxide by increasing on-farm renewable energy and irrigation efficiency and by shifting to no-till, perennial crops.
Reduce land-use carbon loss by preventing further native land conversion, increasing conservation incentives, and restoring native vegetation.
Agricultural Greenhouse Gas (GHG) Emissions. Most agricultural greenhouse gas emissions come from the raising of livestock. Wet manure management systems at massive industrial animal feeding operations (primarily in the swine and dairy industries) and the belches of cows release tremendous amounts of the greenhouse gas methane — more than the oil and gas industry (see Figure 2 and Cut the Crap: The Need to Do More to Address Agricultural Methane Emissions). Roughly half of our cropland is used for growing livestock feed with intensive applications of nitrogen fertilizer, which is the norm in U.S. agriculture; this leads to emissions of nitrous oxide, a greenhouse gas more harmful than methane and carbon dioxide. In addition, soil that is converted to crop agriculture or overgrazed loses the carbon stored and its ability to continue sequestering carbon. Myriad technologies and practices exist that can reduce these climate harms. However, they are employed on only a small portion of farmland. Policy reforms in the Farm Bill and elsewhere are needed to change this.
The 2023 Farm Bill. The Farm Bill provides over $20 billion of annual subsidies, profoundly influencing what, how, and where farmers plant crops and raise animals. Unlike key environmental statutes that can stagnate for decades, the Farm Bill must be reauthorized every five years, creating important opportunities for policy change. The 2023 reauthorization could catalyze a shift in farm policy to slow climate change and reduce pollution. Earthjustice and our partners are advocating tirelessly on Capitol Hill to ensure that the Farm Bill promotes climate-friendly practices, such as improved crop, fertilizer, manure, and grazing management, and supports perennial and cover crops, all of which will also protect our air, water, public health, and biodiversity. This is a big lift, given that the 2018 Farm Bill never even mentioned climate change. Working with many coalitions and allies representing a diversity of stakeholders, we are educating Congress on the dire need to incentivize climate-friendly practices and eliminate incentives for harmful practices, as well as spelling out how to make this happen. SFF Managing Attorney Peter Lehner recently co-authored Farming for Our Future: The Science, Law, and Policy of Climate-Neutral Agriculture, which offers an evidence-based blueprint for the types of policy changes we will push for in the 2023 Farm Bill.
The 2022 Inflation Reduction Act. Even as we were building our work on the 2023 Farm Bill, we were delighted by the passage of the Inflation Reduction Act (IRA), which — while far from perfect — reflects many of our priorities. The IRA provides approximately $20 billion over four years for practices that will reduce net greenhouse gases or increase carbon sequestration. Most remarkably: this is the first time Congress has ever identified climate change mitigation as a key goal of agricultural funding. The IRA will also provide substantial funds for the U.S. Department of Agriculture (USDA) to study how various farming practices impact climate change, giving a huge boost to science that has been underfunded for too long. We will monitor the USDA's determinations to ensure there is a fair accounting of climate impact and build on this significant momentum with our work on the 2023 Farm Bill.
Regulatory Changes. Agriculture's climate impacts go hand-in-hand with air and water pollution. Unlike with greenhouse gas emissions, however, there are federal and state regulatory mechanisms to address direct air and water pollution, which can indirectly reduce greenhouse gas emissions. For example, nitrogen, phosphorus, and other runoff from fields lead to drinking water contamination and harmful algae blooms, and the nitrogen also converts to the potent greenhouse gas nitrous oxide. Concentrated animal feeding operations (CAFOs) release large amounts of toxic chemicals such as ammonia and hydrogen sulfide along with the greenhouse gas methane. The SFF team uses legal advocacy to challenge inadequate, or nonexistent, standards for industrial agriculture's air and water pollution, seeking new or improved pollution limits that also reduce greenhouse gas emissions. This approach is especially important given federal and state governments' refusal, to date, to impose regulatory limits on greenhouse gases directly.
Climate Risk Reporting and Disclosures. As indicated above, agriculture contributes far more to climate change than is generally realized — and the industrial agriculture lobby wants to keep it that way. This lobby has been able to sneak in a federal appropriations rider that prevents the EPA from requiring greenhouse gas reporting. Many of the amendments proposed by opponents of the Inflation Reduction Act would have prohibited any monitoring of agriculture's greenhouse gas emissions, but fortunately those amendments failed. We believe that our relentless high-profile efforts to educate policymakers and the public about agriculture's true climate impact are paying off. We intend to increase these efforts in every way possible, especially during the current administration.
One key opportunity is the proposed rule by the U.S. Security and Exchange Commission (SEC) that would compel firms to disclose climate-related information. While much is known about the climate risks and impacts of the fossil fuel industry, much less is known about food and agriculture firms' contribution to and risk from climate change. The proposed rule would require companies to disclose to investors greenhouse gas emissions from their supply chain if significant; Earthjustice and allies seized this opportunity and submitted comments demonstrating that agriculture supply chain emissions are indeed significant, and often undisclosed. For example, meat companies typically refer only to emissions from their processing facilities, but most of their impact on climate change is from the supply chain: cows, feed production, and the deforestation and grassland conversion needed to make room for cattle and grow their feed. Disclosure of these emissions is not overly difficult. Longer-term, it also helps to educate the public and build support for the emissions limits we badly need. In addition to submitting comments, Earthjustice and our partners are publicly countering industry greenwashing and false narratives intended to undermine the SEC proposal.
State-level Successes. State agricultural, forestry, and environmental policies can also reduce greenhouse gas emissions and pollution from industrial agriculture. We are taking the lead in pushing for climate-friendly agriculture and forestry in New York and have assisted in other states. In New York, we helped build a coalition to press for incentives to adopt climate-friendly practices and for regulatory limits on greenhouse gas emissions. We led the coalition in submitting extensive comments on New York's scoping plans, which outline how the state will achieve the ambitious goals of its Climate Leadership and Community Protection Act. SFF Managing Attorney Peter Lehner was appointed to the Agriculture and Forestry Advisory Panel, representing the only environmental organization on the panel. This is an auspicious start, and many of our recommendations were adopted already. We also submitted comments in Colorado and Massachusetts supporting similar programs and are in the early phases of working with Earthjustice's regional offices in other states to expand our state-level work in key agricultural regions, including California, the Midwest, Florida, and the Rocky Mountains.
Pollution from Industrial Animal Agriculture
The Right-to-Know About Exposure to Air Toxics from CAFOs. CAFOs, which hold hundreds or many thousands of animals in buildings or feedlots, release tremendous air pollution, including toxic chemicals such as ammonia and hydrogen sulfide, particulate matter, methane, and other noxious odors. To protect the public's right to know whether and how much they are exposed to air toxics from CAFOs, we challenged the EPA's 2019 rule exempting CAFOs from measuring and reporting their toxic air emissions to authorities under the Emergency Planning and Community Right-to-Know Act. Because of this challenge, the EPA agreed to reconsider the rule. This positive and significant outcome has allowed us to avoid lengthy and expensive litigation and sent the EPA back to the drawing board to work on an improved rule. Should the EPA return with an insufficient rule, we will file another suit.
Water Pollution Limits for Slaughterhouses. Massive slaughterhouses and rendering facilities — an essential link in the industrial animal agriculture supply chain — generate enormous amounts of odorous and, at times, truly revolting pollution that can render water unsafe for drinking, unfit for outdoor recreation, and uninhabitable for aquatic life. The EPA acknowledges that this pollution disproportionately harms marginalized communities. Despite these grave consequences, the EPA has not revised its pollution standards for any facilities in this industry since 2004, and 95% of facilities are not subject to any national standards at all. Now, following Earthjustice litigation, filed with co-counsel Environmental Integrity Project, on behalf of partners including Cape Fear River Watch and Comité Civico del Valle, the EPA has finally acknowledged the importance of revising these standards. We're energized by this win and continue to press the EPA to complete the revisions — and protect communities — as quickly as possible.
Water Pollution Limits from Large CAFOs. Slaughterhouses and rendering facilities tend to be located near CAFOs, which generate many of the same water pollutants and often threaten the same communities. The EPA estimates that there are 21,000 "Large" CAFOs in the country. There are many more CAFOS total. But fewer than 6,300 have permits issued under the Clean Water Act. CAFOs that discharge water pollution without Clean Water Act permits are operating in violation of federal law, but the EPA and state regulatory agencies often lack the resources they need to investigate these violations and bring enforcement actions — assuming they have the will to take on the powerful CAFO industry in the first place. We're working to flip the script. In partnership with the Rural Empowerment Association for Community Help (REACH), Waterkeeper Alliance, and others, Earthjustice is petitioning the EPA to establish a presumption that "Large" CAFOs using wet manure management systems, in fact, predictably discharge water pollution and, therefore, automatically require water permits. We are thrilled to gain increasing traction on our longstanding work to limit CAFO pollution and to continue to leverage our expertise to support our partners with their fights. Our team published an article explaining more: Pollution from the Largest, Dirtiest Meat- and Dairy-Production Facilities Worsens Injustice. We're Calling for Change.
Demanding Fair Reviews of New CAFOs. Our efforts to address CAFO pollution in the U.S. will not succeed if we merely push irresponsible animal production beyond our borders. Therefore, we're leveraging our expertise and experience to press for increased scrutiny of the industry as it expands in Latin America. We are supporting a group of Indigenous Maya children — represented by the Mexican human rights organization Indignación — seeking proper oversight of a CAFO that could confine up to 49,000 pigs and generate 600 million pounds of urine and feces each year, more than is generated by the entire human population of Tijuana. In 2021, we filed a Spanish-language amicus brief and annotated bibliography urging the suspension of operations at the CAFO. Our filings summarized the well-established and growing body of scientific evidence showing how severely CAFOs harm human health and the environment. As reported last year, Mexico's Supreme Court agreed with us, upholding the lower court's suspension order. In February 2022, we submitted a second amicus brief to the lower court, urging it to maintain the suspension, and the court agreed, again. There is still a long way to go to ensure that this community, and others like it, have the voice and the protections they deserve.
CAFO-related Threats to Human Rights. Building on our partnerships in Mexico, Earthjustice joined an international coalition in petitioning the Inter-American Commission on Human Rights (IACHR) to hold a hearing on human rights abuses from CAFOs across North, Central, and South America. With our coalition partners, we're asking the IACHR to investigate the threats CAFOs pose to human rights. We hope that an IACHR hearing will amplify our partners' voices, attract renewed attention to CAFO pollution, and pressure governments across the Americas — including in the U.S. — to act. In seeking to highlight the connections between under-regulated CAFOs and human rights abuses, we are building on our earlier federal civil rights complaint — settled in 2018 — concerning North Carolina's lax regulation of CAFOs in that state, which disproportionately harm communities of color.
Agriculture & Petrochemicals
Synthetic Fertilizers. The current industrial food system requires a steady flow of fossil fuels and petrochemicals. For instance, fertilizer manufacturing relies on large quantities of natural gas, and it pollutes the climate, air, and water. Not only does the manufacture of fertilizer pollute the environment, but, and sometimes to a greater extent, so does fertilizer overuse. The EPA's regulation of water pollution from fertilizer plants date to the mid-1970s, and there is no question that feasible, more effective pollution-reduction technology is available now. With partners, Earthjustice submitted comments to the EPA, advocating for better nationwide pollution limits for fertilizer manufacturing. Forcing fertilizer plants to internalize the costs of their pollution will also level the playing field for organic fertilizers and incentivize farmers to reduce excess fertilizer use. The benefits are threefold: reducing pollution, decreasing reliance on fossil fuels, and mitigating climate change.
Pesticides and Systemic Insecticides. Similar to synthetic fertilizers, petrochemical-based pesticides cause harm to farmworkers, rural communities, pollinators, and consumers. Earthjustice and our partners continue to challenge the EPA's often lax oversight of these toxic chemicals. Building on our successful work to obtain a ban on the organophosphate pesticide chlorpyrifos, on which we reported last summer, we petitioned the EPA to revoke approvals for the organophosphate pesticides still on the market. Thanks to these efforts, the EPA is currently conducting reviews for some two-dozen organophosphates, to be completed by October 2022. We are working with groups including United Farm Workers, GreenLatinos, Learning Disabilities Association of America, and Pineros y Campesinos Unidos del Noroeste.
Supporting State Protections. We filed amicus briefs on behalf of our farmworker partners in appeals of two federal cases brought by individuals seeking monetary damages from Bayer (which owns Monsanto). The lawsuits are based on injuries from Bayer's popular weedkiller Roundup, which is linked to serious health conditions, including cancer. In each case, the court ruling was consistent with our position that consumers can bring state law claims alleging they were not adequately warned of the pesticide's dangers, irrespective of the fact that the EPA approved the pesticide label. Fortunately, the U.S. Supreme Court declined to review these decisions. As a result, consumers harmed by Roundup can continue to seek justice under state law.
Growing Partnerships
Building National and State Coalitions. We can best achieve our goals with a broad coalition of allies, a strategy proven time and again. Our peer environmental organizations have, until recently, put little effort into agriculture. We are filling this gap by educating our peers and partners about the need, and incredible opportunity, to transform farm policy. In addition to drafting comments to Congress, the EPA, the USDA, and others, we have invested significant time and resources to bring our allies up to speed and align our efforts. Similarly, we are educating state-level partners in New York and elsewhere about opportunities to tackle climate change through state agricultural policy reform. These new and stronger coalitions will be critical moving forward.
Building Local Coalitions. In addition to working to energize our allies around agricultural policy, we are also lifting up the voices of local partners, some of whom are new to advocating on a national scale. For instance, we are collaborating with regional food policy advocates to reform municipal food procurement so that it favors sustainable and climate-friendly foods; at the same time, we are partnering with these advocates to shape federal and state farm policy. Similarly, we are continuing our efforts to protect community gardens in New York City and throughout New York State by highlighting the benefits they provide — including promoting physical and mental health, strengthening social connections, and supporting habitat for pollinators and other beneficial wildlife. Almost two years ago, we filed a petition to increase protections for community gardens in New York City. Earlier this year, we submitted a supplemental petition to reflect our growing list of partners and increase the pressure on the City for action. This work has proven to be extraordinarily effective in building attention for food and farm policy. For example, in July 2022, The New York Times featured Earthjustice in an article highlighting how community gardens help mitigate the effects of climate change: "Extreme Weather Is Soaking New York City. Community Gardens Can Help." Urban and rural leaders alike have a great role to play in this critical work on sustainable food and farming. We cannot leave the matter only to government representatives and others often in the pockets of the powerful agriculture lobby.
"Being able to grow your own food — for me, that's being rich."

Ivette Vargas
Board Secretary, Drew Community Garden, The Bronx, NY
Thank you
We cannot achieve our climate, clean air and water, biodiversity protection, and justice goals without addressing agriculture. We are now seeing the results of sustained and powerful advocacy by the environmental community to reform our energy and transportation systems; we know that we can similarly transition to clean, safe, and climate-friendly agriculture. The risks of the industrial agricultural system's continuing without change are unacceptable; the potential return of transitioning to climate-friendly agriculture is enormous. Success is possible, but there is a long fight yet to get there. Thank you for fighting with us.
By Ann Marie Rubin
This special report was prepared for Justice Partners in Fall 2022. Justice Partners are passionate and engaged supporters of Earthjustice who are serious about making the world a better place. Learn more.
Press Releases and Articles by Earthjustice:
Press Coverage: