What You Should Know About The Northeast Canyons and Seamounts Marine National Monument
How a deep-sea ecosystem will help build resilience to climate change, and how it was saved.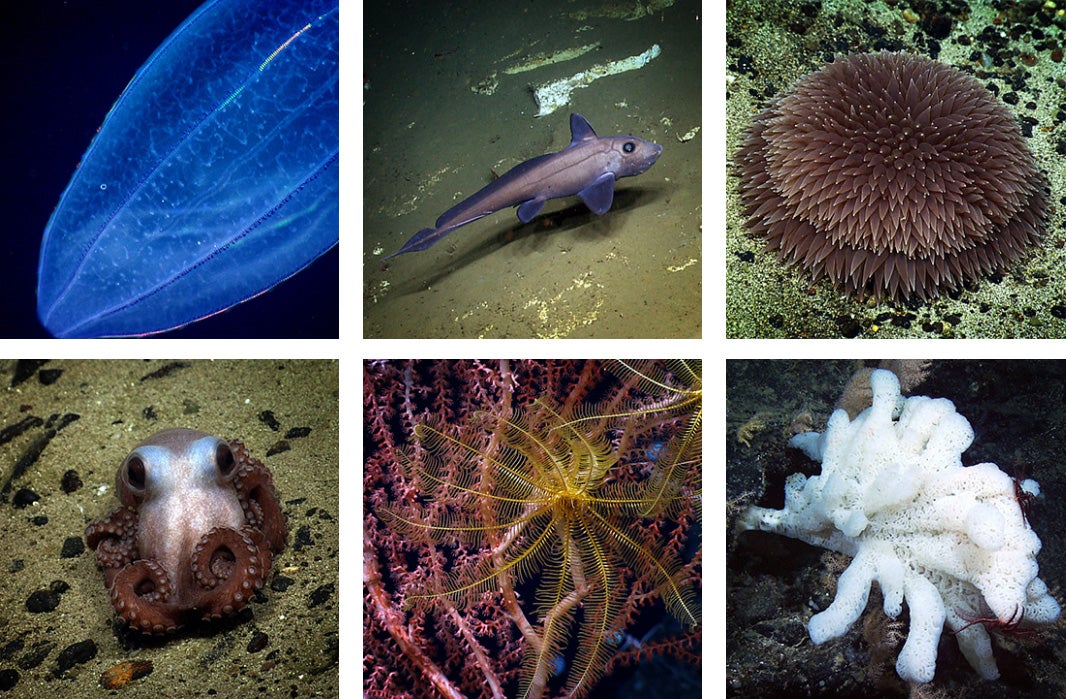 The Northeast Canyons and Seamounts Marine National Monument is a unique and dramatic ocean area off the coast of New England.
Designated as a monument in 2016, it is the first major marine national monument established in the U.S. Atlantic Ocean.
The area provides food, shelter, and nursery habitat to a spectacular array of marine life, including endangered whales, sea turtles, puffins, and rare deep-sea cold-water corals.
Despite tremendous public support for the monument, its fate was under threat.
---
How was the Northeast Canyons and Seamounts Marine National Monument under threat?
On Jun. 5, 2020, President Trump issued a proclamation that exposed Northeast Canyons and Seamounts Marine National Monument to harmful commercial fishing.
The move defied the will of the American people: a poll conducted the previous year found that 92% of Americans said government regulations are needed to protect the ocean.
Nor would opening this monument up to commercial fishing boost the fishing economy the way the Trump administration claimed. There is no evidence that fishing harvest has been harmed in the creation of marine national monuments. Furthermore, the fragile ecosystems within Northeast Canyons and Seamounts would be irreparably harmed by industrial-scale fishing gear.
Fortunately, on Oct. 8, 2021, the Biden administration restored protections to the Northeast Canyons and Seamount National Monument. The order canceled Trump's attempt to shrink the monument and halted all commercial fishing in the area.
This wasn't the first time that industrial interests threatened Northeast Canyons and Seamounts. Several years earlier, Earthjustice — on behalf of our clients Zack Klyver, head naturalist at Bar Harbor Whale Watch Company in Maine, and the Center for Biological Diversity — and other groups intervened in a lawsuit opposing a fishing industry challenge to the designation of the Northeast Canyons and Seamounts. Judge James E. Boasberg of the U.S. District Court for the D.C. Circuit dismissed the challenge and upheld President Obama's designation of the monument.
Invoking the legacy of Teddy Roosevelt, who signed the Antiquities Act into law, Judge Boasberg wrote in his opinion: "[J]ust as President Roosevelt had the authority to establish the Grand Canyon National Monument in 1908, … so President Obama could establish the Canyons and Seamounts Monument in 2016."
What's special about Northeast Canyons and Seamounts National Monument?
Rare centuries-old cold-water corals are the foundation of this deep-sea ecosystem.
Specimens of deep-water black corals have been dated to more than 4,000 years old, making them the oldest known marine organism. Cold-water coral communities provide food, spawning habitat, and shelter for masses of fish and invertebrate species. Unlike tropical corals, cold-water corals do not rely on symbiotic algae to survive; their polyps feed on food particles from the surrounding water.
This national monument encompasses ecosystems in and around three undersea canyons — Oceanographer, Lydonia, and Gilbert, each deeper than the Grand Canyon — and four undersea extinct volcanoes, known as "seamounts" — Bear, Mytilus, Physalia, and Retriever.
These four seamounts are the only ones found in U.S. Atlantic waters. Seamounts are nutrient-rich environments: biological oases of marine life that punctuate the desert expanse of the deep sea floor.
Within this area, upwellings of deep, cold water bring nutrients to the lower echelons of the food chain: plankton, schools of squid, and forage fish. The concentration in turn nurtures the behemoths of the ocean, including sharks, sperm whales and the North Atlantic right whale, which are all abundant in these waters.
Where is the Northeast Canyons and Seamounts National Monument?
In the Atlantic Ocean, 150 miles southeast of Cape Cod, Massachusetts.
Canyons Unit: Coordinates
Latitude, Longitude
40.122, -68.212
40.527, -68.268
40.600, -67.628
40.207, -67.578
Seamounts Unit: Coordinates
Latitude, Longitude
38.865, -66.931*
39.939,-65.943
40.044,-67.722
*U.S. Exclusive Economic Zone forms the eastern boundary.
The Northeast Canyons and Seamounts Marine National Monument protects 4,913 square miles of pristine ocean ecosystem — an area nearly the size of Connecticut, covering 1.5 percent of U.S. federal waters on the East Coast.
Was there a clear need to protect this area as a national monument?
Yes. The monument is a refuge for marine life and provides a buffer for the Northwest Atlantic against the worst impacts of climate change.
With technology advancements, the deep ocean is becoming more accessible to oil and gas exploration and industrial fishing. The national monument designation shields the Northeast Canyons and Seamounts from commercial extractive activities, including commercial fishing and oil and gas drilling.
If these marine reserves are not placed under permanent protection, they are at risk of being destroyed by resource extraction activities, such as bottom-scouring fishing gear.
What is a national monument?
Protected areas of historic or scientific value, which can include geographical areas, buildings, and statues. The overriding management goal for a national monument is protection of the area.
The Northeast Canyons and Seamounts Marine National Monument is jointly managed by the National Oceanic and Atmospheric Administration and U.S. Fish and Wildlife Service.
National monuments can be designated through Congressional legislation or by Presidential proclamation under the Antiquities Act of 1906. Almost half of our national parks were first designated as national monuments.
There are more than 120 national monuments. Prior to the designation of the Northeast Canyons and Seamounts Marine National Monument, there were four other marine national monuments, all in the Pacific Ocean: Mariana Trench, Pacific Remote Islands, Rose Atoll, and Papahānaumokuākea.
Who supported this national monument designation?
More than 200 marine scientists, educators, business owners, surfers, members of faith-based organizations, and the region's leading aquaria and conservation organizations — including Earthjustice, National Geographic Society, Natural Resources Defense Council, Pew Charitable Trusts, and Conservation Law Foundation — also voiced their support.
Additionally, more than 300,000 people from across the country sent messages to President Barack Obama in support of a proclamation to designate these areas as a national monument. President Obama designated the national monument on Sept. 15, 2016. Tens of thousands of Earthjustice members were among those who sent letters.
As an active AAUS-authorized Scientific Diver since 2002, working with and for UC Davis' Bodega Marine Lab, CA Department of Fish and Wildlife, and ReefCheck CA, I have been sad witness to the decline of, and stress on many marine species, and the degradation of the California coastal marine environment.
We, as a society and nation, are neglecting in profound ways the very systems that sustain life on this planet; if we choose not to act, following generations will suffer for our hubris.
– Gregg, South Pasadena, CA
I live on Cape Cod and have seen flounder all but disappear in Cape Cod Bay. I have seen the population of lobsters and cod plummet.

Please create a marine national monument in New England to preserve our heritage.
– Jonathan, Harwich, MA
I grew up enjoying the treasures of the New England Coast. I was thrilled and proud when John F. Kennedy created the Cape Cod National Seashore in 1961, preserving from development this ecosystem for me—and later for my children and grandchildren.

Now it's time to make history. You have my full support and will have the thanks of generations!
– Carolyn, Culver City, CA
As a scuba diver, I've seen what a difference protected underwater spaces can mean as a living space for hundreds of varieties of fish and marine wildlife.
Such an area can make all the difference in whether many species of marine life will even survive considering the challenges of overfishing, underwater mining, and dead zones. Please help us maintain the diversity of life that is so critical to the health of our planet.
– Johanna, Rockville, MD
How is the commercial fishing industry impacted by the designation of this national monument?
According to government data and documents released under a Freedom of Information Act request, the commercial fishing industry will not be detrimentally impacted.
Among a batch of documents released during one FOIA request was an email on Sept. 11, 2017, from Randal Bowman, the lead staff member for the monument review, who suggested deleting language that said most fishing vessels near the Northeast Canyons and Seamounts Marine National Monument "generated 5% or less of their annual landings from within the monument" — because it "undercuts the case for the ban being harmful."
The monument protects recreational access for the public, including recreational fishing. The waters of the Northeast Canyons and Seamounts Marine National Monument hold popular offshore fishing spots for anglers seeking billfish, tuna, and mahi mahi.
Are there other valuable areas in the Atlantic Ocean that would benefit from being designated as a national monument?
Yes. Cashes Ledge, 80 miles southeast of Portland, Maine, has been described as the "Yellowstone of the North Atlantic" by marine biologist Sylvia Earle. It is one of the last places where cod and pollock still thrive, carrying the hope for restoring these iconic New England fish that are the lifeblood of many coastal communities.
The abundance of life in Cashes Ledge is a window into "an ecosystem past" that has all but disappeared from New England's Atlantic, the result of decades of overfishing.
Schools of bluefin tuna and dolphins make their way through Cashes Ledge. Sea turtles ply the waters, as do many species of whales. The peak of Cashes Ledge, known as Ammen Rock, reaches to just below ocean's surface. It is massive enough to disrupt the Gulf of Maine current, creating unique conditions of nutrient- and oxygen-rich water that feeds a cascade of life.
Cashes Ledge is home to one of the largest kelp forests in the world — and the largest on the Atlantic seaboard. Kelp are ecosystem engineers, building towering underwater forests that, just like their counterparts on land, feed and shelter a vast array of life.
Were other national monuments under attack?
In February 2020, the Trump administration moved to finalize plans allowing industry and development in Bears Ears National Monument and Grand Staircase-Escalante National Monument, both in Utah.
The Biden administration halted those plans on Oct. 8, 2021, restoring full protections to the Utah monuments.
Earthjustice represented environmental groups and Native American Tribes in legal challenges to Trump's proclamation gutting these monuments.
Is there anything I can do?
Yes!
Just as Earthjustice's attorneys worked in court to defend national monuments, you are an important part of giving voice to the Northeast Canyons and Seamounts.
Spread the word: Impress your friends with the amazing facts you've learned about the Northeast Canyons and Seamounts National Monument. (Extinct undersea volcanoes have a rich second life as biological oases of marine life! Coral live outside of tropical waters! And some are the oldest known marine organisms!) And make sure your friends know that this monumental treasure exists and that we must make sure it remains protected.
Stay up to date on when your voice will matter the most. Sign up for email updates and action alerts from Earthjustice, and we'll keep you informed when letters or calls to decisionmakers will be needed.
Support our work. Every day, more than a hundred Earthjustice attorneys across the country are fighting on behalf of hundreds of public-interest clients, from national organizations to community groups — and we win. In court, the facts matter. Thanks to the generous support of people like you, the earth has good lawyers.
Thank you for your support of the Northeast Canyons and Seamounts National Monument.
Earthjustice's Oceans Program plays a key role in enforcing domestic laws to compel better stewardship of the oceans. From offices on both the west and east coasts, Earthjustice's Oceans attorneys work to reform fisheries and protect ocean ecosystems, safeguard imperiled marine life, and address harms to marine ecosystems caused by climate change.