Scientists are unearthing amazing dinosaurs in a national monument targeted by former President Trump.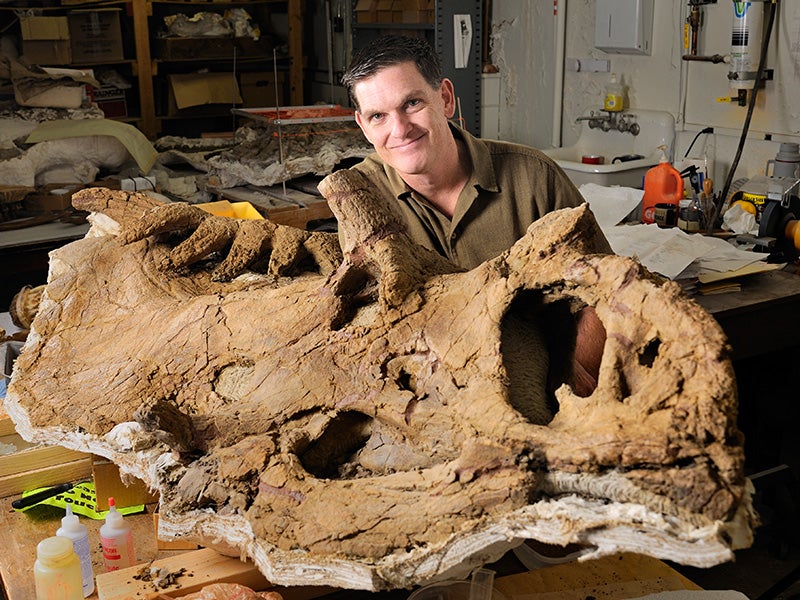 Scott Sampson hunts for dinosaurs. And for the past 20 years, Grand Staircase-Escalante National Monument has been his hunting grounds. He calls the southern Utah canyon country the last great dinosaur boneyard in the United States.
Update The story of Bears Ears and Grand Staircase-Escalante National Monuments did not end with the Trump administration's stripping them of protections from mining and other harmful activities.

Nearly four years of litigation by Earthjustice and our partners and clients held the line, ensuring that the incoming Biden administration could write a better ending for these precious monuments.
Learn more
Once, when walking alone there, Sampson spotted fragments of a backbone. His paleontologist's eye knew immediately they came from a giant duck-billed dinosaur. Stooping, he carefully brushed the loose rock on the ground, exposing several more bones.
Sampson pulled some tools from his pack and began carefully removing chunks of sandstone. Hours passed in the desert solitude.
Finally, there it was: virtually the entire backbone of the behemoth, speckled with bumps left by the scales of its skin. Sampson's own skin went bumpy.
"I knew that this was the first time in 76 million years that the remains of this 30-foot-long plant-eater had been exposed to the light of day, and that I was the first human to see these fossils," says Sampson. "It felt like I had a direct connection to the Mesozoic Era. For a paleontologist, it just doesn't get much better than that."
Finds like these have opened a rare window to the Mesozoic, a time of global warming that could help scientists understand future conditions on Earth. But further discoveries in Grand Staircase are imperiled by President Trump's decision to gut the national monument.
With the stroke of a pen, Trump revoked national monument status and protection from half the lands in Grand Staircase and the vast majority of another iconic monument in southern Utah, Bears Ears. The Dec. 4, 2017, proclamations stipulated that the lands would be open to mining after 60 days.
Within hours, Earthjustice sued the Trump administration to defend Grand Staircase, and followed soon after with a second suit to save Bears Ears. Trump's actions represented the largest rollback of federal land protection in U.S. history. It was part of a wider effort to let industry drill, mine and log public land for private gain.
Many of America's most famous national parks started out as national monuments, including the Grand Canyon. Back in the day, not even "the most sublime spectacle on Earth" struck everyone as worth saving. One Arizona newspaper said it was "fiendish" and "diabolical" to designate Grand Canyon as a monument rather than allow mining.
For Sampson, such inability to recognize the deeper value of places like Grand Staircase leaves him sad. "Sad that the reason this is happening relates at least in part to the mining of fossil fuels," he says. "Sad that we haven't been able to do more to highlight the monument's scientific importance — and its potential to foster a deep sense of wonder."
Sampson has already done his fair share of inspiring some of the most curious among us: children. He hosts a television show for kids called Dinosaur Train, tapping a passion he's held since age 4.
"Dinosaurs are bizarre-looking, giant monsters that we no longer need to worry about. What could be more intriguing to a kid?" says Sampson.
Some truly wild things roamed in Grand Staircase, sparking the imaginations of kids and adults alike. The tyrannosaur dubbed Lythronax — which means the "King of Gore" — was one of the more than two dozen new types of dinosaurs found in the monument. Picture 2.5 tons of carnivore, jaws lined with serrated teeth capable of crushing bone and ripping off meat by the chunkful.
"Kids ask the best questions — they simply don't have the preconceptions that adults do — and they often come up with surprising, out-of-the-box ideas. One young boy asked me, 'Did dinosaurs have armpits?'"
On field trips with local students, Sampson and other paleontologists have had opportunities to explain what a unique part of the world the kids are in. In the Age of Dinosaurs, Earth had no ice caps and an inland sea stretched not far from the east of Grand Staircase. After the dinosaurs died out, layers of earth covered their bones over the ages before geological forces heaved their fossils close to the surface. The southern Utah climate has preserved them exceptionally well.
Most of the dinosaur fossils in Grand Staircase are found nowhere else on Earth, says Sampson. (Read an extended interview with Sampson.)
But this unique boneyard is also a coal bed, and for the Trump administration, that's where the fascination with this place seemed to begin and end.
Thousands of pages of recently released Interior Department emails reveal that oil and mining interests were at the heart of the Trump administration's decisions to go after Utah's national monuments. Trump's proclamation ejects parts of the Kaiparowits Plateau and other fossil-rich regions from the monument's boundaries and puts them once again within grasp of mining companies. (Editor's Note: On Jun. 26, 2018, Earthjustice filed a transparency lawsuit in federal court, targeting the culture of secrecy at the Interior Dept. that is keeping the American public in the dark about major decisions and meetings with industry that affect the lands and resources the agency holds in trust for the American people.)
There are more than 500 known scientifically important paleontological sites now excluded from the monument, according to David Polly, a paleontologist at Indiana University.
Paleontological and Geological Resources in Grand Staircase-Escalante National Monument
A large coal mine almost opened in the 1990s on the Kaiparowits Plateau. The Earthjustice attorney now leading the national monuments lawsuits, Heidi McIntosh, defeated that coal mine proposal when she worked for the Southern Utah Wilderness Alliance.
As a young attorney, McIntosh dug into the mine's permit application. The paperwork filled binders stretching three feet long on a bookshelf. She brought in experts to help pore through it, including a hydrologist who pointed out the permit did not address the risk that the mine site could be overrun by desert flash floods. Without plans to address flash floods, contamination from the mine could be washed into Lake Powell.
The detail clicked with McIntosh. She grew up in the Arizona desert. Every summer, her father used his break from teaching to load up the family in a camper and go on adventures across the Southwest and Mexico.
She knew the way this land worked — how rain can burst quickly from the sky, race down miles of surrounding sandstone, and funnel onto dry washes that suddenly explode into raging rivers. The flooding potential worried the permit reviewers, too. The legal action around the permit delayed development of the mine, giving President Clinton the chance to designate Grand Staircase-Escalante National Monument. Shortly after, the reviewers rejected the permit, avoiding the possibility of a mine within the new monument.
"Had that project gone forward before the monument was designated, the monument boundaries would have had to have been drawn to exclude the coal mine, or it might not have been designated at all," says McIntosh. "And many of those dinosaurs wouldn't have been found — they would have been damaged and lost."
Now, McIntosh finds herself not just fighting to save a piece of a monument but to save the whole concept of monument preservation.
Presidents since Theodore Roosevelt have designated 157 national monuments. The constitution gives Congress, not the president, authority over public lands. But in 1906, Congress passed the Antiquities Act, delegating a limited amount of its authority to the president to protect federal lands and waters as national monuments.
Congress wanted to give the president authority to act swiftly to ensure that the nation's natural, cultural and historical heritage was not lost.
At the heart of McIntosh's current legal argument lies the fact that the Antiquities Act does not grant presidents the power to dismantle monuments. Since that power isn't spelled out, it remains with Congress. Trump's efforts, therefore, also violate the separation of powers clause under the constitution.
Inside the Legal Case Heidi McIntosh explains the legal issues and what was at stake in the national monuments legal fight.
Like Sampson, the legal work McIntosh does today springs from a childhood wonder, in her case the beauty she came to know on long trips in the family camper.
"What I feel in that moment when I'm in court is a sense of excitement and privilege to be able to defend these remarkable places before a judge," she says. "I've always wanted to speak for wilderness and wildlife, going back to when I was a kid."
McIntosh first met Sampson when she took her young daughter — a huge fan of "Dr. Scott" on Dinosaur Train — to hear him speak at a high school in Utah. Star-struck Julia got to meet her hero. And the lawyer and the scientist began a conversation that continued when they bumped into each other at an event at the Natural History Museum of Utah.
From her days fighting the coal mine permit, McIntosh knew that the monument contained a fossil record that existed nowhere else in the world. But as she talked with Sampson in the museum, surrounded by dinosaur skulls hanging imposingly from the walls, the discoveries came to life for her.
"It's one thing to hear about fossils in a windowless hearing room," she says. "It's another thing entirely to hear about them when you're gazing into the jaw of a giant dinosaur fossil itself."
The museum also became a window for her daughter onto her life's work. McIntosh had brought Julia to her office before, but the work involved a lot of tapping away in front of a computer screen.
"I'm sure it just looked incredibly boring," she says. Trips to the museum, however, became "a really concrete way to show what I was doing and why it was so incredibly important. It created a connection."
Building on this, McIntosh took 7-year-old Julia to Bears Ears. They saw firsthand the archeological sites where corncobs still lay by granary walls. They tracked the lines of ancient structures built by the Ancestral Puebloans over 10,000 years ago and marveled at the petroglyphs.
For now, while the courts deliberate over the monument cases, such possibilities for discovery are preserved for the next generation.
Epilogue – Oct. 8,2021: Hobbled by lawsuits, the Trump administration ran out of time to execute its most destructive plans for our national monuments. Now these public treasures will once again be preserved.
On Oct. 8, 2021, the Biden administration issued a proclamation restoring protections to Grand Staircase-Escalante and Bears Ears National Monuments, along with a marine national monument off the coast that New England that was reduced under the previous presidency.
The restoration of Grand Staircase ends an egregious abuse of executive authority to sell the nation's public lands to the highest bidder — and ensures that this last dinosaur wonderland is safe for the next wide-eyed explorer.
---
A version of this story was originally published in the Earthjustice Quarterly Magazine, Spring 2018 issue.
Ben Arnoldy is the managing editor. He leads Earthjustice's print and digital editorial products.
Heidi McIntosh is the managing attorney of the Rocky Mountain Office in Denver. She has more than two decades of environmental litigation experience on cases ranging from threatened and endangered species, to fending off efforts to designate roads and off-road vehicle trails in Utah's wild canyon country.
Earthjustice's Rocky Mountain Office, established in 1972, protects the region's public lands and unique wildlife, challenges reckless oil and gas development and off-road vehicle use, and safeguards precious water resources.