Protecting the Grand Canyon Against Uranium Mining
More than 4 million visitors each year seek out the sunset-colored vistas of the Grand Canyon National Park. Interior Secretary Ken Salazar protected one million acres of land around the Grand Canyon by putting a halt to uranium mining. Earthjustice is defending the decision in court.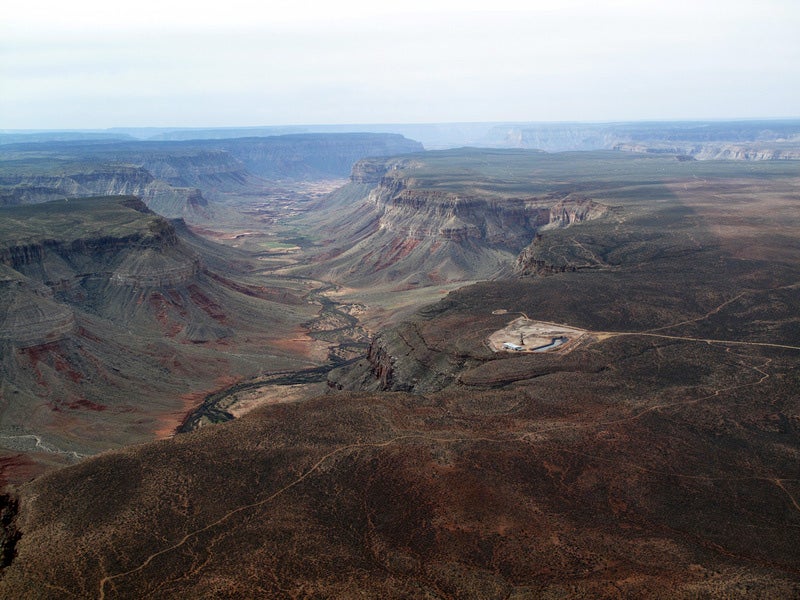 More than 4 million visitors each year seek out the sunset-colored vistas of the Grand Canyon National Park—making it the second-most visited national park in America. Therefore, it was no surprise in 2009 when Interior Secretary Ken Salazar decided to protect one million acres of land around the Grand Canyon by putting a halt to uranium mining. This was in accord with the Bureau of Land Management's request to properly assess the impact of mining on this sensitive landscape.
However, after two years of research was completed, scientists told the government that more data is needed to make conclusions about how pollutants act in the canyon's intricate, vast watershed. In January 2012, the million-acre land protection was extended another 20 years. This 20 year timeline is not arbitrary, but rather an estimated amount of time required to successfully complete an Environmental Impact Statement on such a large-scale ecosystem.
Scientists know that there are naturally occurring toxins in the canyon environment, such as uranium, arsenic, and selenium. What they don't know is the extent to which mining—which uses massive amounts of water—concentrates these levels of toxins, especially in areas that would harm plants and animals.
Not only does uranium mining pollute water, it also removes water from naturally occurring seeps or springs which species depend on for survival. Removing water sources for plants and animals is devastating, and has long-term impacts on the entire environment. Moreover, not only does uranium mining affect local plants and animals, but scientists are also concerned for the toxicity levels in the Colorado River, which supplies water for seven states.
Environmental organizations are working to keep the uranium ban in place—to the chagrin of mining corporations. This year, Earthjustice filed a motion to defend Salazar's decision, on behalf of The Havasupai Tribe, Grand Canyon Trust, Sierra Club, Center for Biological Diversity, and National Parks Conservation Association. Our goal is to protect the Grand Canyon's watersheds, plants, and animals from new mining pollution, and err on the side of caution when dealing with toxic elements.
Footsteps – through the grand canyon
Surviving the summer heat is no easy task in Arizona, but trekking to the bottom of the Grand Canyon becomes manageable if lessons are learned from the animals that live within it. Mule deer and mountain goats quietly graze at dawn and hide in the shadows near the river; rattlesnakes and lizards cool down in shady coves and on patches of moist soil.
The most rewarding part of hiking down the steep switchbacks of Kaibab trail is the moment the Colorado River is spotted. Sights of the Colorado tease hikers for an hour before they finally reach bottom, offering a visual transformation of the Grand Canyon from desert to oasis. The vastness of vistas, diversity of wildlife, and calming sounds all blend together to heighten senses, allowing a city dweller to morph into a nature enthusiast.
No camera can truly capture the beauty of hiking out at sunrise, slowly ascending Bright Angel trail as sun rays drizzle down the canyon walls. A longer hike out than in, the grade of Bright Angel is more gradual, and a half-way point is marked by Indian Gardens—a place to relax and enjoy the last sounds of flowing water. The next switchback leads to sights of the South Rim, marking only a few more hours to climb.
Hikers and visitors are frequently reminded that Grand Canyon National Park is an international destination, just by listening to the unique dialects and languages buzzing around the campgrounds and lodges. Regardless of words spoken, a universal message is understood: this gem of the southwest is something to be treasured for generations to come.
By Chrissy Pepino, an Earthjustice staff member. During the summer of 2012, she trekked through parts of the Grand Canyon that Earthjustice seeks to protect.