Sun Rises Over the Bluegrass State
Earthjustice attorney Shannon Fisk brings the clean energy fight to Kentucky as he topples a giant coal plant and helps pave the way for the state's first large-scale solar farm.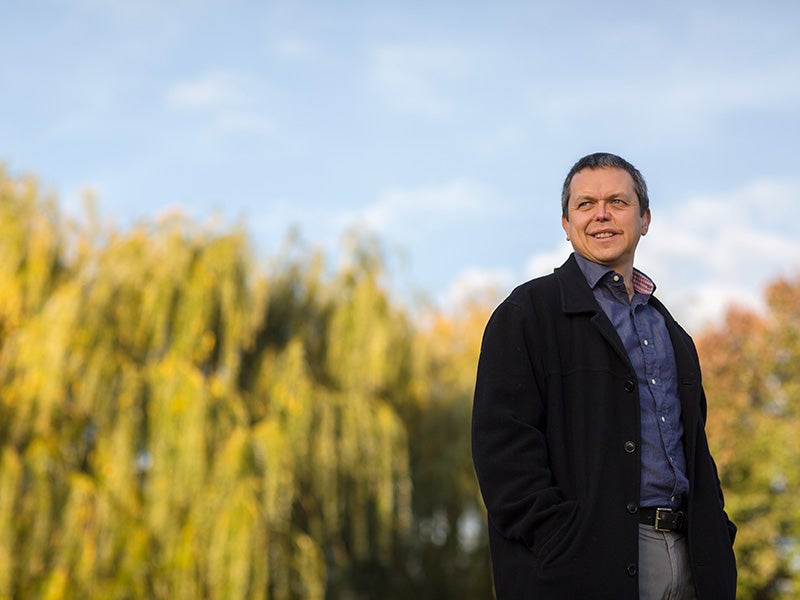 In June 2016, 44,600 solar panels flickered to life near Lexington—marking the first utility-scale clean energy project in the state of Kentucky. Three months later, with a thunderclap and a cloud of dust, a 34-story tower at Kentucky's Big Sandy coal-fired power plant came crashing down. Meanwhile, in Philadelphia, Earthjustice managing attorney Shannon Fisk glanced at a piece of hate mail among the coal case research strewn across his desk and smiled at a job well done.
Fisk, who was born on Chicago's South Side, takes criticism in stride. Above his desk is a saying embroidered by his wife, Kairol Rosenthal: "One day you are the most. The next day you are toast."
He's proud of his work to replace coal power with renewables, especially in states like Kentucky where, until recently, coal was king. Historically, more than 90 percent of Kentucky's electricity has come from coal.
"We took the fight to the heart of coal country," Fisk says. "When people asked me, 'Are you crazy?' I said, 'Well that's where the coal is.' To actually win there is a testament to our ability to fight the hard fights."
"When people asked me, 'Are you crazy?' I said, 'Well that's where the coal is.'"
Kentucky has extracted more than 13 billion tons of coal since it was first mined there in 1790. The state's coal helped power two world wars, and "black diamonds" are still embedded deep in the local culture. But now, as the economics of energy shift, Kentucky and other coal-producing states are tiptoeing toward cleaner, cheaper alternatives for electricity like wind and solar.
The end of Big Sandy as a coal-burning plant and completion of the largest solar farm in Kentucky reflect a changing landscape for coal—and for groups that combat fossil fuels.
It's crunch time for coal. About 40 percent of the country's coal-fired power plants have been shuttered or slated for retirement over the past five years in response to a boom in natural gas drilling, advances in renewable energy and a growing understanding that humans must curb carbon dioxide emissions—and soon—to avoid a climate disaster. Adding to the pressure, government officials over the past few years have strengthened air and water pollution standards—or applied these rules to coal-fired plants for the first time—thanks, in part, to Earthjustice litigation.
In December 2011, American Electric Power, owner of the 48-year-old Big Sandy coal plant and the largest coal buyer in the Western Hemisphere, proposed a nearly $1 billion upgrade plan through its local affiliate Kentucky Power Company.
The plan would have allowed Big Sandy's larger unit to continue burning coal while complying with environmental regulations. The utility needed to install "scrubbers" that filter lung-damaging sulfur dioxide from power plant exhaust. To recoup the money for this big-ticket project, Kentucky Power wanted to hike energy bills for its customers by more than 30 percent.
Kentucky's attorney general came out against the Big Sandy plan because higher energy prices would squeeze low-income residents. The Sierra Club added that the massive Big Sandy plant burned 90 railcars of coal a day and emitted more than 5.6 million tons of carbon dioxide a year. The scrubbers wouldn't touch those emissions.
A month after Kentucky Power unveiled its plan, Shannon Fisk joined Earthjustice. He partnered with the Sierra Club on the Big Sandy case as soon as he arrived.
"I need a mission," says Fisk, an atypical environmentalist who'd rather walk in the urban jungle than hike in the forest. Fisk was drawn to environmental law from the desire to effect social change and to defeat climate change, which he believes is "the issue of our time."
He realized the moment was right to try something new. Fisk pioneered a strategy to stop utilities from making impractical investments in coal plants like Big Sandy by approaching local public utility commissions, where green groups had not been successful in the past. During commission hearings, he challenged utility company witnesses and lawyers as if they were on opposite sides of a jury trial.
When Fisk first went to a commission hearing in Kentucky to challenge a utility's plan to upgrade its coal fleet, he was literally without a seat at the table. (He found a chair in the audience.)
"It doesn't bother Shannon to go into a room where everyone hates him and make his case for what he thinks is right," says Thom Cmar, an attorney who's fought alongside Fisk in the environmental movement for nearly a decade.
Sidebar: Thom Cmar and Shannon Fisk have been partners in crime-fighting since 2007, first at the Natural Resources Defense Council and now at Earthjustice. Cmar worked in the Natural Resources Defense Council's Chicago office on water and energy cases, including working alongside Fisk on coal litigation. When Cmar got the opportunity to follow Fisk to Earthjustice in 2012 to work on coal cases nationally, he jumped at the chance.

In the course of their working relationship, the two men have become close friends. Fisk and his wife Kairol Rosenthal even jointly officiated Cmar's wedding to his wife Colleen Sarna in 2011.
In Kentucky and the more than 30 other states where utilities are regulated, utilities like Kentucky Power must sell energy to everyone in their service area, and in exchange they can price energy at a level that guarantees them a profit.
Regulated utilities own power sources, including coal plants, and so have an incentive to keep them running for as long as possible. Public utility commissions—in this case the Kentucky Public Service Commission—are supposed to act as a counterweight to ensure utilities pursue the lowest cost options for their customers. Commissions must approve big customer rate hikes in advance, which gave Fisk an opening to make his case.
"For 30 years, utilities often faced only token opposition," Fisk says. "Until recently, few people litigated in these commissions as if they were real courts."
Fisk's inventive approach involved talking to the commissions in the language that utilities and regulators know—the language of money. By doing so, he was able to show that even in coal country, the Big Sandy plan made no financial sense.
Fisk's argument was that Kentucky Power shouldn't be able to pass the cost of pollution-cutting technology on to customers when cheaper energy options are available. That those alternatives are better for human health and the environment is an added benefit.
At a hearing before the commission to review the Big Sandy plan in spring 2012, Fisk cross-examined utility witnesses and presented testimony from economists. He showed that more energy efficiency and renewable energy, as well as better management to smooth electricity demand during peak times, would be far less expensive than updating Big Sandy—an 8 percent hike in power bills, rather than 30 percent or more.
"Our job is to make sure the industry doesn't manipulate the system in a way that forces customers to pay to keep an uneconomic coal plant alive," says Fisk.
Earthjustice was joined at the hearing by an unusual bedfellow: Kentucky Industrial Utility Customers, which represents major Kentucky employers, including Marathon Petroleum, Ford and Toyota. The group opposed retrofitting Big Sandy not for environmental reasons, but because it would raise costs for businesses.
"Maintaining low electric rates is critical to the success of U.S. manufacturing," says attorney Michael Kurtz, who represents the consumer group. He adds that though Earthjustice attorneys have a different goal in mind, they "bring solid expertise" to energy cases.
On May 29, 2012, The New York Times ran a story that showcased Big Sandy as the poster child for aging coal infrastructure facing an uncertain future. The front-page piece made the case that with air pollution laws, changing energy prices and well-organized green groups arrayed against coal plants, "coal is in a corner."
The next day, Kentucky Power withdrew its plan to update Big Sandy. And seven months later, the utility announced it would retire the plant's larger unit and convert its smaller unit to burn natural gas.
Under an agreement negotiated by Fisk, the Sierra Club and Kentucky Industrial Utility Customers, Kentucky Power replaced some of the 800 megawatts from Big Sandy's larger unit with power from the Mitchell plant, a coal plant in West Virginia that already had scrubbers. But the utility must also ramp up its investment in energy efficiency, fund local job training, look into buying 100 megawatts of wind power and regularly study whether buying power from the Mitchell plant is sensible in light of stricter pollution rules.
Big Sandy was, and still is, the largest U.S. coal plant ever shut down by Earthjustice or the Sierra Club. The case cemented Fisk's reputation with the commission as an audacious advocate, and it advanced environmentalists' goal to wean the U.S. off coal completely over the next two decades.
"Utilities typically treated it as a given that coal was going to be the overwhelming source of Kentucky's electricity for decades to come," says Cmar. "It's only with the big shift in economics in recent years and with these victories we've won at the margins in Kentucky that that mentality is starting to change."
Retiring coal plants like Big Sandy is one part of the solution to climate change, Fisk argues, but another is promoting renewable energy.
In the past, the commission had rejected renewable projects. So in 2014, when the Louisville Gas and Electric utility came to the commission with plans to build a 50-acre, 10 MW solar farm at the E.W. Brown Generating Station 50 miles outside of Lexington, Earthjustice stepped in—this time on the utility's side. Earthjustice argued that investing in solar was cost-effective for customers and a way for Louisville Gas and Electric to try adding intermittent power sources, such as wind and solar, to the grid.
When the commission agreed to the solar farm in December 2014, it set a precedent—the commission had never before approved a renewable energy project.
The solar farm is now the largest in Kentucky, but other, smaller installations are in the works. Steve Ricketts, co-owner of the retail business Solar Energy Solutions, is seeing some slow growth in solar capacity and employment in the state, but he wishes Kentucky had a system to retrain coal workers who need jobs and bring them to areas where solar is emerging.
Fisk says it's imperative that green groups work with government officials, utilities and the coal industry to advocate for coal workers and communities so they aren't left behind. In 2016, the White House awarded $39 million in grants to communities impacted by coal's decline.
Though there are still many hurdles to greater solar expansion in Kentucky, in June 2016 Solar Energy Solutions inked a deal with Louisville Gas and Electric. In the future, businesses will buy energy from solar panels owned by the utility and supplied by Ricketts' company. With fees, the power will be pricey initially, Ricketts says, but the program is a proof-of-concept.
"You've got to raise awareness of solar and show it to the general public to dispel their myths that this is scary or overly technical," he says.
It was four-and-a-half years from Fisk's first week at Earthjustice until the solar farm at E.W. Brown was complete, in June 2016. Three months later, 500 pounds of explosives reduced Big Sandy's enormous Unit 2 tower to rubble.
"One thing Earthjustice brings to the fight is a willingness to dig in, in places that are often overlooked, but where critical decisions are made about our energy future," Fisk says. "When we take a case, we're there for the long haul. … We're not just there to make a statement and get out."
Fisk, Cmar and the rest of Earthjustice's coal team are still wrangling in Kentucky. At the commission, Cmar and Fisk recently fought a big bailout of two other aging coal plants. And Cmar settled a lawsuit in September 2016 to stop Louisville Gas and Electric from dumping toxic coal plant waste into the Ohio River.
"We should celebrate, but we also need to be careful not to declare victory too soon because the coal industry is still a behemoth," Fisk says.
On March 28, 2017, President Trump issued a sweeping executive order attacking climate safeguards. Among other actions, the order directed an end to the Interior Department's moratorium on new coal mining on federal land and initiated a repeal of the EPA's Clean Power Plan.
Earthjustice responded swiftly in court. We will continue to defend and advance progress to combat climate change—even if the current administration no longer wishes to do so.
Coal generates one-third of U.S. electricity, and there are many polluting coal plants abroad. As President Trump attempts to ramp up federal investment in fossil fuels once again, so Fisk says it's more important now than ever for Earthjustice to push, state by state, for advances in clean energy.
"If we can't cut carbon emissions in time to avoid the worst of climate change," he adds, "we've lost the game."
On March 28, 2017, President Trump issued a sweeping executive order attacking climate safeguards. Among other actions, the order directed an end to the Interior Department's moratorium on new coal mining on federal land and initiated a repeal of the EPA's Clean Power Plan.

Earthjustice responded swiftly in court. We will continue to defend and advance progress to combat climate change—even if the current administration no longer wishes to do so.
By Heather Kathryn Ross
A version of this story first appeared in the Winter 2016 issue of Earthjustice Quarterly Magazine.
Earthjustice's Coal Program is based in Philadelphia.
Through hard-hitting litigation and administrative advocacy, the Coal Program is working to end our nation's reliance on dirty, expensive and outdated coal-fired power plants, and to achieve a just transition to a clean energy economy. Learn more about the Coal Program's work.