What Is Mountaintop Removal Mining?
Learn about this destructive process and how it affects communities throughout Coal Country, and see what Earthjustice and its allies are doing to stop mountaintop removal mining and protect the countryside and its waters.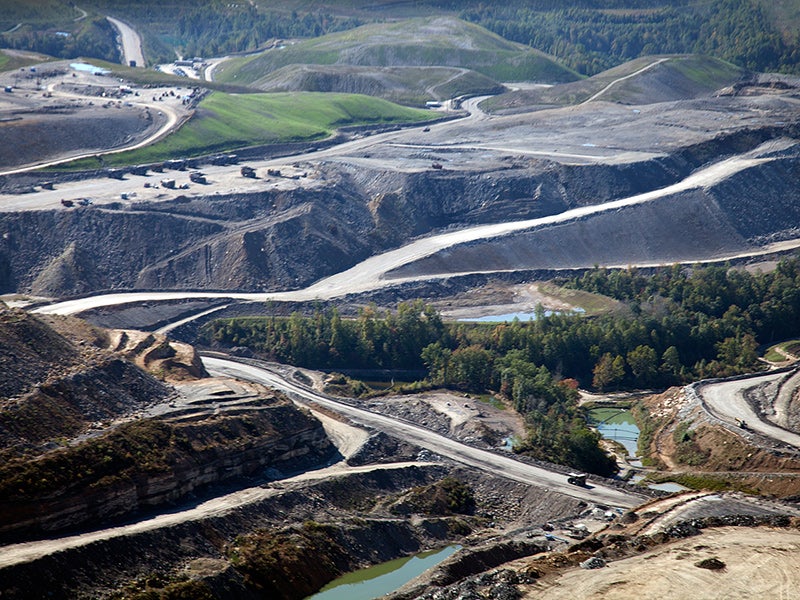 Mountaintop removal coal mining, often described as "strip mining on steroids," is an extremely destructive form of mining that is devastating Appalachia.
In the past few decades, over 2,000 miles of streams and headwaters that provide drinking water for millions of Americans have been permanently buried and destroyed. An area the size of Delaware has been flattened. Local coal field communities routinely face devastating floods and adverse health effects. Natural habitats in some our country's oldest forests are laid to waste.
Earthjustice has been in the courts and in Congress on behalf of other local and national environmental and community groups to stop this destructive practice and protect Appalachia for future generations.
How It's Done
Coal companies first raze an entire mountainside, ripping trees from the ground and clearing brush with huge tractors. This debris is then set ablaze as deep holes are dug for explosives.
An explosive is poured into these holes and mountaintops are literally blown apart. Huge machines called draglines—some the size of an entire city block, able to scoop up to 100 tons in a single load—push rock and dirt into nearby streams and valleys, forever burying waterways.
Coal companies use explosives to blast as much as 800 to 1,000 feet off the tops of mountains in order to reach thin coal seams buried deep below.
What We're Doing in the Courts
Earthjustice, Appalachian Mountain Advocates and Public Justice, on behalf of Coal River Mountain Watch, Ohio Valley Environmental Coalition, West Virginia Highlands Conservancy, Sierra Club, Kentuckians For The Commonwealth, Southern Appalachian Mountain Stewards, and Statewide Organizing for Community eMpowerment, are working in federal courts to bring the protections of the Clean Water Act to the people, communities and waters of Appalachia.
What We're Doing on the Hill
We have been advocating in Congress for stronger protections for Appalachian people, communities and waterways since 1999. With the support of many clean water champions in Congress, we have also defeated numerous attempts to weaken clean water protections and exempt coal mining companies from the 40-year-old Clean Water Act. And finally, we are working to educate our nation's lawmakers on the serious public health threats of this extremely destructive mining practice.