Judge Halts Plan to Eliminate Secure Grizzly Bear Habitat in Northwest Montana
Victory:
Ruling preserves 36,700-acre grizzly reserve in Stillwater State Forest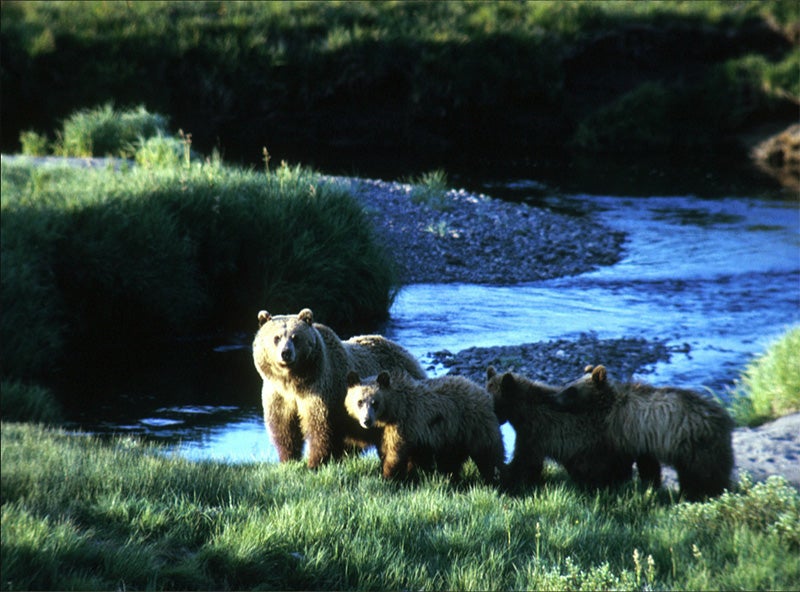 National Park Service Photo
Missoula, MT —
A federal judge has blocked a plan to carve new roads into a 36,700-acre block of secure grizzly bear habitat within the Stillwater State Forest in northwest Montana. The judge's ruling, issued late Thursday, preserves the "Stillwater Core" grizzly bear habitat from elimination under a plan by the State of Montana that called for building new roads to open the area to increased logging.
In the ruling, U.S. District Judge Donald Molloy concluded that the U.S. Fish and Wildlife Service violated the Endangered Species Act by approving the state plan and issuing a permit to the state Department of Natural Resources and Conservation ("DNRC") that would have allowed the agency to "take" grizzly bears in the Stillwater Core. "Take" refers to habitat destruction that drives the bears out of their territory leading to reduced reproduction. Grizzly bears are listed as a threatened species under the Act.
The ruling stems from a case filed in March 2013 by the public-interest environmental law firm Earthjustice on behalf of three conservation groups—Friends of the Wild Swan, Montana Environmental Information Center, and Natural Resources Defense Council—to challenge federal approval of a 50-year "take" permit and associated habitat conservation plan that authorized increased road building and logging across approximately 550,000 acres of Montana state lands.
A key feature of the state plan involved elimination of the only unroaded grizzly bear habitat area remaining on Montana state lands. State land managers proposed to build new logging roads into the Stillwater Core but claimed to minimize impacts to grizzly bears by imposing seasonal restrictions on road use and logging.
"A mother grizzly bear trying to raise young cubs needs a wild landscape, not a maze of roads with complicated seasonal closure rules," said Earthjustice attorney Timothy Preso, who represented conservationists in the case. "Federal officials played fast and loose with the science in claiming otherwise. Fortunately we have courts in this country that require federal officials to make rational decisions and follow the rule of law."
"This is incredibly important to grizzly bears on the Stillwater State Forest," said Arlene Montgomery, Program Director for Friends of the Wild Swan. "Bears don't use calendars to know when an area is safe to raise their young and avoid conflicts with people. The court's ruling ensures that bears get a fair shake."
Matt Skoglund, Director of NRDC's Northern Rockies Office in Bozeman, Montana, said, "50 years is a long time, especially with the sobering reality of the impact of climate change in the Northern Rockies, and building new roads in secure grizzly habitat is a dangerous road to go down. We applaud the court's ruling as it relates to grizzly bears."
The judge's ruling found that federal officials lacked a rational scientific basis for their decision to approve new road-building in the Stillwater Core based on the state's plan.
"The Service has not rationally justified its finding that the approach under the Plan constitutes a complete offset—much less a net benefit—such that additional mitigation measures did not even need to be considered," the judge ruled. "Absent independent investigation into the impracticability of greater mitigation measures, the Service's finding that the Plan mitigates take of grizzly bears to the maximum extent practicable is arbitrary and capricious."
While agreeing with the conservation groups regarding the Stillwater Core issues, the judge upheld federal approval of a different portion of the DNRC's plan that authorized increased road construction and logging in habitat for the bull trout, an imperiled native fish species. The judge concluded that federal biologists properly issued DNRC a "take" permit for bull trout based on a state plan to inventory and remediate logging roads that are harming bull trout habitat. The conservationists promised to monitor the state's implementation of that mitigation program to ensure that the DNRC lives up to its promise to mitigate harms to bull trout.