Court Overturns Approval of Weak Haze Pollution Plan for Pennsylvania
Victory:
Ruling called 'a victory for clean air, clear skies, and the rule of law'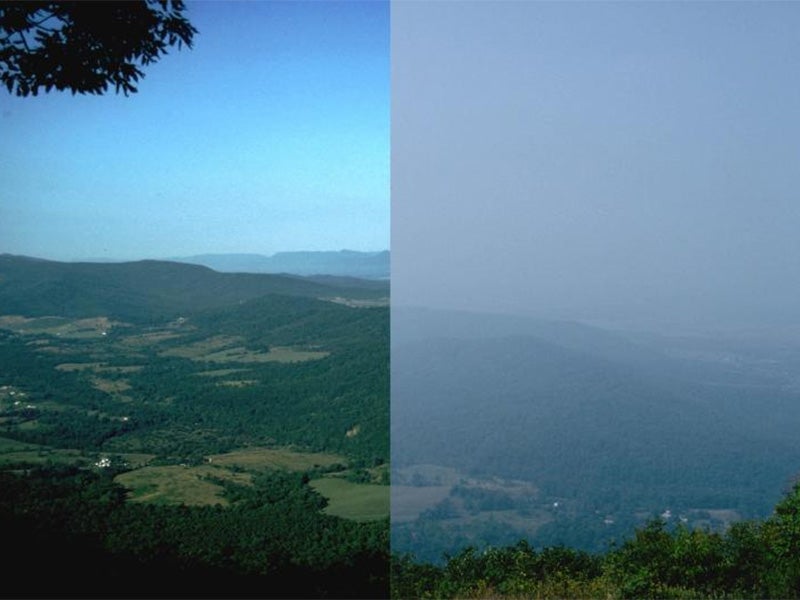 National Park Service Photo
Philadelphia, PA —
A federal appeals court today overturned the U.S. Environmental Protection Agency's approval of a Pennsylvania plan that failed to protect parks and wilderness areas from haze pollution generated by power plants and factories. The state's plan required no additional pollution controls at any of the state's coal-burning power plants and other facilities that are among the biggest sources of haze pollution. The 3rd U.S. Circuit Court of Appeals held that EPA failed to adequately justify its approval of the plan, which EPA itself found to be flawed.
"Our national parks deserve the strongest protections from dirty air," said Earthjustice Attorney Charles McPhedran. "The state and EPA need to assure that people can enjoy unpolluted views in these majestic places."
The court ruling comes in response to a lawsuit brought by Earthjustice on behalf of the Clean Air Council, National Parks Conservation Association, and Sierra Club. The groups argued that Pennsylvania's plan violated the Clean Air Act by failing to require numerous large power plants and factories to install the best available pollution controls.
"Today's victory shows that the promise of the Clean Air Act to return natural air to treasured national parks and wildernesses cannot be met if states do not act," said Stephanie Kodish, head of the National Parks Conservation Association's Clean Air Program. "This decision requires Pennsylvania and EPA to act to advance this objective by addressing the pollution fouling the air in national parks and local communities."
Air pollution from Pennsylvania contributes to haze in a number of Class I areas in the eastern United States, from Acadia National Park in Maine to Brigantine National Wilderness Area in New Jersey to Shenandoah National Park in Virginia. The Clean Air Act required the state to adopt measures by December 2007 to limit that pollution, including implementing "best available retrofit" pollution controls at large, aging plants.
Pennsylvania did not submit its plan until 2010. EPA did not finally approve the plan until 2014. It did so despite objections from the conservation groups and the National Park Service that the plan did not go far enough to cut haze pollution. Some of the same pollutants that contribute to haze also increase the risk of many serious health conditions, such as asthma, heart attacks, and respiratory problems.
Today's court ruling throws out major parts of EPA's plan approval, and requires the agency to ensure that Pennsylvania has a plan that complies with the law. "As one of the top ten coal-burning states in the country, it is critical for Pennsylvania in particular to have in place the strongest possible plan to limit haze pollution," said Clean Air Council Executive Director and Chief Counsel Joseph O. Minott. "We applaud the Court's ruling, which requires Pennsylvania and EPA to comply with their obligations to protect both human health and our national vistas from the damaging effects of this pollution."
"This decision is a victory for clean air, clear skies, and the rule of law," said Sierra Club attorney Zack Fabish. "Today the Court ruled that EPA and Pennsylvania cannot simply gloss over their obligations to eliminate harmful air pollution that impacts our lungs and national parks."