Earthjustice Helps Defend the Clean Power Plan
Leading environmental and public health groups file in court to defend against industry's attempt to stay the Clean Power Plan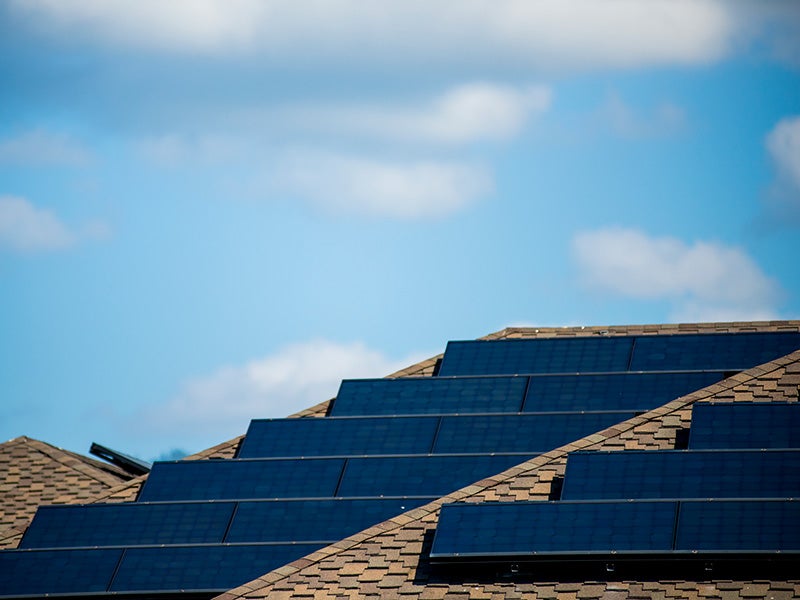 Matt Mallams for Earthjustice
Washington, D.C. —
A coalition of environmental groups, public health groups and other supporters of federal climate policies today urged a federal appeals court to reject industry suits to immediately block implementation of the Environmental Protection Agency's Clean Power Plan, which sets first-ever limits on carbon pollution from U.S. power plants. The filing demonstrates that a delay in implementation of this common-sense program would be completely unjustified, and warns that a stay could jeopardize both U.S. and global efforts to curb climate change, as well as endanger public health.
In a filing with the D.C. Circuit Court of Appeals, the coalition said industry's "hyperbolic" pleas for a stay are without merit and unsupported by the facts. The brief highlights America's decades-long track record of successfully implementing public health protections under the Clean Air Act, one of the most effective laws ever enacted to protect public health.
Defending the Clean Power Plan, the coalition said in its legal brief that the plaintiffs have failed to identify any "irreparable harm" that would directly result from the Administration's plan. Power plants, the brief pointed out, have 15 years to implement the new standards, which incorporate a broad array of compliance flexibilities that enable cost-effective emission reductions. As the brief noted, the Clean Power Plan builds on existing trends in the power sector that have allowed many states around the country to reduce emissions at a rapid rate over the last decade.
The Clean Power Plan "does not require any emission limitations until 2022," the brief said. "Once in effect, emissions reductions will phase in gradually through 2030, allowing each state to determine an optimal 'glide path' for compliance."
In one of the many supportive expert "declarations" filed with the brief, former Secretary of State Madeleine K. Albright also emphasized the international consequences. A legal stay, she warned, "could derail" and even "irreparably harm" the international momentum to reduce carbon pollution from power plants, the primary driver of dangerous climate change.
A centerpiece of President Obama's climate action plan, the Clean Power Plan draws on the strength and ingenuity of American innovation to slash dangerous carbon pollution being dumped into our air, while driving investment in energy efficiency and clean energy. By limiting the carbon pollution that is causing climate change, the Clean Power Plan will also reduce pollution that causes serious respiratory diseases, heart conditions and premature death, which disproportionately affect the most vulnerable members of society.
In addition to environmental and public health groups, a coalition of more than two dozen states and cities have filed with the court to defend the Clean Power Plan. Nine power companies, including Calpine, NextEra and National Grid US, as well as a coalition of clean energy trade associations, have also filed briefs in defense of the Clean Power Plan and against a stay.
QUOTE SHEET: LEADING EXPERTS WEIGH IN TO SUPPORT THE CLEAN POWER AND DEFEND FEDERAL CLIMATE POLICY IN COURT
The filing was accompanied by a compelling set of declarations from leading experts. The following are selected quotes from some of those additional declarants and experts:
"A stay of the Clean Power Plan could derail the international momentum to implement the emission reduction commitments achieved at the Paris Climate Conference." – Madeleine K. Albright, former Secretary of State
"Based on my understanding of power plant health impact assessment science and modelling, it is clear to me that any further delay – as could occur if a stay of the Clean Power Plan is granted – will have the effect of further delaying the start of state planning processes, and most significantly also the start of the emissions reductions that will produce the Clean Power Plan's public health and environmental benefits and co-benefits. Delaying Clean Power Plan implementation, as the result of a stay of the rule, will result in continued health damage—there will be additional years of morbidity [hospitalizations, chronic lung disease, asthma exacerbation and emergency visits, acute respiratory symptoms, other respiratory effects, cardiovascular effects, central nervous system effects] and risk of premature death…than would be the case without the delay in Clean Power Plan implementation." – Jonathan I. Levy, Sc.D., Associate Chair in the Department of Environmental Health, Boston University School of Public Health
"These long-awaited standards represent the most important action to fight climate change so far undertaken in the United States. The Clean Power Plan will begin to protect our public health immediately and in the future … features of the Clean Power Plan, including states' engagement with minority communities affected by power plant pollution, will begin shortly. And once implemented, the standards will serve to reduce dangerous air pollutants that cause respiratory and cardiovascular illnesses and disproportionately impact Latino communities. The Clean Power Plan will also help reduce our electricity bills and increase good jobs through investments in renewable clean energy and efficiency." – Mark Magaña, President and CEO, GreenLatinos
"For years renewable energy and natural gas generation have accounted for the vast majority of U.S. electricity generation addictions. Clean sources of energy have been growing, while coal generation has been in decline. The Clean Power Plan merely builds on this transition by requiring that states meet certain benchmarks to continue the trend. The Clean Power Plan will not transform the U.S. electricity sector, since it builds on long-term trends and does not alter the basic regulatory framework." – Joseph T. Kelliher, former Chairman, Federal Energy Regulatory Commission
"Concerns that the Clean Power Plan infringes upon the jurisdiction of Federal Energy Regulatory Commission or the state Public Utilities Commissions are also misplaced." – Jon B. Wellinghoff, former Chairman, Federal Energy Regulatory Commission
"Communities in coal country would be harmed if the rule is stayed. The initial state plan submittal process provides workers and other members of our communities the opportunity to advocate for needed federal and state financial assistance and specific programs to enable the transition to clean energy that will allow the diversification of our economies, create good jobs, and improve our health and livelihoods in the face of coal's decline." – Tarence Ray, Central Appalachian Field Coordinator, Appalachian Voices
"The Clean Power Plan provides a historic opportunity for the enactment of just laws and regulations that address longstanding disparities, in compliance with Executive Order 12898. The Clean Power Plan will not only enable our communities to transition toward clean energy; it will also set a precedent on how to integrate environmental justice into rule making and its implementation, both at the federal and state levels of government." – Dr. Robert Bullard, Dean of the Barbara Jordan-Mickey Leland School of Public Affairs, Texas Southern University in Houston