Feds Announce Hearings for Public to Weigh in on Lower Snake River Dam Removal
Agencies seek public input on best plan to save Columbia-Snake River wild salmon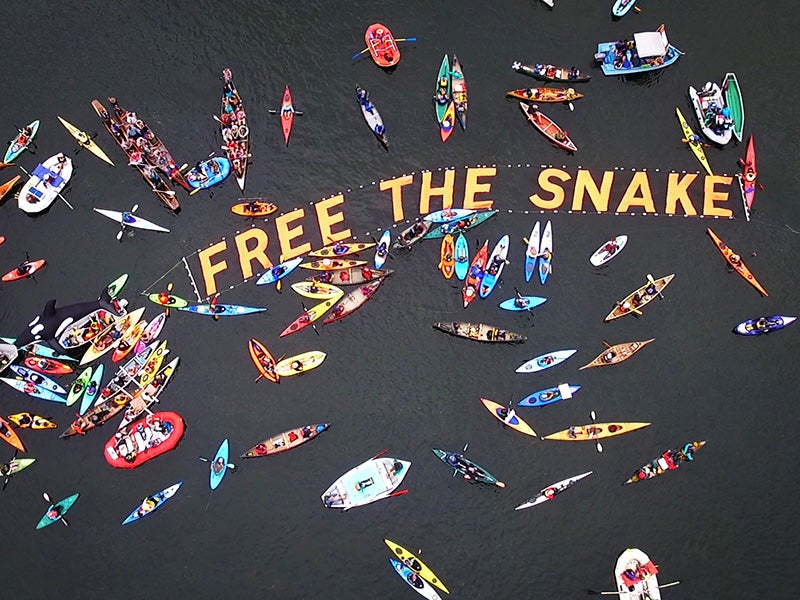 Washington, D.C. —
Today the Bonneville Power Administration, U.S. Army Corps of Engineers and U.S. Bureau of Reclamation announced hearings seeking public input to develop a new plan to save endangered wild salmon and steelhead in the Columbia and Snake Rivers in the Pacific Northwest. The new process comes as the result of a U.S. District Court ruling last May siding with fishing businesses, conservation groups, clean energy advocates, the State of Oregon, and the Nez Perce Tribe that found the last federal plan for protecting endangered fish fatally flawed.
The following are statements from experts and plaintiffs in that case:
Said Sam Mace, a Spokane-based leader of the Save Our Wild Salmon Coalition: "These hearings are the first time in over a decade the public will have a chance to speak out and insist on real action to restore salmon in the Columbia and Snake Rivers. The four lower Snake River dams have never lived up to their promise. They have only decimated wild salmon runs and held back the economies of towns along the lower Snake River. We can—and should—replace the limited barge transportation and energy these dams offer and provide investments to allow the region to fully take advantage of a restored river and fisheries. There is more than one way to get wheat to market. But salmon only have one way to travel and that's in the river."
Said Todd True, Earthjustice attorney who represented fishing groups, river users, clean energy advocates and conservation organizations: "In the decades since the fight to bring salmon back to the Snake River began, three big things have changed but one major thing has not—our wild salmon are still on the brink of extinction. What has changed is our electricity grid now includes abundant wind and solar power that can affordably replace electricity from the Snake River dams. Second, there has been a steep decline in use of the lower Snake for barging, down 70% since 2000 as farmers and other users increasingly ship their goods by rail. Third, we now have a clear understanding of the potentially catastrophic effects of climate warming on salmon. The dams create warm slackwater reservoirs lethal to salmon. But we now have a unique opportunity to bring about the biggest action to save wild salmon: Removal of the four lower Snake River dams."
Said Liz Hamilton, executive director of the Northwest Sportfishing Industry Association: "Without question, recreational fishermen and fishing businesses are ready to ensure that their voices are heard at these hearings. We're going to focus the federal agencies not just on good science but sound economics as well. Healthy salmon populations support tens of thousands of jobs and billions of dollars annually in the recreation and tourism economy. Judge Simon ruled that the agencies aren't doing nearly enough. We agree—and we now have a critical opportunity to get it right this time. Only healthy rivers will support healthy salmon."
Said Paul Fish, CEO of Spokane-based Mountain Gear: "We must consider the natural resources that make our region unique. Healthy rivers with abundant fisheries and outdoor recreation support businesses like mine. They give our region a lifestyle edge in attracting new businesses, great employees and in growing a diverse economy including tourism. We should jump at this chance and call on the federal agencies to remove the 4 lower Snake river dams, restore this river, and bring new jobs to Clarkston, Lewiston and Spokane."   
Reporter Resources:
Calendar of Public Hearings:
Monday, October 24, 4 p.m. to 7 p.m., Wenatchee Community Center, 504 S. Chelan Ave., Wenatchee, Washington
Tuesday, October 25, 4 p.m. to 7 p.m., The Town of Coulee Dam, City Hall,  3006 Lincoln Ave., Coulee Dam, Washington
Wednesday, October 26, 4 p.m. to 7 p.m., Priest River Community Center, 5399 Highway 2, Priest River, Idaho
Thursday, October 27, 4 p.m. to 7 p.m., Kootenai River Inn Casino & Spa, 7169 Plaza St., Bonners Ferry, Idaho
Tuesday, November 1, 4 p.m. to 7 p.m., Red Lion Hotel Kalispell, 20 North Main St., Kalispell, Montana
Wednesday, November 2, 4 p.m. to 7 p.m., City of Libby City Hall, 952 E. Spruce St., Libby, Montana
Thursday, November 3, 4 p.m. to 7 p.m., Hilton Garden Inn Missoula, 3720 N. Reserve St. Missoula, Montana
Monday, November 14, 4 p.m. to 7 p.m. The Historic Davenport Hotel, 10 South Post Street, Spokane, Washington
Wednesday, November 16, 4 p.m. to 7 p.m., Red Lion Hotel Lewiston, Seaport Room, 621 21st St. Lewiston, Idaho
Thursday, November 17, 4 p.m. to 7 p.m. Courtyard Walla Walla, The Blues Room, 550 West Rose St. Walla Walla, Washington
Tuesday, November 29, 4 p.m. to 7 p.m., The Grove Hotel, 245 S. Capitol Blvd. Boise, Idaho
Thursday, December 1, 4 p.m. to 7 p.m. Town Hall, Great Room, 1119 8th Ave., Seattle, Washington
Tuesday, December 6, 4 p.m. to 7 p.m., The Columbia Gorge Discovery Center, River Gallery Room, 5000 Discovery Drive, The Dalles, Oregon
Wednesday, December 7, 4 p.m. to 7 p.m., Oregon Convention Center, 777 NE Martin Luther King Jr. Blvd., Portland, Oregon
Thursday, December 8, 4 p.m. to 7 p.m., The Loft at the Red Building, 20 Basin St., Astoria, Oregon
Tuesday, December 13, 10 a.m. to 11:30 a.m., and 3 p.m. to 4:30 p.m., PST, webinar, The Loft at the Red Building, 20 Basin St. Astoria, Oregon
Tuesday, December 13, 10 a.m. to 11:30 a.m., and 3 p.m. to 4:30 p.m., PST, webinar