Chlorpyrifos is linked to long-term damage in children's developing brains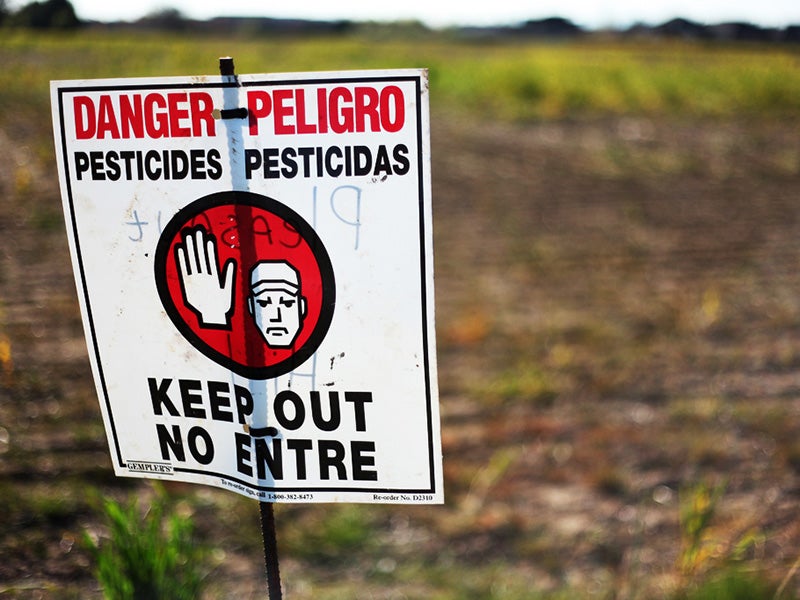 Austin Valley / CC BY 2.0
Washington, D.C. —
Today, senators Tom Udall (D-NM) and Richard Blumenthal (D-CT) unveiled a first-of-its-kind bill that would ban chlorpyrifos, a widely used agricultural pesticide that has been linked to reduced IQ and attention deficit disorder in children. Chlorpyrifos, an organophosphate which comes from the same chemical family as sarin nerve gas, is used on staple foods like strawberries, apples, citrus, broccoli, and more.
The Protect Children, Farmers & Farmworkers from Nerve Agent Pesticides Act amends the U.S. Federal Food, Drug, and Cosmetic Act--which oversees food safety--and prohibits all chlorpyrifos use in food. The proposed legislation also directs the Environmental Protection Agency to partner with the National Research Council to assess the neurodevelopmental effects and other low-dose impacts that exposure to organophosphate pesticides has on agricultural workers and children. In addition to calling for a ban on chlorpyrifos, the bill educates the public about the history of this nerve agent pesticide and the communities that are in harms' way. In addition to Udall and Blumenthal, the bill, S.1624, is co-sponsored by senators Cory Booker (D-N.J.), Ben Cardin (D-Md.), Richard Durbin (D-Ill.), Kirsten Gillibrand (D-N.Y.), Kamala Harris (D-Calif.), Ed Markey (D-Mass.), and Jeff Merkley (D-Ore.). A summary is available here.
"The chemical industry can and must do better than continue to push for the use of nerve agents in our food. This bill comes at a crucial time when scientific integrity and the protection of the public is compromised by industry collusion with the administration," said Andrea Delgado, legislative director of the Healthy Communities program at Earthjustice. "The most exposed and vulnerable among us are our children, farmworkers and families in rural communities, and they deserve action now."
The bill was unveiled in the presence of more than 30 representatives from health, labor and civil rights organizations from across the country. The delegation met with senators to seek their leadership in banning chlorpyrifos. The group is urging officials to support the bill and protect the health of the millions of workers and children who are exposed to chlorpyrifos every year.
"No family should be facing a life of special needs because of chlorpyrifos," said the delegation in a statement. "If the EPA refuses to protect the health of our children and agricultural workers, then lawmakers from both sides of the aisle must do their job and back the chlorpyrifos ban bill. The health of our communities depends on it."
The bill comes days after a court of appeals declined to direct the EPA to act on whether to ban the controversial pesticide.
Chlorpyrifos is linked to long-term damage to children's developing brains and nervous systems even at low levels of exposure during pregnancy and early childhood. It is also acutely toxic.
In March, the EPA refused to ban chlorpyrifos claiming the science is "unresolved" and decided it would study the issue until 2022. That decision came weeks after the agency boss, Scott Pruitt, met with the head of Dow Chemical, which sells chlorpyrifos under the name of Lorsban. In refusing a ban, the EPA reversed its own proposal to ban all food crop uses of chlorpyrifos. Groups represented by Earthjustice have appealed the EPA decision directly with the agency, however. Attorney generals from various states, too, have called for a ban in their own appeals to the EPA.
Chlorpyrifos was banned from residential use 17 years ago as it was considered too toxic. But the use of the same pesticide on the country's food continues even though the 1996 Food Quality Protection Act requires EPA to protect children from unsafe exposures to pesticides.
Contacts
Andrea Delgado, legislative director of the Healthy Communities program at Earthjustice, adelgado@Earthjustice.org, 202-797-5240
Giev Kashkooli, United Farm Workers, Giev@ufw.org, 213-216-3523
Brent Wilkes, executive director, League of United Latin American Citizens, 202-509-9574
Jeannie Economos, pesticide safety and environmental health project coordinator, Farmworker Association of Florida, 407-886-5151
Hector E. Sanchez, executive director, Labor Council for Latin American Advancement, 202-508-6918
Mark Magaña, president and CEO, GreenLatinos, 202-230-2070
Ramon Ramirez, president, Pineros y Campesinos Unidos del Noroeste, 503-989-0073
Maureen Swanson, director of Healthy Children Project, Learning Disabilities Association of America, 724-813-9684
Kate Kiely, Natural Resources Defense Council, kkieley@nrdc.org, 212-727-4592
Paul Towers, Pesticide Action Network, ptowers@panna.org, 916-216-1082
About Earthjustice
Earthjustice is the premier nonprofit environmental law organization. We wield the power of law and the strength of partnership to protect people's health, to preserve magnificent places and wildlife, to advance clean energy, and to combat climate change. We are here because the earth needs a good lawyer.