Court Upholds Protections for Rare California Gnatcatcher
Victory:
Developers unsuccessful in attempt to strip bird of Endangered Species Act safeguards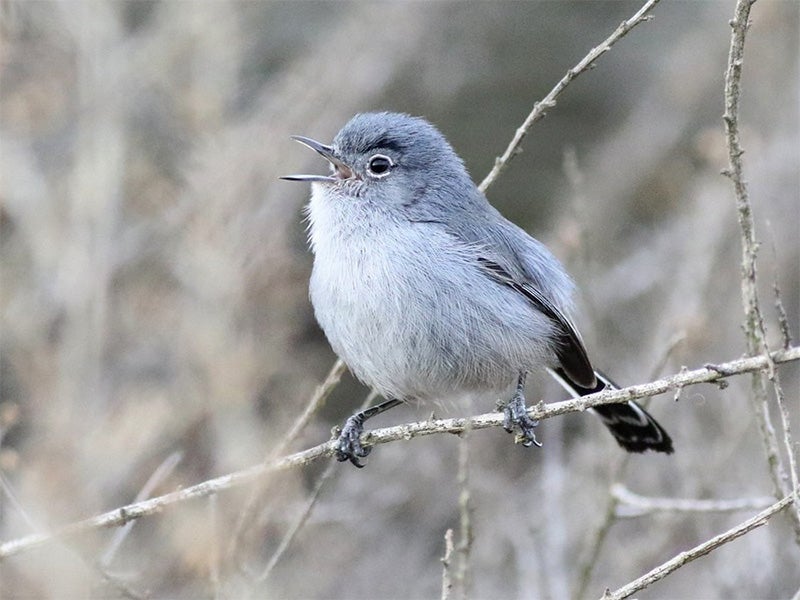 Jacksnipe1990 / CC BY-SA-NC 2.0
Los Angeles, CA —
A federal court today dismissed a lawsuit seeking to remove the imperiled coastal California gnatcatcher from the Endangered Species Act list, ensuring the bird is protected.
The decision from the U.S. District Court for the District of Columbia came after years of attempts by developers to delist the tiny songbird. The gnatcatcher lives in the rapidly declining sage brush habitat unique to coastal southern California and northern Baja California.
The Natural Resources Defense Council, Endangered Habitats League, Laguna Greenbelt, Earthjustice, National Audubon Society and Center for Biological Diversity intervened to retain federal protections for the bird.
The gnatcatcher's status has been threatened repeatedly by developers and industry groups since the gnatcatcher was protected under the Endangered Species Act more than 20 years ago. The court, however, said that the plaintiffs failed to demonstrate that they had standing to challenge the U.S. Fish and Wildlife Service's decision to retain Endangered Species Act protections for the bird.
"As we face a global extinction crisis, the coastal California gnatcatcher deserves Endangered Species Act protections more than ever," said Dr. Sylvia Fallon, director of wildlife at the Natural Resources Defense Council. "This tiny bird occupies the last of the remaining coastal sage scrub habitat which is home not just to the gnatcatcher, but to many different species. It's essential that we protect this rare ecosystem."
"This latest failed lawsuit from the opponents of the coastal California gnatcatcher has shown that they'll try anything to remove Endangered Species Act protections for this wonderful California bird," said Sarah Rose, executive director of Audubon California. "Audubon is pleased that the court has dismissed this case and that this bird will continue to enjoy these protections as it struggles for survival against all the threats it faces."
"The gnatcatcher listing catalyzed comprehensive regional habitat plans that reconcile species and economic needs. Now that the law has prevailed, we can continue with this successful approach," said Dan Silver, executive director for the Endangered Habitats League.
"The listing of the coastal California gnatcatcher on the federal endangered species list and designation of its critical habitat has made the bird the last stand in preventing the development of hundreds of thousands of acres of vital habitat in Southern California," said Elizabeth Forsyth, staff attorney at Earthjustice who represents the National Audubon Society. "We're grateful to the Court for rejecting the building industry's latest attempt to eliminate these important protections."
"We're thrilled that this rare little songbird will continue to be protected by the Endangered Species Act," said Ryan Shannon, a staff attorney at the Center for Biological Diversity. "The court properly tossed out this latest cynical attempt to delist the coastal California gnatcatcher."
"We are pleased with the court's decision to continue protecting the coastal California Gnatcatcher under the Endangered Species Act," said Elisabeth Brown, president of Laguna Greenbelt. "So much of the gnatcatcher's coastal sage habitat has been replaced by urban development, and the virulence of recent wildfires threatens the rest of it."
Contacts
Dan Silver, Endangered Habitats League, 213-804-2750, dsilverla@me.com
Daniela Arellano, Natural Resources Defense Council, 424-268-6677, darellano@nrdc.org
Elisabeth Brown, Laguna Greenbelt, 949-494-8190, lagunagreenbelt@gmail.com
Liz Trotter, Earthjustice, 305-332-5395, etrotter@earthjustice.org
Mike Lynes, Audubon California, 415-505-9743, mlynes@audubon.org
Ryan Shannon, Center for Biological Diversity, 503-283-5474 x 407, rshannon@biologicaldiversity.org