Federal Court Rejects Trump Administration's Approval of California's Cadiz Water Pipeline
Victory:
Private sector cannot profit from public necessity
Contacts
Liz Trotter, Earthjustice, (305) 332-5395, etrotter@earthjustice.org
Lisa Belenky, Center for Biological Diversity, (415) 385-5694, lbelenky@biologicaldiversity.org
Joey Lee, Center for Food Safety, (510) 612-0342, jlee@centerforfoodsafety.org
Kati Schmidt, National Parks Conservation Association, 415-847-1768, kschmidt@npca.org
Los Angeles
—
 A federal court today ruled that the Trump administration violated the law when it greenlighted plans to construct a 43-mile-long pipeline through Mojave Trails National Monument and other public land in southern California.
The pipeline is part of the Cadiz water project, which would pump 16 billion gallons of water a year from the fragile desert aquifer to sprawling developments in Southern California.
In today's ruling, U.S. District Judge George H. Wu said railroad easements can be used only for activities that further a railroad purpose and the Trump administration failed to justify that the Cadiz pipeline serves that purpose.
"The court saw right through the Trump administration's attempt to shoehorn the massive Cadiz pipeline into a railroad easement through Mojave Trails National Monument," said Greg Loarie, an attorney at Earthjustice who represented the Center for Biological Diversity and Center for Food Safety. "The Cadiz pipeline is designed to facilitate an ill-conceived corporate plan to profit from a public necessity. It has nothing to do with the railroad."
The Center for Biological Diversity, Center for Food Safety and the National Parks Conservation Association filed suit in November 2017 and 2018 to challenge a decision by the Bureau of Land Management, which had reversed two Obama-era decisions. Those reversals gave the developer permission to build the pipeline within an existing railroad right-of-way.
"We're grateful the court decision will stop the Trump administration's blatant attempt to do a favor for their corporate friends. The court found that the reversal of Obama-era policies was unjustified and unexplained," said Lisa Belenky, a senior attorney with the Center for Biological Diversity. "This massive water-privatization scheme is not sustainable. Cadiz will devastate the entire Mojave Desert ecosystem that relies on that water for survival."
If allowed to move forward, the Cadiz water-mining project would drain life-giving springs in the Mojave Trails National Monument and surrounding public lands, killing vegetation and destroying key habitat for a host of desert wildlife, including the threatened desert tortoises, bighorn sheep, Mojave fringe-toed lizards and kit foxes.
Hydrologists from the U.S. Geological Survey determined that the Cadiz project is unsustainable and that the company's privately funded study vastly overstates the aquifer's recharge rate.
"Trump and his cronies behind this scam will eventually learn that their world, of exploitation and profit above all, is over," said Adam Keats, senior attorney at Center for Food Safety. "This is yet another reminder to them that they are not above the law."
Recent peer-reviewed, published science clearly demonstrated that the Cadiz proposal's underlying science is flawed and the project would be devastating to both natural and cultural resources in California's largest national monument, Mojave Trails.
"Today's ruling reverses the illegal favoritism demonstrated by the Trump administration to Cadiz, Inc.," said David Lamfrom, California desert and wildlife director for the National Parks Conservation Association. "Independent environmental review is still needed of the Cadiz proposal and its impacts to groundwater, wildlife and nearby national parks and public lands. The court's confirmation that the Trump administration illegally advantaged the project underscores the need for independent review by the State of California to ensure Mojave Trails National Monument and Mojave National Preserve are protected from doom."
University of California, Irvine Law Professor Michael Robinson-Dorn, who represented NPCA in their challenge, said "the decision again emphasizes the important role of our courts in holding the executive branch accountable for decisions that fail to follow the law."
The project's approval followed the appointment of Interior Secretary David Bernhardt, a former lobbyist for Cadiz, as deputy Interior secretary. Bernhardt's former employer, the Washington-based law firm Brownstein Hyatt Farber Schreck, continues to represent Cadiz.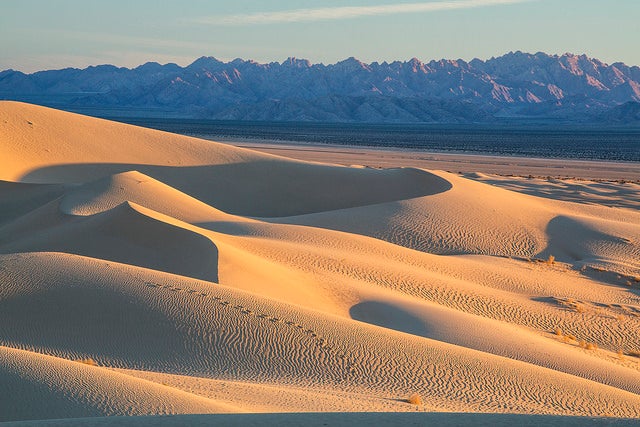 Bob Wick / Bureau of Land Management
About Earthjustice
Earthjustice is the premier nonprofit environmental law organization. We wield the power of law and the strength of partnership to protect people's health, to preserve magnificent places and wildlife, to advance clean energy, and to combat climate change. We are here because the earth needs a good lawyer.