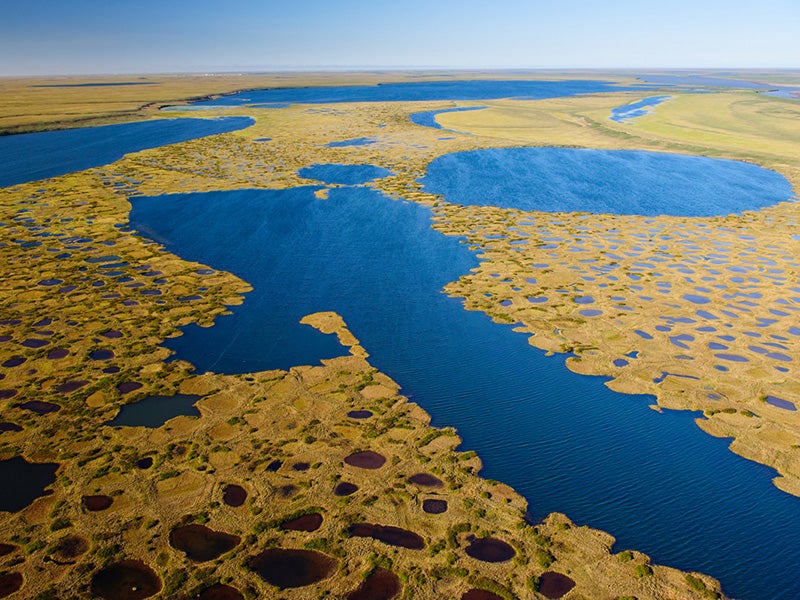 Florian Schulz / visionsofthewild.com
What's at Stake
Earthjustice fought for years to protect special places in the northwestern corner of Alaska, and in 2013, the Obama administration set aside five of the most important "special places."
Overview
Outside the industrialized oil fields of Prudhoe Bay, vast areas of relatively untouched wildlife habitat remain in Alaska's Western Arctic.
This region includes the 23-million acre National Petroleum Reserve-Alaska, the largest unprotected block of land in the federal land system. The Reserve consists of varied ecosystems and habitats, from coastal lagoons to Arctic tundra and rugged mountains, supporting large populations of caribou, polar and grizzly bears, wolves, fish, and migratory birds.
It is also home for Teshekpuk Lake, one of the most important and sensitive wetland complexes in the circumpolar Arctic.
Earthjustice and its allies have worked hard to protect the unique wildlife and other resources of the Western Arctic. Since 1998, Earthjustice has gone to court three times to protect this region from oil and gas leasing and its harmful effects on sensitive areas, including calving and insect-relief habitats for caribou, molting and nesting areas for various birds, and subsistence hunting and fishing grounds for local people. These lawsuits have now been resolved and, while not all successful, they have resulted in significant protections for the Teshekpuk Lake Special Area, often referred to as the biological heart of the Western Arctic.
The Reserve and the surrounding areas continue to be central to Earthjustice and its allies' interests in Alaska. Oil and gas leasing and exploration activities are intensifying not only in certain parts of the Reserve but also on adjacent offshore areas in the Beaufort and Chukchi Seas.
Meanwhile, the Arctic is undergoing significant changes due to warming climate, which is threatening sensitive Arctic species, habitats, ecosystems, and the dependent Alaska Native cultures.
We are working with our clients to identify key wildlife habitats within the region, seek permanent protections for them, and assess ways in which responsible development activities could occur in this fragile and rapidly-changing environment.