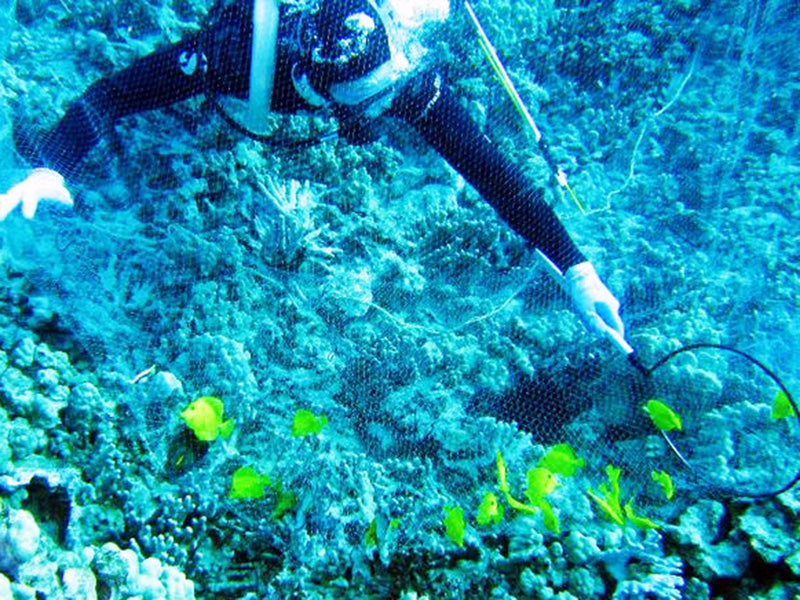 Photo provided by Brooke Everett
What's at Stake
Important creatures in Hawai'i's reef ecosystems are being captured for private aquariums, exposing the reefs to algal growth and robbing them of resiliency. Earthjustice is fighting to stop this destructive practice so that Hawaii's beautiful reefs have a fighting chance to survive.
Overview
Aquarium collectors capture hundreds of thousands of fish and invertebrates from Hawaiʻi's reefs every year. Alarmingly, the Hawaiʻi's Department of Land and Natural Resources (DLNR) has stated that this should be considered a minimum estimate because it does not verify the accuracy of submitted catch reports.
The collected animals are primarily herbivorous, reef-dwellers that serve unique functions in the coral reef ecosystem, such as helping to control algae growth. Studies have shown that reducing diversity of reef fish and shellfish affects a reef's ability to respond to stresses or disturbances. This is vitally important as reefs come under serious pressure from global threats, including climate change and ocean acidification.
There is currently no limit on the number of aquarium permits that DLNR can issue and no limit on the number of animals a commercial collector can take under a permit. Aquarium collection can occur anywhere in the state, except in designated protected areas, but primarily occurs in waters around Oʻahu and along the west coast of the island of Hawaiʻi. DLNR has expressed concern in official reports over the increasing number of collectors in the state and the growing number of animals harvested from the reefs by the aquarium trade.
Earthjustice filed suit on behalf of local conservation groups to stop the practice. Specifically, the groups are asking DLNR to conduct environmental reviews—including an examination of cumulative damage to the state's reefs—before granting permits that allow unlimited aquarium collection of marine wildlife in coastal waters.