Administration Failing to Protect Public From Dangerous Crude Oil Trains
Groups file lawsuit against Department of Transportation for inadequate action on oil train risks
Patti Goldman, Earthjustice, (206) 343-7340, ext. 1032
,
Jan Hasselman, Earthjustice, (206) 343-7340, ext. 1025
,
Eddie Scher, ForestEthics, (415) 863-4563, ext. 314
,
Ben Stuckart, Spokane, WA City Council President, (509) 710-9611
,
Charlene Benton, Ezra Prentice Homes Tenants Association, Albany, NY, (518) 472-0201
Washington, D.C.
—
Sierra Club, ForestEthics, and Earthjustice have filed a lawsuit against the Department of Transportation today for failing to respond to a legal petition filed on July 15, 2014 calling for an emergency order prohibiting the use of hazardous rail cars—known as DOT-111s—for shipping flammable Bakken crude oil. The Department of Transportation was required by law to respond to this petition. The groups have received no response.
The National Transportation Safety Board has repeatedly found that the DOT-111 tank cars are prone to puncture on impact, spilling oil and often triggering destructive fires and explosions. The Safety Board has made official recommendations to stop shipping crude oil in these hazardous tank cars.
The Department of Transportation agrees that DOT-111 tank cars need to be banned for shipping crude oil, but on July 25, the Department of Transportation introduced a proposal that gives these puncture-prone tankers three to six more years to roll through communities across the country and risk lives along the paths of these rail lines nationwide. Meanwhile, the department estimates there will 15 rail accidents next year and each year DOT-111s are still in crude transport service, and possibly disasters on the scale of Lac-Mégantic or larger.
The following are statements from the groups filing the lawsuit:
Said Patti Goldman, Earthjustice attorney:
"The Department of Transportation agrees these tank cars create an unacceptable public risk and need to be banned for shipping Bakken crude oil. But the department proposes to expose the public to these unacceptable risks for four more years. We can't run the risk of another disaster like Lac-Mégantic, Quebec when 47 people died in a DOT-111 crude oil explosion."
Said Matt Krogh, ForestEthics campaign director:
"Twenty-five million Americans live in the blast zone along the nation's rail lines. These oil tank cars have been called tin cans on wheels and the Pinto of the rails—we can't wait years to protect our families and our drinking water, we need the Obama Administration to act right now."
REPORTER RESOURCES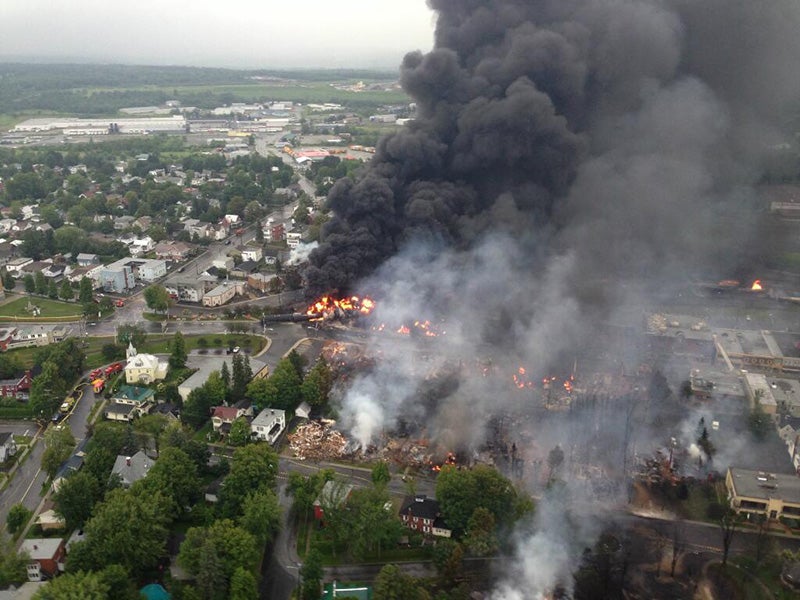 Earthjustice is the premier nonprofit environmental law organization. We wield the power of law and the strength of partnership to protect people's health, to preserve magnificent places and wildlife, to advance clean energy, and to combat climate change. We are here because the earth needs a good lawyer.