Court Orders LG&E Coal Ash Dumping Case to Move Forward
Ruling rejects LG&E arguments that case must be dismissed and orders further proceedings on whether dumping of toxic coal ash violates the federal Clean Water Act
Louisville, KY
—
Yesterday afternoon, a federal judge rejected arguments from Louisville Gas & Electric (LG&E) that a lawsuit challenging its dumping of toxic coal ash wastewater into the Ohio River southwest of Louisville must be dismissed. Sierra Club, represented by Earthjustice, brought the legal challenge after time-lapse photography captured a year's worth of images—along with analysis of 13 years of Google Earth images of the site—which together showed that toxic coal ash wastewater from LG&E's Mill Creek Generating Station has been pouring on an almost daily, continuous basis into the Ohio River.
"For too long, LG&E's poisoning of the Ohio River has gone unchecked," said Laurie Williams, Associate Attorney for the Beyond Coal Campaign at the Sierra Club. "The ruling by Judge Hale is a critical step towards ensuring that those who live in the shadow of the Mill Creek power plant will not continue to pay the price for LG&E's flaunting of vital clean water protections."
Yesterday's ruling, issued by U.S. District Judge David J. Hale of the U.S. District Court for the Western District of Kentucky, ordered further proceedings in the case to determine whether LG&E's toxic dumping violated a permit issued by the State of Kentucky under the federal Clean Water Act. If the lawsuit is successful, LG&E could face up to $68 million in penalties to account for the last five years of its illegal dumping, plus $37,500 for each day moving forward, until the violations are eliminated.
The Court found that language in the permit indicating LG&E may only "occasionally" discharge directly from Mill Creek's coal ash pond to the Ohio River is ambiguous, and that additional information is needed before the court can decide whether LG&E's toxic dumping of coal ash is against the law.
"Clean water is a basic need and right we all share," said Thomas Cmar, Earthjustice's lead counsel on this case. "Yesterday's decision allows us to move forward with making our case that LG&E is not above the law, and this dangerous pollution must be stopped."
Coal ash is the toxic byproduct left when coal is burned to generate electricity; normally stored in ponds made by coal companies. It contains dangerous chemicals including mercury, arsenic, lead, selenium, cadmium and many other harmful metals and pollutants. This particular coal ash pond sits on the banks of the Ohio River just 500 feet from a large residential neighborhood and 1,000 feet from the Robert Frost Sixth Grade Academy which accommodates nearly 300 students.
This coal ash pond was previously classified by the Environmental Protection Agency as being "high hazard," meaning a failure or mis-operation of the ash pond dam would probably cause a loss of human life and significant environmental damage. LG&E's own sampling of this site in 2007 found mercury levels that exceeded Kentucky human health criteria by more than 20 times. The Ohio River downstream of the Mill Creek plant is impaired by mercury pollution, a toxic pollutant found in coal ash ponds like this one, and is subject to regular fish consumption advisories.
The Court's decision ordered Sierra Club and LG&E to jointly contact the chambers of United States Magistrate Judge Dave Whalin to schedule further proceedings, including a date by which the case will be ready for a possible trial.
See the images that led to the lawsuit: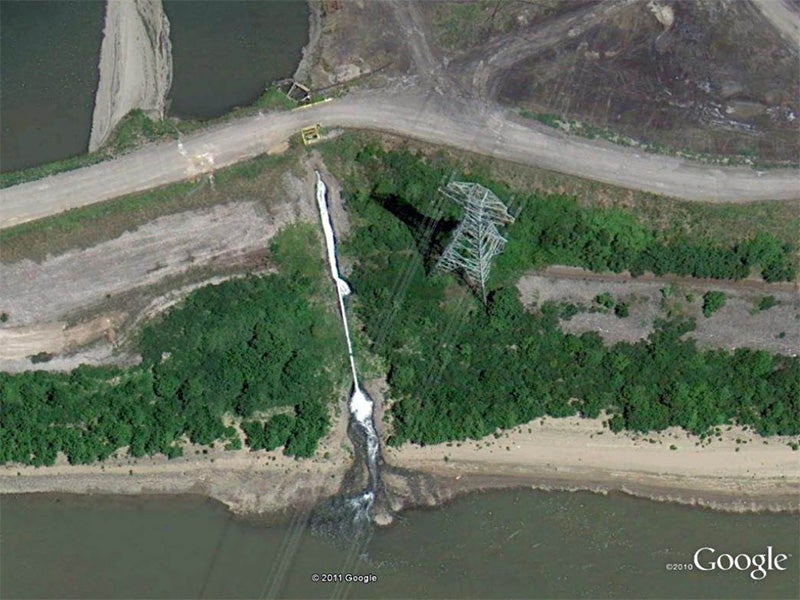 Earthjustice is the premier nonprofit environmental law organization. We wield the power of law and the strength of partnership to protect people's health, to preserve magnificent places and wildlife, to advance clean energy, and to combat climate change. We are here because the earth needs a good lawyer.