Seattle Hearing Examiner Gives Conservation Groups OK to Intervene and Defend the City of Seattle's Finding that Port Use by Shell is Illegal
Statement by Earthjustice Attorney Matt Baca
Seattle, WA
—
A Seattle Hearing Examiner gave the stamp of approval for a coalition of conservation organizations represented by Earthjustice to defend the Seattle Department of Planning and Development's finding that affirms the Port of Seattle cannot serve as a homeport for Shell's Arctic drilling fleet under its current permit. The Port of Seattle and Foss Maritime sought to block environmental groups from backing the agency's finding that the Port is in violation of its twenty-year-old shoreline permit issued by the city of Seattle.
"The Port of Seattle and Foss unsuccessfully fought to lock the public out of this case," said Matt Baca, an attorney with Earthjustice representing Puget Soundkeeper Alliance, Seattle Audubon Society, Sierra Club, and Washington Environmental Council. "Backroom, secret dealings are over for Shell's plan to use Puget Sound as an Arctic oil drilling base."
Background: In February, Foss Maritime entered into a lease to use Terminal 5 on behalf of Shell. The city's finding, released May 4, 2015 was the result of an investigation launched March 9, one week after Earthjustice filed a lawsuit asking King County Superior Court to vacate the lease because the Port entered into it without conducting any environmental review as required by the State Environmental Policy Act (SEPA). The Port evaded SEPA review by invoking an exemption that applies to leases when the use of the property will remain essentially the same. Terminal 5 has long been a marine container terminal not a homeport.
Foss Maritime Company appealed the city planning department's interpretation to the Seattle City Hearing Examiner on May 12, 2015, and the Port of Seattle Commissioners appealed on May 15, 2015. The coalition filed its motion with the Seattle Hearing Examiner's Office May 27 and the Port of Seattle and Foss moved to block this intervention June 2. Despite being asked not to come to Seattle, Shell's Polar Pioneer arrived May 14. On May 18, the city issued a notice of violation to the Port, Foss and Shell based on an inspection after the drill rig arrived. The notice gave them until June 4 to stop the violating uses of Terminal 5 or apply for a new permit. To date, a new permit has not been applied for.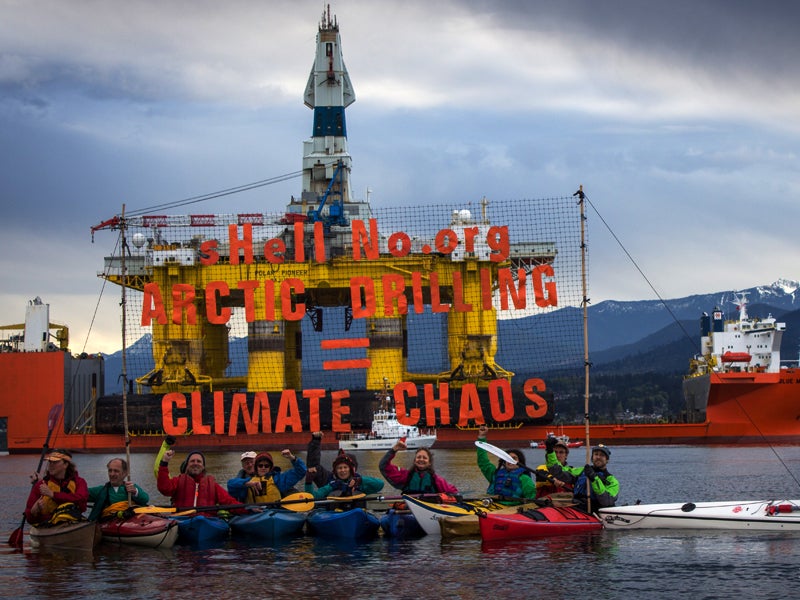 Earthjustice is the premier nonprofit environmental law organization. We wield the power of law and the strength of partnership to protect people's health, to preserve magnificent places and wildlife, to advance clean energy, and to combat climate change. We are here because the earth needs a good lawyer.