Earthjustice Responds to President-elect Trump's Secretary of State Pick
Selection of Exxon Mobil CEO a sign that corporate interests will dominate Trump admin decision-making
San Francisco, CA
—
The following is a statement from Earthjustice President Trip Van Noppen in response to President-elect Trump's nomination of Exxon Mobil CEO Rex Tillerson as Secretary of State:
"At a moment when we have no time to lose on climate action, Donald Trump has stacked his cabinet with a climate change-denier for EPA head and the CEO of the world's largest oil company for Secretary of State. This is grim news for essential U.S. leadership in tackling climate change.
"Rex Tillerson and his company are disproportionately responsible for unconscionable backsliding and delay on climate action. A lifelong employee of Exxon, Tillerson has overseen the company's aggressive attack on state Attorneys General who are investigating Exxon's deception regarding climate science. His company is a main sponsor of the false debate that climate change-denying EPA appointee Scott Pruitt and others are using to slow crucial progress.
"The sad irony is that by acknowledging the existence of man-made climate change and paying lip service to the Paris global climate agreement, Rex Tillerson may actually appear somewhat responsible in comparison to the rest of the incoming Trump administration—a sign of just how abysmally low the bar has been set by the President-elect and his cabinet.
"By appointing Rex Tillerson as Secretary of State, Donald Trump is showing Americans and the world that he quite literally intends the interests of large powerful corporations to dominate our country's decision-making—making it all the more important for Americans to fiercely resist the big corporate takeover of our democracy. Earthjustice will be playing its role in the courts and we are proud to stand with strong allies who will be organizing and mobilizing on all fronts."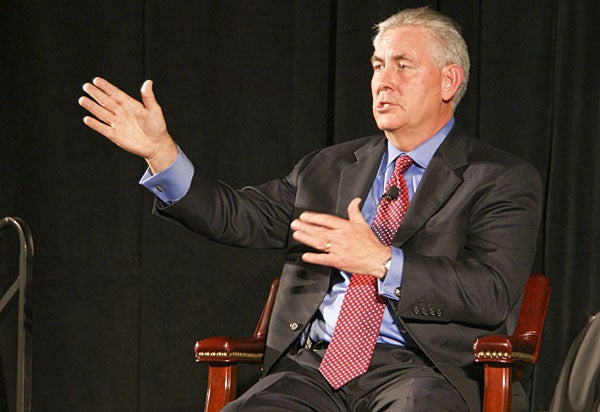 Earthjustice is the premier nonprofit environmental law organization. We wield the power of law and the strength of partnership to protect people's health, to preserve magnificent places and wildlife, to advance clean energy, and to combat climate change. We are here because the earth needs a good lawyer.