EPA Sued for Failing to Address Fairbanks's Dirty Air
Fairbanks residents file second lawsuit to enforce government's duty to address the worst spikes of fine particulate matter pollution in the country
Kenta Tsuda, Earthjustice, 907-500-7129, 907-792-7101 (cell) 
,
Dr. Owen Hanley, Citizens for Clean Air, 907-590-0695 
,
Pamela Miller, Alaska Community Action on Toxics, 907-222-7714 (office), 907-242-9991 (cell)   
Fairbanks, AK
—
Today, for the second time in as many years, Alaska community groups sued the U.S. Environmental Protection Agency to fulfill its responsibility to protect Borough residents and their families from breathing polluted air in Fairbanks.
The Fairbanks North Star Borough has the worst spikes in fine particulate matter air pollution in the nation.
The Fairbanks North Star Borough has the worst spikes in fine particulate matter air pollution in the nation. The type of fine particulate matter pollution prevalent in Fairbanks—2.5 micrometers or less in diameter—has been found to cause a wide range of serious health problems, including asthma attacks, chronic respiratory disease, reduction in lung function, hospitalizations and emergency room visits for cardiopulmonary diseases, cancer, and even premature death. Fine particulate matter air pollution is of particular danger to children, reducing lung development, causing asthma, and impairing the immune system. The elderly and those with chronic disease also face heightened risks.
Of all the areas that fail to meet EPA air quality standards for this pollutant (referred to as PM-2.5 by the EPA), Fairbanks has the worst episodic pollution in the country—with levels spiking to almost double the next most-polluted area and nearly four-times the recommended limit for unhealthy air. Sources of PM-2.5 in Fairbanks include outdoor burning; wood- and coal-burning heating devices; automobiles and other vehicles; and industrial facilities like coal-fired power plants. The air pollution problems have worsened since 2009, when state and municipal officials were first advised that soot and smoke levels in Fairbanks were unhealthy and dangerous.
This is the second time the groups have sued to enforce EPA's duties to act. In April 2014, the groups were forced to sue EPA to move the state planning process for cleaning Fairbank's air forward. That suit helped prompt the State of Alaska to submit an overdue plan to address air pollution to EPA in the end of January 2015. But EPA has now missed the next deadline required by law: to approve or disapprove Alaska's plan. That deadline passed on February 18 of this year. The groups now seek an order from the federal court compelling the agency to perform its duty under the Clean Air Act to make a decision on the plan, an important next step in addressing air pollution in the Fairbanks North Star Borough.
Citizens for Clean Air, Alaska Community Action on Toxics, and the Sierra Club filed a complaint in the Western District of Washington asking a federal judge to order EPA to meet its obligation to approve or disapprove Alaska's plan. The groups are represented by non-profit environmental law firm Earthjustice's Alaska office.
The following are statements from the groups:
Pamela Miller, Executive Director, Alaska Community Action on Toxics: "Taking this legal action is a last resort for us due to the necessity for urgent action to prevent further harm to the health of people in Fairbanks. We will not tolerate further delays in developing and implementing a plan that is necessary to protect public health. It is not an abstract issue for people in Fairbanks who are suffering the health consequences of agency inaction."
Dawn Sadler, Fairbanks resident and Citizens for Clean Air member: "I'm so glad that we have citizens who are stepping up to address the important issue of cleaning up our air.   It's an important factor for our health and economy throughout the state. Many good efforts have been made of late. Many more need to be made. We are grossly out of compliance with the Clean Air Act and now have the most dangerous winter-time air quality in the nation.  Many of our citizens want to stay here but are unable due to the risk such extreme poor air quality poses."
Joan Franz, Fairbanks resident, pediatric occupational therapist and Citizens for Clean Air member: "In the past 6-8 years I have personally experienced a significant deterioration of our air quality in Fairbanks. The population of children I work with are more vulnerable than before, and therefore experience an increase in the number of asthma attacks, diagnosis of asthma and other respiratory conditions since our air quality has become so poor.  Some of the schools I worked in were surrounded by 'bad burners' and especially outdoor boilers that created hazardous public health conditions within and around the schools.  EPA's mission is to protect us from these kinds of conditions that damage public health to common resources like air and water.  It must not delay enforcement of the law.  All of the Fairbanks and North Pole nonattainment areas need EPA's immediate action.  Each day of delay can result in loss of health, human potential, and, for some, their lives. EPA must act now!"
Krystal Francesco, Fairbanks resident and Citizens for Clean Air member: "My child has had difficulty breathing, to the extent that I've had to bring her to the emergency room.  She has struggled to breathe, sometimes coughing until she throws up.  We couldn't escape that air: the smoke and smells found us, even in the house."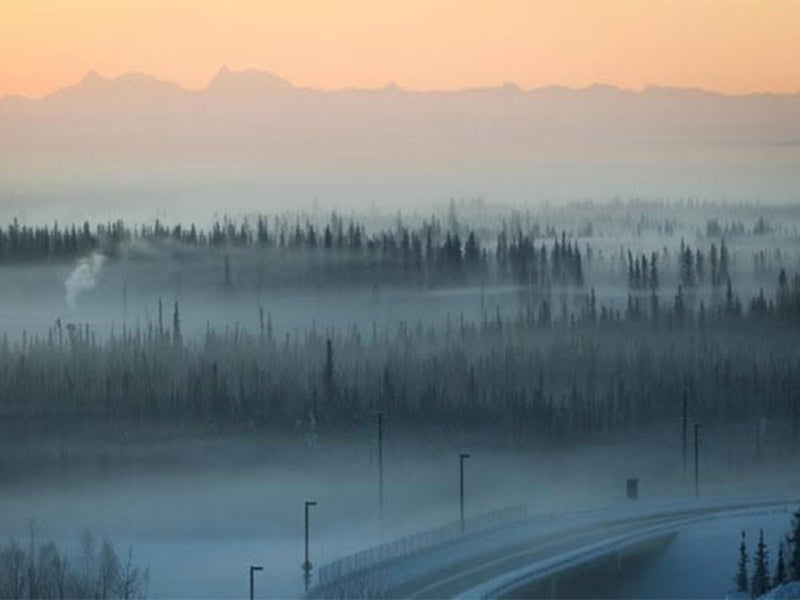 Earthjustice is the premier nonprofit environmental law organization. We wield the power of law and the strength of partnership to protect people's health, to preserve magnificent places and wildlife, to advance clean energy, and to combat climate change. We are here because the earth needs a good lawyer.