Oakland City Council Votes to Ban Coal Exports
Victory
—
Community and environmental groups applaud council for protecting health and safety of Oaklanders
Irene Gutierrez, Earthjustice, (415) 217-2000
,
April Thomas, Sierra Club's Beyond Coal campaign, (206) 321-3850
,
Sydney Fang, Asian Pacific Environmental Network, (510) 703-1311
,
Sejal Choksi-Chugh, San Francisco Baykeeper, (510) 735-9700
Oakland, Calif.
—
Today, the Oakland City Council voted to approve an ordinance that would ban coal from being handled and stored in the City of Oakland, including a resolution to apply the ordinance to the proposed Oakland Bulk and Oversized Terminal. The Council will hold a second vote on that ordinance at their July 19th meeting.
The City of Oakland, home to one of the West Coast's major ports, is located across the Bay from San Francisco.
Community members and advocacy groups applauded the Council's action today, thanking Councilmembers Rebecca Kaplan, Lynette Gibson-McElhaney, Annie Campbell-Washington, Noel Gallo, Larry Reid and Abel Guillen for their votes to protect the health and safety of Oakland residents and to Councilmember Dan Kalb and Mayor Libby Schaaf for co-sponsoring the ordinance to ban coal.

Chris Jordan-Bloch / Earthjustice
Rev. Ken Chambers of West Side Missionary Baptist Church applauds following the City Council vote on June 27. "We're looking at the future. I want my grandkids to breathe fresh air and for West Oakland not to be underwater," said Rev. Chambers. Read his story »
"Thank you to the Councilmembers who voted today to respect the will of the people and protect Oakland from dirty, dangerous coal exports," said Brittany King of the San Francisco Bay Chapter of the Sierra Club. "Once the Council votes to confirm the ordinance to ban coal and petcoke on July 19th, we can finally get back to making a plan for the Oakland Army Base that will create good jobs for our community without sacrificing our climate and our health. It's time for Phil Tagami and Jerry Bridges to listen to the people of Oakland, who stood up today and said very clearly: there will be no coal in Oakland."
"Our Chinatown members already endure disproportionate pollution at the intersection of three major freeways, and big developers like Tagami are threatening the ability of Chinatown residents to maintain healthy lives, free from pollution and displacement," said Kenneth Tang, Chinatown organizer at Asian Pacific Environmental Network. "Our city deserves healthy jobs and climate, and we affirm City Council's leadership in approving the ban on coal." 

Chris Jordan-Bloch / Earthjustice
Choksi-Chugh (second from right), leads a boat tour of the proposed coal export facility. Read: Who are some of the people fighting the coal export scheme? »
"We strongly support the City Council's efforts to keep coal out of Oakland," said Sejal Choksi-Chugh, Executive Director at San Francisco Baykeeper.  "The transport and handling of coal would not only have had serious consequences for the health of local communities, but also for the health of San Francisco Bay.  There is no good reason to bring coal into our vibrant and thriving economy and undo the years of progress that we've made in cleaning up the Bay."          
"We stand with community groups and commend the City for taking a strong stance against coal and using its powers to protect its residents," said Irene Gutierrez, Earthjustice attorney.
Background:

Chris Jordan-Bloch / Earthjustice
The Port of Oakland is the site of the new bulk export terminal. Learn more »
A portion of the former Oakland Army Base is being developed as a bulk export facility, known as the Oakland Bulk and Oversized Terminal (OBOT). CCIG, the developer, promised not include coal as a commodity handled by the terminal, but now they have solicited a partnership with four Utah counties that could allow the state to export up to 10 million tons of coal from their mines each year.
A Utah funding body approved $53 million to buy space at Oakland Bulk Terminal for these exports. This deal is being conducted behind the backs of the Oakland City Council and the Port, both of oppose coal as a commodity for shipping in Oakland. Additionally, the developer promised residents that the city-owned port would be coal free. While the Mayor, members of the council and residents have demanded a stop to these talks, the developer has yet to abandon the plans.
Those opposing the plan to export coal through Oakland have voiced concerns over how this decision will affect the community's safety, the environment, and public health. According to a national train company, each open-top rail car of coal can lose up to one ton of dust between the mines and the port, resulting in the release of 60,000 pounds of toxic fine particulate matter in communities near the rails. Additionally, this deal will stifle California's strong commitment to cutting carbon pollution, especially as the state continues to suffer from extreme drought, forest fires, and other signs of climate disruption.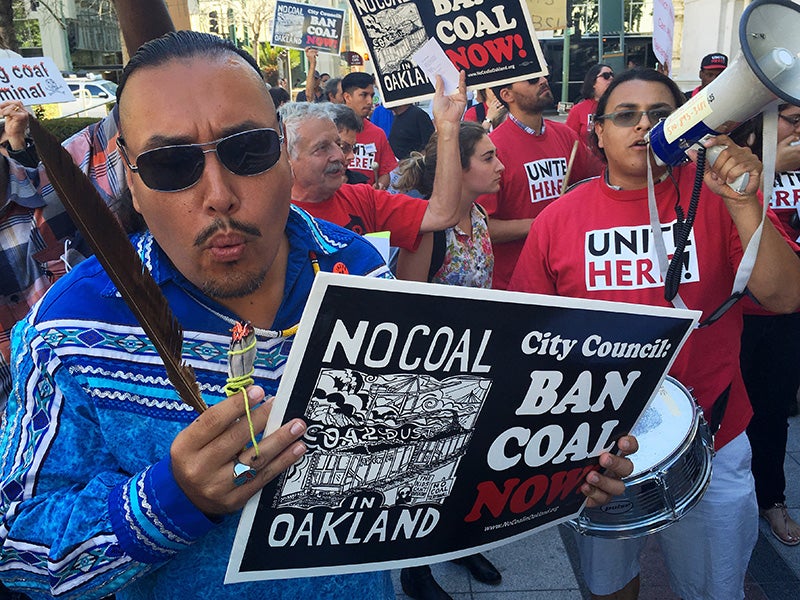 Earthjustice is the premier nonprofit environmental law organization. We wield the power of law and the strength of partnership to protect people's health, to preserve magnificent places and wildlife, to advance clean energy, and to combat climate change. We are here because the earth needs a good lawyer.