Groups Sue State to Protect Emigrant Gulch from Gold Mine Exploration
State agency broke the law by approving exploration project without scrutinizing its harm to the environment, Park County
Livingston, MT.
—
Groups opposed to industrial gold mining north of Yellowstone National Park filed a lawsuit today challenging the Montana Department of Environmental Quality's approval of extensive mineral exploration in Emigrant Gulch near Park County's Paradise Valley.  The exploration is proposed by Lucky Minerals, a Canadian company whose intention is to develop "a multi-million ounce gold" mine.  The lawsuit was filed by Greater Yellowstone Coalition and Park County Environmental Council, represented by Earthjustice.
If the mineral exploration project goes forward, it will introduce industrial activity in a remote landscape that includes Yellowstone River tributaries and is in the heart of the Paradise Valley.
If the mineral exploration project goes forward, it will introduce industrial activity in a remote landscape that includes Yellowstone River tributaries and is in the heart of the Paradise Valley.  The project is the first step in Lucky's plans to develop large-scale gold mining that will threaten Park County's tourism economy, which depends on clean water and access to the County's spectacular public lands, the groups say.  On July 26, 2017, DEQ approved the exploratory drilling—which would occur 24 hours each day between July 15 and October 15 for two consecutive years—after finding that exploratory drilling would not cause any significant environmental harm.  
"Lucky Minerals wants to gamble with our water, wildlife, and magnificent natural landscapes, but our laws don't allow such risky bets," said Earthjustice attorney Jenny Harbine.  "Exploratory drilling is the leading edge of a much larger threat to these sensitive lands in Yellowstone's gateway, and we will fight Lucky's plan every step of the way."
"Gold mining companies like Lucky have promised us the moon and the stars in the past, only to break those promises and leave a mess behind," said Bryan Wells, a resident and business owner in Old Chico, downhill from the proposed drilling.  According to the lawsuit, DEQ broke the law when it approved the project without considering the significant harm to Park County's environment and economy from full-scale mine development, or fully and accurately accounting for the potentially serious impacts from exploratory drilling on Park County's water quality and wildlife, including grizzly bears and wolverines. 
What You Need To Know About The Yellowstone Gateway Mineral Withdrawal
Lucky's exploration project is planned on private mining claims in the midst of public lands in the Custer Gallatin National Forest.  Reflecting outspoken public opposition to gold mining in this area from local businesses and residents, on November 21, 2016, the U.S. Forest Service and Department of Interior announced a proposal to withdraw 30,000 acres of land in Paradise Valley—including National Forest System lands adjacent to Lucky's proposed project—from mineral exploration and development.  The proposal had the immediate effect of preventing mining activity, subject to valid existing rights, for two years.  If finalized, the withdrawal will prevent mining activity on these lands for as many as 20 years.  The Yellowstone Gateway Protection Act is pending in the U.S. Senate, which if signed into law would make these protections permanent.  However, the public lands withdrawal does not prevent Lucky's mineral exploration on adjacent private property.
DEQ's approval of the exploration project is conditioned on Lucky's payment of a $154,274 to cover the costs of reclaiming the area in the event that Lucky fails to conduct adequate reclamation itself.  Lucky has not yet paid the bond.
"Members of our community have turned out by the thousands to speak out against gold mining that would put our water, our wildlife and our lands at risk," said Park County Environment Council Executive Director Michelle Uberuaga.  "There's too much at stake to allow Lucky Minerals to dig up our backyard without fully understanding the harmful consequences.  We're going to court to fight for our community and the resources that help make it so special."
Caroline Byrd, Executive Director of the Greater Yellowstone Coalition explained, "We've filed this suit because we think Montana needs to take a closer look at what Lucky Minerals is really up to. Lucky's website says the company plans to explore and develop on six square miles—an area the size of the town of Livingston.  Montana also needs to look at how this Canadian company's project risks local businesses and local jobs.  And we want Montana to require Lucky to create a clear plan for when their drills tap into Emigrant's abundant groundwater.  Lucky needs to protect Emigrant Creek and the Yellowstone River downstream.  Montanans of all political stripes oppose this risky project, from the neighbors at Emigrant to Interior Secretary Ryan Zinke, who's urging a mining ban here.  If Montana plans to move forward with permitting this project, the state needs to be crystal clear about what Lucky Minerals is up to.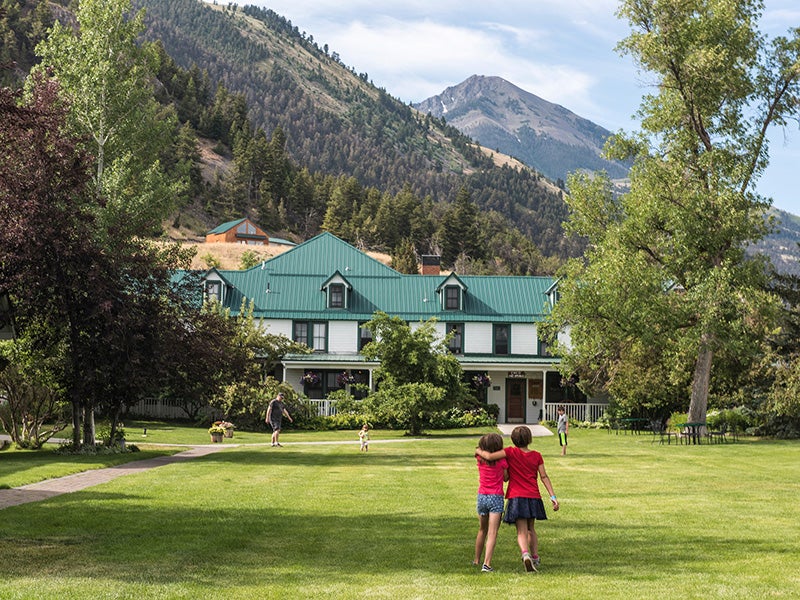 Earthjustice is the premier nonprofit environmental law organization. We wield the power of law and the strength of partnership to protect people's health, to preserve magnificent places and wildlife, to advance clean energy, and to combat climate change. We are here because the earth needs a good lawyer.