Public Interest Groups Oppose EPA's Third Attempt to Shield CAFOs From Disclosing Hazardous Pollution
EPA continues to evade compliance with federal laws designed to protect the public
New York
—
Last week, Earthjustice, representing Waterkeeper Alliance, The Humane Society of the United States, Sierra Club, Center for Food Safety, and Environmental Integrity Project, filed their opposition to the U.S. Environmental Protection Agency's (EPA) attempt to further delay the hazardous substance release reporting requirements for industrial-scale livestock operations (concentrated animal feeding operations, or CAFOs).
The groups asked the court to make it clear that EPA's "preliminary guidance" is illegal because it represents the agency's third attempt to hide information from the public about CAFO releases of dangerous pollution, particularly ammonia and hydrogen sulfide. As the court noted previously, the risks from these releases are not theoretical—"people have become seriously ill and even died as a result of [waste] pit agitation" at CAFOs.
"CAFOs are known to release hazardous pollutants that can pose serious risks of illness or death near homes, schools, businesses, and communities," said Kelly Foster, Senior Attorney for Waterkeeper Alliance. "It is EPA's responsibility to protect the public by ensuring information about these releases is disclosed – not to keep devising new legal strategies to help industry keep it secret."
Instead of helping CAFOs determine how to measure releases and come into compliance as promised, EPA's guidance document actually resurrects a legal interpretation of the Emergency Planning and Community Right-to-Know Act (EPCRA) long urged by industry to shield CAFOs from reporting their hazardous releases under that law. EPA had previously rejected this industry legal theory on three separate occasions, including opposing it in the very same D.C. Circuit case challenging EPA's exemption that led to reinstitution of the EPCRA reporting requirement. For its part, industry is already attempting to use EPA's "preliminary guidance" to avoid responsibility in enforcement cases.
"EPA's new Interim Guidance purports to instruct CAFOs on how to comply with the law, but it does just the opposite—it tells them how not to comply," said Earthjustice attorney Jonathan J. Smith. "EPA's action violates the mandates of Congress and the Court that people have a right to know about toxic pollution from AFOs in their communities."
The disclosure obligations are currently slated to go into effect later this year after the D.C. Circuit Court granted the groups' petition in Waterkeeper Alliance v. EPA and overturned a 2008 EPA rule that illegally exempted CAFOs from two federal laws designed to protect public health and safety. EPA is now seeking its second extension of this reporting deadline in order to "finalize" a preliminary guidance the agency released on October 25.
The groups are also asking the D.C. Circuit Court to retain jurisdiction to ensure that EPA actually implements and enforces the court's order given EPA's decade-long history of evading compliance with federal hazardous substance reporting laws for CAFOs – protecting industry interests to the detriment of the public.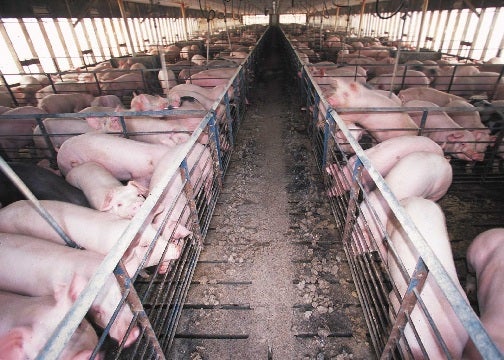 Earthjustice is the premier nonprofit environmental law organization. We wield the power of law and the strength of partnership to protect people's health, to preserve magnificent places and wildlife, to advance clean energy, and to combat climate change. We are here because the earth needs a good lawyer.