Zinke Must Side With America's Values to Protect Our Natural Treasures
Earthjustice will hold the Interior Secretary nominee accountable for protecting America's public lands and wildlife against corporate interests within the oil and gas industry
Washington, D.C.
—
Today, the U.S. Senate Energy and Natural Resources Committee voted to send Montana Rep. Ryan Zinke's nomination to head the Department of the Interior to the full Senate for consideration. Through a dozen agencies under its command, the Department of the Interior administers national parks, wildlife refuges, historic landmarks, and offshore territories of the outer continental shelf. The department is charged with steering wide-ranging preservation efforts such as endangered species conservation, in addition to overseeing resource development of the public lands it manages by industries such as mining, fossil fuel, and timber.
Earthjustice Vice President of Litigation for Lands, Oceans, and Wildlife Drew Caputo released the following statement:
"President Trump took office with the lowest approval ratings for an incoming president in the last 40 years, yet conservative congressional leaders act as if he has a mandate to trade our public lands, our national parks and natural treasures for corporate profits and greed.
"The Secretary of the Interior oversees a broad set of responsibilities founded on values shared by the majority of people across our country regardless of their political views—values such as protecting our country's priceless natural heritage for our children and grandchildren and preserving our fundamental rights to clean air and clean water. These values can be reflected by preventing oil and gas drilling in the Arctic; protecting iconic species like grizzlies, wolves, and salmon; improving the federal government's relationship with Native American tribal governments; and defending our public lands from the oil and gas industry and others that would exploit our priceless wild lands and wildlife for private gain.
"A Secretary of the Interior must stand up for our country's shared values by representing the public's interest above corporate profits. Earthjustice will hold Ryan Zinke accountable to these shared values by protecting our country's public lands and wildlife against corporate greed."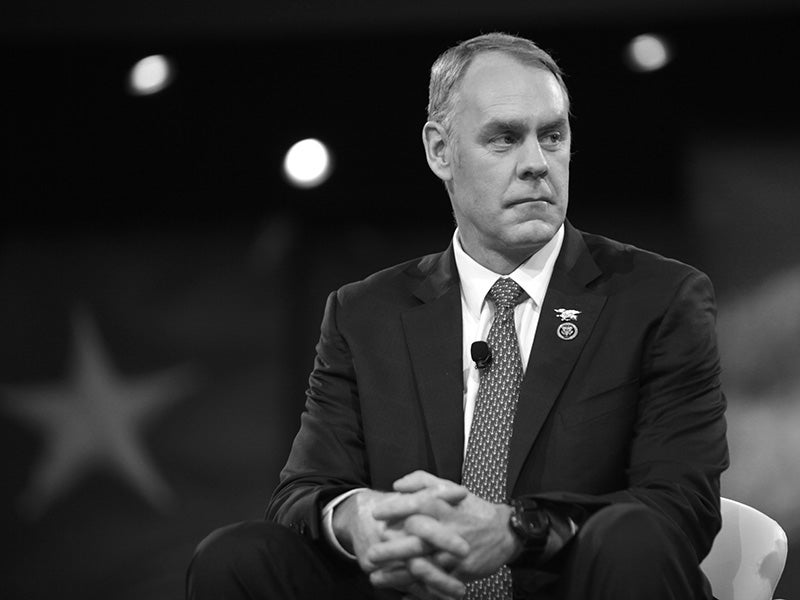 Earthjustice is the premier nonprofit environmental law organization. We wield the power of law and the strength of partnership to protect people's health, to preserve magnificent places and wildlife, to advance clean energy, and to combat climate change. We are here because the earth needs a good lawyer.