Court Orders EPA to Move Forward with Implementing Strengthened Smog Standard
Victory
—
Decision will help save hundreds of lives
Washington, D.C.
—
Today, March 12, the U.S. District Court for the Northern District of California ordered the Environmental Protection Agency (EPA) to move forward with implementing key health protections against smog. The court ordered EPA to take the next step by promulgating official identifications of most areas with smog levels violating the 2015 ozone health standard by April 30, 2018. Rejecting EPA's request for extra time, the court also ordered EPA to finish the job by determining whether the San Antonio area violates the ozone standard by July 17.
These overdue "designations" are necessary to bring smog levels down into compliance with the ozone standard. Under the Clean Air Act, the EPA was legally obligated to make them by October 1, 2017, but illegally failed to do so.
Once the EPA issues designations, the work of cleaning up elevated smog levels begins. The EPA estimates that compliance with the 2015 standard will save hundreds of lives and prevent hundreds of thousands of asthma attacks in children every year.
Seth Johnson, the lawyer for Earthjustice on the case, issued the following statement:
"Everyone deserves to breathe clean air. And because of the Clean Air Act, we're legally entitled to it. The court got it right when it ordered the EPA to finish making ozone designations sooner than the agency requested. Cleaning up ozone air pollution is especially important for kids, seniors, and people with asthma. Many of our largest metropolitan areas have unhealthy smog levels. These include New York, Los Angeles, Chicago, Dallas, Houston, Cleveland, Denver, Philadelphia, Phoenix, and San Antonio. The court's decision will help save hundreds of lives by getting the cleanup process going."
Read the court's decision.
Background
Earthjustice filed a lawsuit against the agency in December 2017 for missing its deadline to make designations under the standard, representing the American Lung Association, American Public Health Association, American Thoracic Society, Appalachian Mountain Club, Center for Biological Diversity, National Parks Conservation Association, Natural Resources Defense Council, Sierra Club, and the West Harlem Environmental Action (WE ACT for Environmental Justice). The Environmental Defense Fund and Environmental Law and Policy Center are also parties to this case.
On February 22, Earthjustice conducted oral arguments to ask the court to direct the EPA to complete the designation process—the official identification of the areas of the country with dangerous levels of ground-level ozone air pollution, necessary for key clean-up requirements to kick in.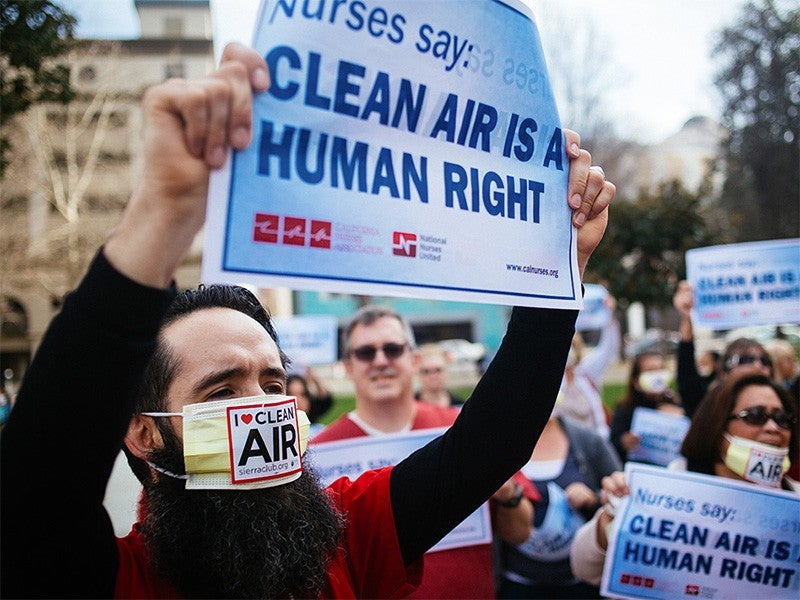 Earthjustice is the premier nonprofit environmental law organization. We wield the power of law and the strength of partnership to protect people's health, to preserve magnificent places and wildlife, to advance clean energy, and to combat climate change. We are here because the earth needs a good lawyer.