Earthjustice New President Plans to Grow Largest Environmental Law Group
Earthjustice will continue fight against Trump's efforts to gut environmental protections
San Francisco, CA
—
Today, Abigail "Abbie" Dillen, assumed Earthjustice's top leadership role as the organization continues to challenge the Trump administration's efforts to destroy national environmental protections.
Dillen, the previous vice president of litigation for climate and energy, plans to continue growing Earthjustice as president to meet national and global environmental challenges, including: efforts to stem climate change and protect the nation's air, drinking water, public lands and endangered species from environmental degradation.
"I am honored and humbled by this opportunity to serve Earthjustice and everyone who is depending on us to hold the line against relentless attacks on our bedrock protections and advance progress in the face of unprecedented threats to our health, our natural systems, our climate and our future," Dillen said today. "Over two decades at this amazing organization, I have seen over and over again how powerful we can be when we harness the law to protect people and the planet."
Dillen said she plans to incorporate a deeper focus on community-based environmental work that centers justice and honors the inherent power that communities can utilize. She said this new focus reflects an organizational shift in perspective and values that she hopes would help reshape the environmental movement.
"Earthjustice has a crucial role to play in building an ever more powerful environmental movement in this country and around the world, a movement that is genuinely focused on justice," said Dillen. "I look forward to the exciting, hard work ahead."
Dillen, who came to Earthjustice in 2000, first worked as an attorney in the Northern Rockies Office, where she fought to protect public lands and endangered species. She later served as managing attorney of Earthjustice's coal program, which has played a central role in forcing the overdue retirement of coal-fired power plants around the country. In her previous role, Dillen led Earthjustice's litigation and advocacy to shift the nation from fossil fuel dependence to renewable energy.
Dillen supervised and litigated many precedent-setting cases that have held polluters accountable and cleared the way for clean energy nationally. These wins include: requiring the U.S. Environmental Protection Agency to promulgate first-ever standards to govern disposal of coal ash and limit the wastewater discharge of toxic pollutants from coal-fired power plants; blocking a $2 billion transmission project to transport dirty coal energy from the Ohio Valley to East Coast cities.
Trip Van Noppen, who served as president for the past decade, will now serve in a part time role as Advisor to the President at Earthjustice for the remainder of 2018 to ensure a seamless transition.
Van Noppen grew Earthjustice significantly during his tenure. The organization doubled in size with a current staffing level of more than 120 environmental attorneys, a budget of nearly $80 million and 14 regional offices.
Earthjustice Board of Trustees Chair Fern Shepard praised Van Noppen's leadership.
"Trip Van Noppen ushered in a period of tremendous growth and innovation at Earthjustice that strengthened the organization's ability to take on the major environmental challenges this nation and world faces," Shepard said, adding: "The Board of Trustees could not be more proud of his service at Earthjustice and grateful for his leadership."
Shepard said she and the Board of Trustees are immensely pleased that Dillen will continue Earthjustice's vision of growth.
"Abbie has great grit, determination and integrity," said Shepard. "She will ensure that Earthjustice's team of lawyers are in court fighting to defeat every Trump administration effort to gut our nation's health and environmental laws."
Van Noppen praised Dillen's leadership as vice president of climate and energy, saying: "Abbie Dillen has a unique combination of deep litigation experience and strategic leadership skills, and is profoundly committed to Earthjustice's values of justice, partnership, inclusion and excellence. No one is more suited that she is — both for the fight to defend bedrock environmental protections and to lead the way to a cleaner, healthier and more equitable future for all."
Earthjustice has filed more than 100 lawsuits to defend environmental safeguards that have been attacked by the Trump administration.
Resources:
Watch a welcome video of Abigail Dillen: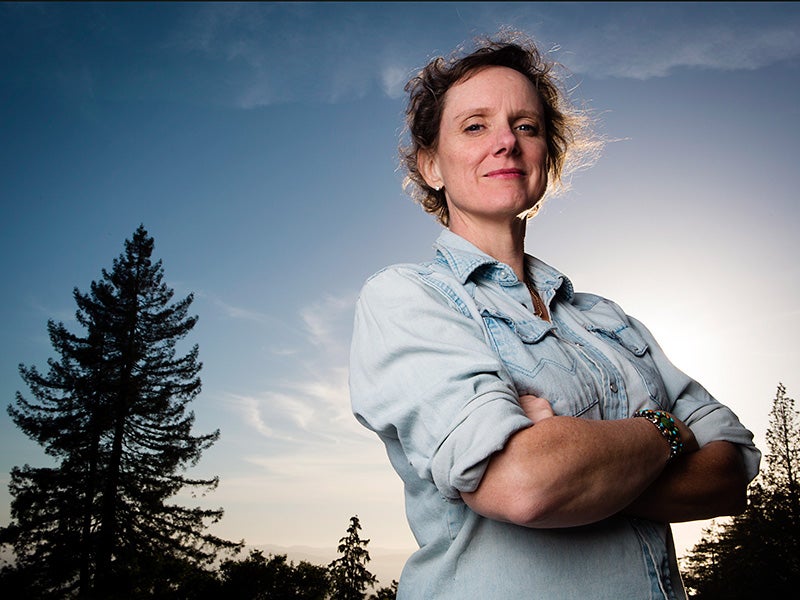 Earthjustice is the premier nonprofit environmental law organization. We wield the power of law and the strength of partnership to protect people's health, to preserve magnificent places and wildlife, to advance clean energy, and to combat climate change. We are here because the earth needs a good lawyer.